Where next for house prices? Experts debate on HLTV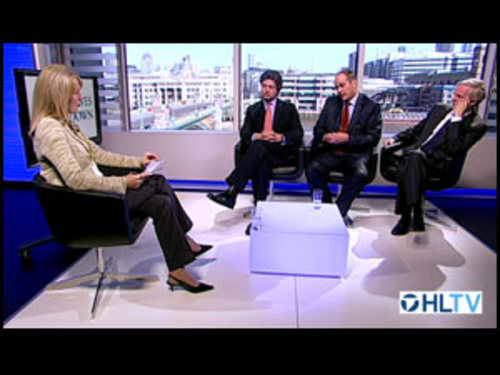 Property experts fiercely debate the outlook for house prices and the prospects for first time buyers and buy-to-let investors.
Property experts fiercely debate the outlook for house prices and the prospects for first time buyers and buy-to-let investors.

After a huge period of growth until 2007, house prices continue to fall in many areas outside London. The big question now is where next for house prices?

Property is the debate on Hargreaves Lansdown's latest episode of HLTV featuring:

Lucian Cook - Head of Residential Research, Savills Estate Agents
"The market will divide into leaders and laggers. In London and the South East for example, you could expect total price growth of 20%, whereas if you are in the north of the country it might be somewhere between 5% or 6% over the next five years."

Henry Pryor - independent property expert
"People are crying out for accommodation, not just in London and the south east, and that is something that has to be dealt with. The government does, to its credit, have some plans to deal with it, but still the big problem that remains for almost all of us is that it is desperately difficult to find electoral benefit from suggesting to people that you are going to build in their green and pleasant land."

Mark Dampier - Head of Research, Hargreaves Lansdown
"I don't think the government should be trying to encourage first-time buyers with fancy schemes such as shared ownership. They are a recipe for disaster…it is not a long-term investment."

These three expert commentators put forward their views on topics including:

• Could and should the Government be doing more to encourage first time buyers onto the housing ladder?
• What are the prospects for buy-to-let investors?
• Is property an investment for our future and potentially a pension?

To view the episode or read a transcript please visit www.hl.co.uk/tv

Media Contact:

Danny Cox
Head of Advice
Danny.Cox@hl.co.uk
Mobile: 07989 672 071
Direct line: 0117 317 1638

NOTES TO EDITORS

About Hargreaves Lansdown

Hargreaves Lansdown is a leading provider of investment management products and services to private investors in the UK.

Founded in 1981 by Peter Hargreaves and Stephen Lansdown, Hargreaves Lansdown floated on the UK stock market in May 2007. Hargreaves Lansdown is a broad and diversified business and has established a reputation for providing high quality service and value for money products to private and corporate investors. Key features of Hargreaves Lansdown's business include:

• Providing investment products (including ISAs, SIPPs, funds, equities, venture capital trusts and pensions), as well as fund selection, stockbroking, advisory, discretionary and asset administration services.
• Administering approximately £26.7 billion of assets through Vantage directly on behalf of approximately 432,000 private investors. In total, Hargreaves Lansdown has £28.5 billion of assets under administration and management.
• The group manages £2.6 billion of funds through its own range of proprietary multi manager funds and a discretionary management service, of which some £900 million is held within Vantage.
• Hargreaves Lansdown aims to provide the best information, the best service and the best price. Hargreaves Lansdown provided over £200 million in discounts and rebates for their clients over the last year.

For more information visit www.hl.co.uk
This press release was distributed by ResponseSource Press Release Wire on behalf of Hargreaves Lansdown in the following categories: Personal Finance, Business & Finance, Construction & Property, for more information visit https://pressreleasewire.responsesource.com/about.