Ben Greenfield, Triathlon distributor for Encoder, a new technology that electrifies athletes and sports players to surpass previous past performances.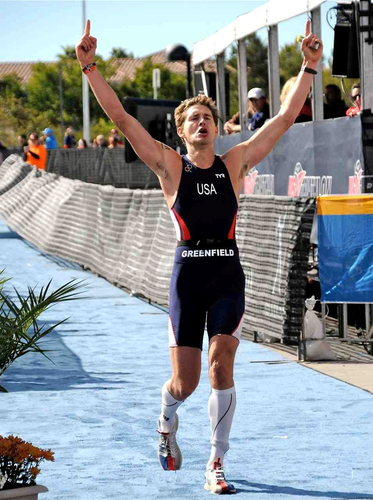 It enhances my performance and makes me feel way healthier. I am 100% committed to using the Encoder for the rest of my life
BioSonic Sports appoints Ben Greenfield of Ben Greenfield Fitness, internationally renowned fitness and Triathlon coach, as Triathlon distributor for the Encoder, the world's first adaptation of piezoelectric technology that optimizes performance in athletics and in sports.
The company is currently accepting applications for protected territories in the sports of soccer, golf, tennis, football, baseball, basketball and rugby. Individuals, companies, coaches or players who have a demonstrable track record in any of these sports are encouraged to contact BioSonic Sports.

The Encoder is a piezoelectric bio-acoustic device that aerobically bio-tunes athletes by capturing and replenishing the vibratory energetics emanating from the athlete's kinetic movements during performance.

'Piezoelectric is derived from the Greek 'piezo' which means to squeeze or press. A material is deemed piezoelectric when it has this ability to transform electrical energy into mechanical strain energy, and to likewise transform mechanical strain energy into electrical charges. Often referred to as vibrational energy harvesters Piezo ceramic discs convert kinetic energy into electrical energy.

The Encoder is proving to help many athletes and sports players surpass their previous best performances. It also provides protection against harmful Electo-Magnetic Frequencies (E.M.F.) a type of radiation wave that emanates from power-lines, home-wiring, television, computers and appliances, electric blankets, water-beds, fluorescent lights, microwave ovens and particularly hair-dryers.
Dr. Kenneth Best, internationally reputed Sports Chiropractor who is much in demand by celebrities in Hollywood tested on video a subject with the Encoder as an E.M.F. Protective device and was "very impressed" with the results.

Encoder Specifications

• Sleek medical grade wrist-band with fasteners designed to withstand rigors of extreme sport
• Center disc is made of piezoceramics (a mixture of metal oxides) that has powerful resonance properties
• Exploits all the properties of the piezoelectric effect to convert vibratory frequencies (kinetics) into energy
• Imprinted with a proprietary matrix of over 100 aerobic frequencies that resonate with athletic energetics
• Is vibration actuated by the sine waves emanating from the athlete as the athlete performs
• Acts like a harmonic fuse to correct broken neural connections in the nervous system

In a video release, Ben Greenfield explains why he is 100% committed to wearing the Encoder for the rest of his life.

Ben Greenfield states:

"Because I have about a million listeners to my pod-casts I am regularly approached by companies seeking publicity but very rarely endorse their products. The Encoder is one of those rare exceptions. I am so impressed with the product that I asked BioSonic Sports to produce a custom-branded Superhuman Performance Encoder and have published a web-site specifically to address the demand for the Encoder.

Ben Greenfield also reports the following experiences he has with the Encoder:

• "I've started to sleep and think better. It enhances my performance and makes me feel way healthier. I am 100% committed to using the Encoder for the rest of my life"
• "I did a balance yoga session with, and then without, and noticed a HUGE difference in terms of my ability to do single leg balancing."
• "I've been testing the Encoder with a heart rate variability monitor and noticing a really positive effect which is pretty dang significant in terms of nervous system health as medical science confirms."

Professional Third Party Endorsements

• The salutary effect that both the Encoder and Entrainer Drops (its complementary product) has on the body was substantiated in an independent third party clinical trial using a G.D.V. (Gas Discharge Visualization) the biophotonic imaging device invented by Professor Konstantin Korotkov which is used in universities and hospitals in over 30 countries, as well as by elite and Olympic athletes.

• BioSonic Sports created an instructive video to direct customers on the correct kinesiology tests that would evaluate the Encoder on their receipt of the product. The company sought an individual whose integrity was beyond question and selected Dr. Kenneth Best to provide customers with detailed directions. Neither Dr Best nor the athlete subject had seen or experienced the Encoder before.

Athletes in several dozen countries now have the Bio-sonic advantage

• After just a couple of months hundreds of Ben Greenfield's athletes are now wearing the Encoder in many different countries from USA, Mexico, Puerto Rico, Canada, Latin America, Australia, Malaysia, South Africa, United Arab Emirates to UK and countries throughout Europe.
• Customers report they are experiencing gains in strength, balance, flexibility, more energy, have extra stamina while cycling, running, exercising together with better sleep.

Case Studies

• Div 1 collegiate golfer, Chris Russo, states: "In 10 minutes the Encoder enabled me to hits my drives and irons longer with more accuracy. The Encoder is AWESOME!" View video of Chris Russo's improved golf shots as it happens.
• CrossFit Coach, Anthony Munios, states: "The Encoder helped me within 5 minutes to double my best-ever athletic performance in handstand walking. I'm a CrossFit coach and the Encoder and Entrainer Drops are the best I've ever experienced for athletes wanting to go beyond peak performance!" View video of Anthony's record-breaking handstand walk as it happens.
• CrossFit Coach, Emily Brown states: "The Encoder and Entrainer Drops instantly enabled me to do a 1 legged squat which I had been unable to complete before...Amazing Technology!" View video of 1-legged squat as it happens
• Kirk Anderson, Texas states: "I've noticed that I am more "dexterous" and "agile" in workouts. I also seem to have better peace of mind. The 'Memory of Water' videos explaining how the 'Entrainer Drops' work helped too"
• Diane Clark, Washington states: "Just writing to let you know about my experience with the Encoder. I have noticed that my body recovers faster than it did before wearing the Encoder. I also notice that my flexibility has increased especially in my hamstrings and lower back which is great because my back has always been kind of tight due to having my upper back being fused at the age of 12 because I had scoliosis as a child. I have tried one other bracelet and I didn't feel like it did anything for me. Since wearing the Encoder bracelet I have noticed a difference in my performance and recovery." • Eric Martin, Illinois, states: "I've worn the encoder for almost two months now. Main difference is overwhelming calmness and focus. I switch the bracelet from left wrist to right every 2 weeks. Dunno why...just to see if there's a difference. So Clarity, Calm, and Focus. Thinking about buying 3 more for Mom, Dad, & Sister for Christmas."

For more information see: www.biosonicsports.com and http://superhumanencoder.com/

- ENDS -

"Health and Sports industry journalists wishing a FREE trial of the product are welcome to contact BioSonic Sports. Inquiries, additional images, review products and case study requests are welcomed and should be written in the first instance to inquiries@biosonicsports.com
OR call Victor Barron at: (44) 01382-863340"

Editors Notes

About BioSonic Sports:

• BioSonic Sports is a sole proprietor company based in Scotland founded by Victor Barron. The company's total focus is on the 'bio-sonic sculpting of frequencies' that serve to optimize the performance of athletes and players of all sports. The company has formed an alliance with a European company that is a global leader in Piezoelectric ceramics to produce the world's very first adaptation of a custom piezoelectric ceramic disc ...the 'Encoder' that is now proven to take athletes and players of sports beyond their best past performances
• BioSonic Sports has also produced a second cutting-edge innovation, the 'Entrainer Drops', that works in synergy with the 'Encoder' and respectively complement each other to further optimize athletic performance.
• The company draws upon the latest research in the vibrant rapidly converging fields of Vibro-acoustics, Sympathetic Resonance, Rhythmic Auditory Stimulation that adjust the nervous system and Sonic Neurotechnologies that optimize the transmissions of neuron signals throughout the body.
• BioSonic Sports is segmenting national, regional and local marketing of both products to selected individuals and companies that have demonstrable experience as players or coaches in specific sports such as Golf, Tennis, Rugby, American Football, Baseball, Basketball, Hockey, Badminton.

This press release was distributed by ResponseSource Press Release Wire on behalf of BioSonic Sports in the following categories: Men's Interest, Health, Sport, for more information visit https://pressreleasewire.responsesource.com/about.