Time Limited: Pledge to help at least 2013 small businesses get their 2013 profits off to a rocketing start.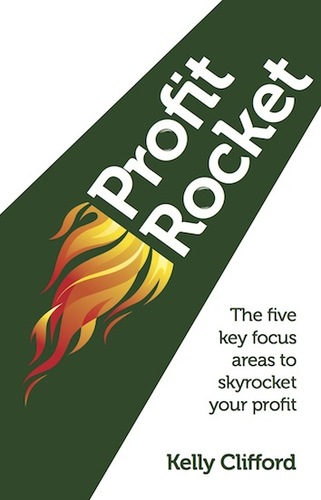 Author and financial expert Kelly Clifford has pledged to help at least 2013 businesses get 2013 off to a racing start by offering FREE Kindle versions of his acclaimed new book 'Profit Rocket' for a limited time.

The promotion is on NOW and will end on Wednesday 28th November 2012 (Midnight PST), during which anyone can download the Kindle version of the book for FREE on Amazon. Visit www.profitrocketbook.com for more information on Profit Rocket and this AMAZON Kindle promotion.

Originally launched in September, 'Profit Rocket' (£12.99 Ecademy Press), has already been coined 'the essential tool, resource and insight for those wanting to start their business and for those who want to move their business to level.'

The book's author Kelly Clifford, a fully qualified accountant who turned his back on his six-figure City salary to focus on helping SMEs to better understand and better manage their finances through his company Profit in Focus , says,

"There is a key ingredient missing in many businesses in the UK and around the world, which is 'profit numeracy'. With such difficult trading conditions, being good or passionate about what you do just isn't enough to survive anymore. What's absolutely key is the melding of this passion and skill with an understanding and appreciation and a healthy respect for the numbers side of your business."

News of the 'Profit Rocket' promotion is timely, as it was recently reported that Mr David Cameron and Microsoft CEO Steve Ballmer have officially launched Microsoft's youth employment programme at 10 Downing Street, designed to help thousands of young people into work.

However, with reports stating that nearly a quarter of the UK, aged 18-64 are either involved in entrepreneurial activity (11%), or are thinking about it (13%), Kelly is hopeful that this promotion will help him to reach out to many of these future entrepreneurs and give them a solid understanding of how to run a financially viable business early on in their careers.

"I believe that every small business owner or budding entrepreneur, with a little bit of guidance, has the potential to be successful in running their business and reap the financial reward for doing what they have a passion for. It's unlikely that most will consider the financial side of their business to be one of their key strengths, so far better to get some help to make things really work than try to battle it alone," adds Kelly.

This promotion ends on midnight 28th November 2012 (PST - GMT-8) Visit www.profitrocketbook.com for more information on Profit Rocket and this campaign.

For press enquiries and high resolution images, please contact Kelly Clifford on:
T: +44 (0)20 7199 6353
E: hello@profitinfocus.co.uk

This press release was distributed by ResponseSource Press Release Wire on behalf of Profit in Focus Ltd in the following categories: Personal Finance, Business & Finance, Media & Marketing, for more information visit https://pressreleasewire.responsesource.com/about.