Perfect Balance for Hot Women Only!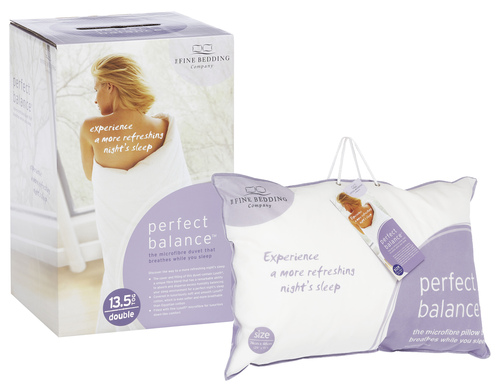 Super lightweight warmth that keeps you cool night after night.

If hot flushes or night sweats set your temperature soaring, your duvet clinging to you and your pillow soaked with sweat, visit the Fine Bedding Company where you'll find Perfect Balance™ - the perfect answer to cool things down for a more comfortable night's sleep.

Menopausal hot flushes affect 60–85% of menopausal women and for around 20%, hot flushes can be severe causing significant interference with work, sleep and quality of life. As well as managing this embarrassing symptom of the menopause, a deficiency in sleep not only makes you feel tired but can also affect the way we perform when confronted with lifestyle factors and pressures that affect our daily lives.

Perfect Balance™ is an innovative range of bedding that is breathable to help reduce the build up of excessive body heat and perspiration. Using clever Lysoft® advanced fibre blends made from natural raw materials and light man-made fibres to cover and fill its pillows and duvets, the bedding has the remarkable ability to absorb and disperse excess humidity ensuring you don't get too hot or too cold during the night. Available in three levels of tog (warmth), Perfect Balance™ could be a valuable tool to have in your menopausal armoury to help manage uncomfortable hot flushes and night-time sweats.

Practising GP and ITV Daybreak's health editor, Dr Hilary Jones says: "Menopausal symptoms vary from woman to woman. Some sail through, yet others can be affected by a number of symptoms that impact on daily life and emotional wellbeing. Your GP can help you manage some of these symptoms using conventional medicines such as HRT but there are practical ways women can help themselves."

"Hot flushes can be particularly embarrassing to cope with, especially if you are in company, as they strike quickly and can leave women soaked in sweat. Hot flushes can sometimes be relieved by reducing your intake of caffeine and alcohol, dress in linen and cotton layers so that you can peel them off if you feel a hot flush brewing. Night sweats can be another hindrance, leaving you tired from disturbed sleep. Reduce the likelihood of waking due to night sweats by wearing cotton night clothes and choosing a light synthetic duvet and pillows that contain Lysoft fibres such as Perfect Balance™, that has excellent breathability to help regulate body temperature and wick moisture away from the body. This prevents you from waking due to being too hot or too cold."

For a revolutionary way to regulate body temperature, try Perfect Balance™ choose from:

Perfect Balance™ Pillow, RRP £30.00
A sumptuous, down-like pillow with outstanding breathability. This medium support non-allergenic pillow is covered with cotton jacquard and filled with Lysoft® microfibre filling. Can be washed at 40C.

Perfect Balance™ Duvet, RRPs £60 (Single), £80 (Double), £100 (King), £120 (Super King)
A superbly light and luxuriously soft down-like duvet available in 4.5, 10.5, 13.5 togs and Four Seasons (4.5 and 13.5 snapped together or used alone), it has outstanding breathability to help regulate body temperature throughout the night. Covered with Lysoft® cotton jacquard and filled with Lysoft® microfibre filling it is non-allergenic and can be washed at 40C.

Visit www.finebedding.co.uk. Retail stockists include: House of Fraser (selected stores), Goulds and Housing, Fenwicks, Bentalls, Oldrids & WJ Daniels. Online stockists include: Purelivingcollection.com, Ilovemyduvet.co.uk, Peacockbluehome.co.uk, Thesleepfactor.co.uk, Sterlingfurniture.co.uk.

- ends -

About The Fine Bedding Company
The Fine Bedding Company brand is owned by Trendsetter UK Limited, a family owned business that has produced filled duvets and pillows for four generations. The Fine Bedding Company brand is known and trusted nationally by retailers. Now ten years old, shoppers associate The Fine Bedding Company with product excellence and its brand recognition is continuing to grow as it expands its national in-store presence. Its ranges include Perfect Balance, Spundown and Anti-Allergy and includes pillows, duvets, mattress toppers and protectors. Trendsetter UK Ltd celebrates 100 years in business in 2012.

Press enquiries: Michelle Redmond - Minx PR 020 8288 0849 / info@minxpr.com
Please call to enquire about feeler samples, reader offers and competitions
This press release was distributed by ResponseSource Press Release Wire on behalf of Minx PR (Previously Michelle Redmond PR) in the following categories: Health, Home & Garden, Women's Interest & Beauty, for more information visit https://pressreleasewire.responsesource.com/about.