Tammy Fender Now Available In The UK at Cult Beauty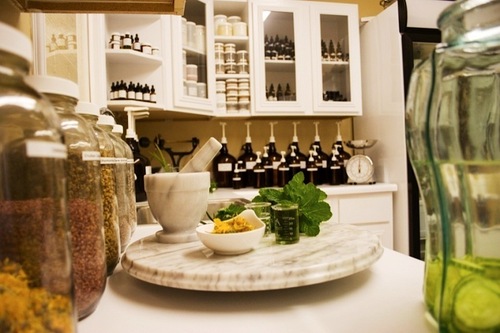 This sort of holistic moment of tranquility that falls over your desk in the midst of your daily chaos is just an extension of the brand's incredibly low-maintenance, high luxury embrace
One doesn't normally think of organic beauty as revolutionary, but Tammy Fender is constantly exalted in the top US magazines as the skin care visionary to watch. Her range is so deliciously effective that triple-A personalities like Ivanka Trump and A-listers such as Julianne Moore both swear by it to address their exacting skin care needs. The synthetic science vs. non-toxic natural debate is immaterial; this range will have you wondering how a topical cream can work this well and make you feel so good.

"When you receive a jar of Tammy Fender anything, the entire day will slow to a crawl as you become smitten on sight & in scent. This sort of holistic moment of tranquility that falls over your desk in the midst of your daily chaos is just an extension of the brand's incredibly low-maintenance, high luxury embrace." BeautyHuile Blog

Her stance on beauty is rooted in the Yin/Yang balance, whereby Yin pertains to the structure of the cells and Yang relates to the body's "chi" energy. Good chi is responsible for the energy that helps push blood and oxygen through our circulatory system bringing vital nutrients to every cell in our body. When our skin cells receive optimal oxygen and nutrients - it is then that our skin plumply radiates health and vitality.

Every formula begins with a fresh herbal infusion, then the natural food supplements, therapeutic grade essential oils, organic and wild crafted herbs are blended into the mixture. Collectively, these ingredients contain a wide variety of beneficial vitamins, minerals, pure essential fatty acids and certified organic plant oils, all of which are absorbed deep into the cellular level of the skin to optimise health and encourage youthful cell exuberance.

Due to the high content of natural ingredients, Tammy's products use a food-grade preservative system (much tougher regulations than for cosmetics), which ensures their purity, potency and efficacy. They are never formulated with parabens, synthetics, petrochemicals, toxicities, artificial - color, fragrance or ingredients.

So what to start with: her Spontaneous Recovery Cream - Dubbed the "Aspen Crème" by Tammy's clients for its effectiveness at giving TLC to après ski skin; her multi-award-winning Epi-Peel Mask, which resurfaces and floods your skin with oxygen. There's the hotbed of essential fatty acids, Alpha-Linolenic Acid and natural Retinoic Acid (the gold standard of anti-aging cell turnover) that is the Quintessential Serum and the super-moisturising Antioxidant Cream that naturally inhibits both free radicals and the collagen-degrading enzyme Collagenase, which allows your skin to boost its collagen content. Once the Aspen-season is over many of her clients turn to the tissue and scar repairing Après-Opp. care of the Intensive Repair Balm to quickly heal the evidence of 'little tweaks' – unusually the first ingredient on its list is "Aqueous Extracts of Chamomile Flowers".

FOR MORE INFORMATION, IMAGES OR SAMPLES PLEASE CONTACT CULT BEAUTY ON

08456 529 521 or ALEXIA.INGE@CULTBEAUTY.CO.UK

About Cult Beauty

We are beauty curators. Rather than selling full beauty lines, we've created a shop where every product is chosen by a world-class expert panel - the professionals to whom the A-listers turn when they need to look perfect - for its stand-alone brilliance. Cultbeauty.co.uk is an insider beauty hall of fame that you can shop in the knowledge that anything you buy will be 'sell-your–granny' good. Visit us at www.cultbeauty.co.uk .
This press release was distributed by ResponseSource Press Release Wire on behalf of EMR Digital in the following categories: Health, Women's Interest & Beauty, Retail & Fashion, for more information visit https://pressreleasewire.responsesource.com/about.