Savantini Announce Release of Kegel8 Pelvic Floor Trainer - Exercises and Measures Vaginal Strength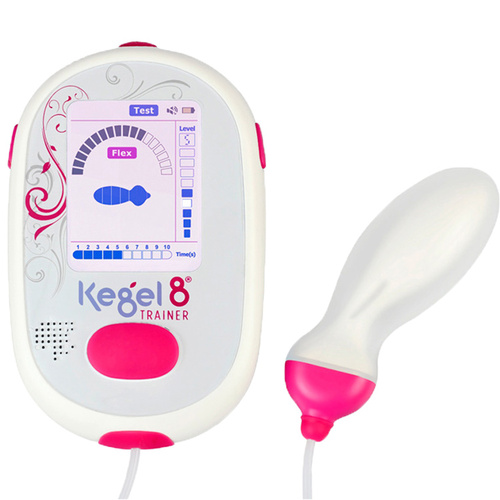 Savantini Limited, owners of the UK's leading pelvic health brand Kegel8 have launched their innovative Kegel8 Trainer, the brand new way to achieve a stronger and healthier pelvic floor and begin to enjoy all of the benefits that a strong and healthy pelvic floor brings.

The Kegel8 Trainer is the ideal way to get fit from the inside out for 2013 and has been described as 'your very own personal trainer' for the pelvic floor.

The Kegel8 Trainer introduces Kegel8's unique Squeeze Scale, a ground-breaking way to measure the strength of the pelvic floor. The Squeeze Scale measures the strength of a woman's pelvic floor and rates it from 1-9 – the average is around 5 so there is always something higher to aim for, even if a woman's pelvic floor is already strong. It is the ideal way to measure the strength of the pelvic floor before starting a Kegel exercise regime. Managing Director Stephanie Taylor says: "You wouldn't start a diet without getting weighed first, this is the same principle – it's important to see how strong your pelvic floor is to start with so that you can measure your progress".

The Kegel8 Trainer then guides a woman through Kegel exercises at the right level for her, with simple-to-follow on-screen instructions and optional voice-prompt commands. Kegel exercises are notoriously difficult; women just do not know if they are using the correct muscles. With the Kegel8 Trainer, women can make sure that they are using the right muscles, every time, and in just ten minute sessions can exercise easily and effectively.

The Kegel8 Trainer has already received excellent reviews, with one user stating that after recording an initial Squeeze Scale score of 2, she has "so far exercised for 2 weeks twice a day and [is] already up to 4".

Pelvic floor exercises are vital for all women. For younger women wanting to prepare their body for pregnancy (and get back in shape afterwards), sportswomen who perform high impact exercises such as running and all women who want to avoid the embarrassment of those not-so-funny 'laughter leaks'. Of course the great side effect of regular pelvic floor exercise is a more orgasmic love-life (and a happier partner because he enjoys the tighter sensation too) resulting in increased interest and sales at record levels.

What's your Squeeze Scale?

The Kegel8 Trainer, priced at £79.99 is available exclusively from Kegel8 at www.kegel8.co.uk and Amazon.

For press enquiries and high-res images, please contact Heather Lindley – heather@savantini.com or 01482 888785.
This press release was distributed by ResponseSource Press Release Wire on behalf of Savantini in the following categories: Health, Women's Interest & Beauty, Sport, for more information visit https://pressreleasewire.responsesource.com/about.