The Most Embarrassing Best Kept Health Secret is now in the UK!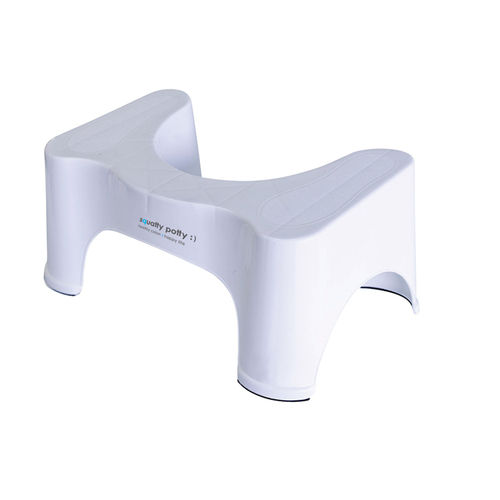 The Squatty Potty revolution is set to take the UK by storm and change the way Brits do their 'business'!

It's not exactly dinner party conversation but did you know that the design of our toilets in the UK, whilst comfortable to use, do not allow our bodies to get rid of waste properly? When sat on the toilet as we normally would our rectum is left in a bent position – think of a kinked garden hose… things just can't pass through smoothly. Squatting wasn't invented by campers and festival goers; our bodies are designed to work this way. By lifting the body into a natural squatting position with the Squatty Potty, our 'anorectal angle' is straightened and muscles relaxed, allowing you to go for a 'number two' more effectively in a healthy and natural way.

Straining and allowing waste to build up inside can in turn lead to haemorrhoids, constipation, colitis, appendicitis and colon cancer, plus IBS and pelvic floor weakening – it's not all 'toilet humour', side effects can be lasting and serious. The positive effects of squatting have long been recognised by doctors, and the Squatty Potty is going to revolutionise the way we go to the toilet, making it healthier and easier.

Squatty Potty is fantastic for those who want to get healthier for 2013 too. By squatting and emptying your bowels completely and without straining you prevent the build-up of toxins in your body which can leave you bloated, sluggish and even struggling to lose weight Squatty Potty is your detox buddy to make a healthier you from the inside out!

The Squatty Potty is available in two sizes, 7 inch and 9 inch, and fits neatly around the base of your toilet. Stephanie Taylor, pelvic floor expert and founder of Kegel8 says, "We are very excited about the Squatty Potty – it's the must-have health gadget of 2013 and is a must for every home". She goes on to say "constipation and piles are so detrimental to health and it's fantastic to find such a simple and natural way to treat these conditions, as well as protecting the pelvic floor from damage caused by straining".

The Squatty Potty has been receiving rave reviews since its launch in the USA and has been recommended by doctors and health professionals throughout the country but is now available for the first time in the UK.

The Squatty Potty Ecco is priced at £27.99 and the Squatty Potty Tao Bamboo is priced at £52.00. Both stools (pardon the pun!) are available from squattypotty.co.uk and StressNoMore.

For press enquiries, further information and images, please contact Ellie Scott at Savantini ellie@savantini.com or 01482 888785.
This press release was distributed by ResponseSource Press Release Wire on behalf of Savantini in the following categories: Children & Teenagers, Men's Interest, Health, Leisure & Hobbies, Home & Garden, Women's Interest & Beauty, Sport, Consumer Technology, Food & Drink, Business & Finance, Medical & Pharmaceutical, Media & Marketing, Retail & Fashion, for more information visit https://pressreleasewire.responsesource.com/about.