Customisation is precisely the right move for Physik Instrumente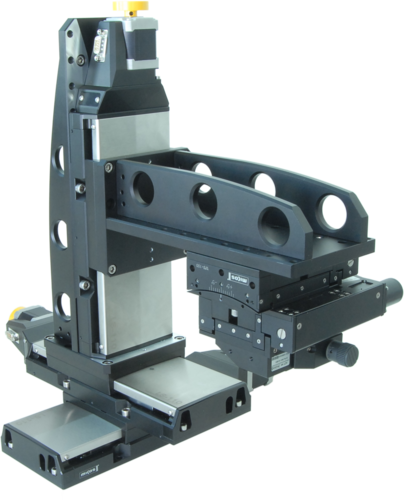 PI Custom Motion Systems will scrutinise a customer's application, examining everything they need from a motion perspective and possibly more.
UK arm of nano and micro-positioning specialist launches custom turnkey system design and manufacture service - PI Custom Motion Systems

Bedford, January 29, 2013 - The UK office of mechanical positioning technology manufacturer Physik Instrumente (PI) today announces the launch of PI Custom Motion Systems - a dedicated application and product customisation service to meet growing local demand for complete, bespoke, mechanical positioning systems that offer the highest possible accuracy and precision.

Until recently, PI's UK and Ireland office was a sales and technical support outpost of its German parent, but as Managing Director Kevin Grimley explains, that needed to change urgently: "From the growing number of enquiries we're getting, there's a clear demand for ever-greater precision in the positioning systems used in photonics, nanotechnology, semiconductor and life science applications. Everyone is looking to measure and manufacture to the highest-possible tolerances, in order to maximise product quality and maintain a competitive edge, allied to which there is a drive in the UK towards more automation. The UK government recognises this, which is why it is investing more money in the sector through the Technology Strategy Board."

PI's business and activity is based on two technology strands. The first is Piezo active ceramic material, which can be used in a variety of ways, but typically is built into positioning devices – usually products that can move something and control its position with nanometric accuracy. Piezo motor technology was developed for this purpose and is manufactured by the parent company in Germany. The second strand includes mechanical positioning systems for linear and rotary stages and linear actuators, which are usually driven by DC servo or stepper motor drives. This technology can achieve precisions down to micron or sub-micron level.

While PI is not alone in designing and manufacturing positioning systems at the micrometre and sub-micrometre level, nanometric positioning technology is a more sparsely-populated field. PI therefore believes it is uniquely positioned to combine its in-house manufacturing capability for complete Piezo motor-driven systems with the new customisation service to give clients complete ultra-high precision solutions specifically tailored to their applications.

Systems Manager Huw Prosser, who joined the company with a remit to expand its customisation capability: "It's true that applications will often require a combination of nano and micro-positioning. However, we believe that with the new service we have a global lead in being able to offer customisation down to nanometre level and in fact right now we are probably the only company able to do that and manufacture the whole system, including its key components. Our recent acquisition of vacuum precision positioning applications and system integration specialist miCos GmbH, for instance, emphasises our determination to give customers the absolute quality assurance they get through buying from a supplier that has almost end-to-end control of the entire system design and manufacture."

Prior to the launch, customers had to take a 'best of breed' approach and would research, order and buy particular parts or subsystems from a variety of competing suppliers. Without complete system responsibility, however, suppliers could not guarantee ultimate performance for parts supplied and incorporated into finished systems by others. The lack of overall supplier accountability is a big headache for customers, so PI anticipates that setting up its 'one stop shop' for customised systems is going to prove very popular.

MD Grimley enthuses: "PI Custom Motion Systems will scrutinise a customer's application, examining everything they need from a motion perspective and possibly more. We will then advise the customer what we propose for the various motion stages, the mechanical hardware, motors etc and we will take full responsibility for all of it. So for the first time we will be able to tell the customer exactly how we expect the system to perform with all those parts assembled and be able to stand by it, which is very exciting. Of course, the application might be something relatively straightforward, that uses standard modular parts with only minor modifications, but today it's just as likely to be something that is designed completely from first principles. With this new service we're taking things to a higher level in terms of what we're offering the customer, but we'll also be able to expand the market for our existing range of several thousand products. Either way, after today, the world of precision positioning will never be the same again."

####

Editorial Enquiries:
Tracey Townrow, Marketing Manager
Email: T.Townrow@pi.ws
Phone: +44 (0)1234 756382
About Physik Instrumente Ltd
Already well-known and respected for their high-quality products, PI is one of the leading players in the international market for precision positioning technology in the fields of photonics, nanotechnology, semiconductor and life sciences. The company has been developing and manufacturing standard and OEM products with Piezo or motor drives for over 40 years. With headquarters in Karlsruhe, Germany, four factories and ten subsidiaries employing more than 700 people globally, the PI group has a presence in every major market worldwide. The company has been ISO 9001 certified since 1994.

PI Custom Motion Systems website

Physik Instrumente global website
This press release was distributed by ResponseSource Press Release Wire on behalf of PI (Physik Instrumente) Ltd in the following categories: Health, Medical & Pharmaceutical, Manufacturing, Engineering & Energy, for more information visit https://pressreleasewire.responsesource.com/about.