FORGET ROSES, IT'S RHUBARB FOR ROMANCE IN YORKSHIRE!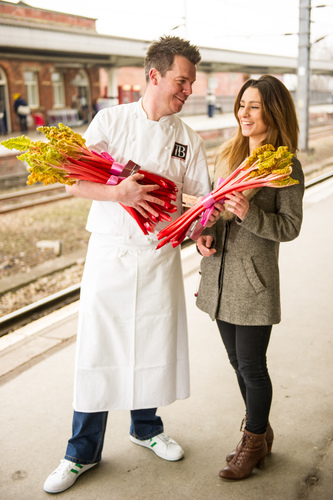 Forget flowers this Valentine's," says Tim, who trained under Raymond Blanc. "This Yorkshire 'love bunch' is pretty-in-pink, healthy and regional
Top Yorkshire chef Tim Bilton is so passionate about Yorkshire food he's swapping roses for rhubarb this Valentine's – giving out bunches of the delicious pink sticks to commuters at Wakefield Westgate rail station!

Rail passengers were tickled pink today when Tim, chef proprietor of The Butchers Arms Hepworth, gave out bouquets of Yorkshire Forced Rhubarb, giving them a taste of romance – Yorkshire style!

With the Protected Designated Origin (PDO) Yorkshire Forced Rhubarb season in full swing, Tim – who became the official ambassador of Deliciouslyorkshire in 2011-12 for his tireless championing of local produce – is completely in-love with the sweet sticks, displaying bundles of them in vases at his award-winning restaurant and concocting a trio of rhubarb desserts for his new cookbook Bilton Basics, which offers 'essential cooking skills with a touch of plain speaking'.

"Forget flowers this Valentine's," says Tim, who trained under Raymond Blanc. "This Yorkshire 'love bunch' is pretty-in-pink, healthy and regional. It's cheaper than roses but less fattening than chocs and much better for you than pink champagne. In the 14th century, they thought it had the power to purify the blood and make young wenches look more beautiful too, so it's the perfect gift for the girls!"

The Butchers Arms – which has won a clutch of national awards for its seasonal, locally-sourced food, including a prestigious 2013 'Top 50 Gastropubs' listing – is located just outside Wakefield's famous 'Rhubarb Triangle', an area between Leeds, Wakefield and Bradford where growers have forced rhubarb in candle-lit forcing sheds, using painstaking, hand-crafted techniques, for generations. The methods of growing and harvesting have been compared to those used to produce the world's finest wines.

Wakefield Westgate station was also at the centre of the rhubarb industry before the Second World War when forced and unforced rhubarb from up to 200 Yorkshire growers was daily shipped down to Covent Garden by train on the so-called 'Rhubarb Express'.

"Yorkshire Rhubarb is a gem in the Yorkshire food crown," adds Tim. "It's beautiful to look at and to cook with and, with its PDO status, rivals delicacies such as Parma Ham and Champagne. It's a true 'food of love' grown right here on our doorstep."

-ENDS-

Editor's Notes:

• Tim Bilton has made a name for himself turning The Butchers Arms Hepworth into one of the region's most successful and talked about eateries. Taking over the business in 2008, his passion for local produce (more than 75 per cent of his ingredients are sourced from Yorkshire) helped him scoop the title of Deliciouslyorkshire Champion, and when he's not representing the North East in two series of the BBC TV series Great British Menu, he's winning the Craft Guild of Chefs' 'Pub Restaurant Chef'; the Great British Pub Awards' 'Best Gastropub'; Yorkshire Life's 'Dining Pub of the Year'; and the Huddersfield Examiner's 'Young Business Person of the Year'.
• Rhubarb, originally a native of Siberia, flourished in the cold, damp soils of Yorkshire, and the ready supply of 'shoddy' from the local woollen mills initially made an ideal fertiliser.
• Yorkshire was the first place in the world that special sheds were erected just for the purpose of growing rhubarb out of season. Once producing 90 per cent of the world's forced rhubarb, the West Yorkshire countryside was dotted with forcing sheds, where the roots were kept warm and dark until they 'fattened up'.
• In 2010, after six years of relentless campaigning, Yorkshire Forced Rhubarb was given PDO status, and today is seeing a revival thanks to its health credentials. Classified as a superfood for its ratio of health benefits to calories – only seven calories per 100g – it's jam-packed with antioxidants, and is thought to help prevent cancer and aid weight loss.
• Each February, Wakefield plays host to the Festival of Food Drink and Rhubarb. Find out more at www.experiencewakefield.co.uk.

For further information or to interview Tim please contact:

Annie Stirk
Absolutely Food PR & Marketing
Home Farm, Mill Lane
Stillington
York
YO61 1NG
T: 01347 810531 M: 07771 655756
E: admin@absolutelyfood.co.uk

Or

Timothy Bilton
The Butchers Arms Hepworth
38 Towngate
Hepworth
Holmfirth
HD9 1TE
T: 01484 682361
E: thebutchersarmsathepworth@btconnect.com

For more details about the Butchers Arms, Hepworth, see www.thebutchersarmshepworth.co.uk

High Res Images Available
This press release was distributed by ResponseSource Press Release Wire on behalf of Absolutely Food PR in the following categories: Leisure & Hobbies, Home & Garden, Women's Interest & Beauty, Food & Drink, for more information visit https://pressreleasewire.responsesource.com/about.