Is the UK a failure or a leader in superfast broadband?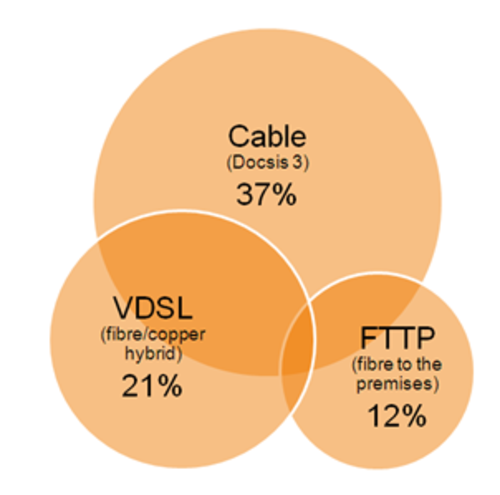 FTTH Council Europe is one of the most successful technology industry pressure groups around. But it is facing a big challenge at its annual conference in London later this week.

The conference will probably be a jam-packed sellout, breaking attendance records once again. But despite its success in winning hearts and minds among the media and politicians, the FTTH Council is not getting results in terms of faster growth of fibre-to-the-home networks which it seeks. And now the massive cuts in the CEF broadband budget will make it even harder to blow fibre along the streets and across the fields of Europe.

"Fibre all the way is superfast but it's also super-expensive. Operators would need a level of subsidy to achieve complete coverage with fibre that's way above any commitment the EU was prepared to make. Even if the CEF had stayed intact it was going to be shared with other solutions," says Oliver Johnson, CEO at Point Topic.

Europe-wide research by Point Topic, the broadband analysts, shows that FTTP(fibre all the way to the premises) is far from being the first choice for next-generation superfast networks, delivering over 30Mbps. In the last few years cable has leapt forward as networks Europe-wide have largely been converted to the Docsis 3 standard, offering users as much as 100mbps. More recently, VDSL (fibre to the node and then very high speed DSL in the local loop usually using existing infrastrcuture) has started to rollout as well.

"A few years ago FTTP was the first and only choice for anyone who wanted superfast broadband, now it is way back in third place and struggling to match its rivals' growth rates," says Johnson.

Point Topic expects that the FTTH Council will once again promote its updated FTTH scorecard.

"Once again the UK will be near the bottom of the list, with FTTH coverage and customers both well under 1%. The fact that Docsis 3 cable and VDSL both play a much bigger part than FTTH in delivering superfast broadband to European homes will not be mentioned," says Johnson

But when those technologies are taken into account the UK, like quite a few other countries, turns from a failure to a leader. In its study for the European Commission*, Point Topic showed that, by the end of 2011, 58% of UK homes could buy 30Mbps broadband or better if they wanted. The comparable figures for France and Sweden, two countries often compared with the UK to its disadvantage, were 39% and 51% coverage respectively. Point Topic believes the margin in the UK's favour had probably widened by the end of 2012.

"VDSL and Docsis 3 have gained much wider coverage because, as things are today, they are much cheaper in most circumstances. End-users still get the speeds they want, but many more get access to superfast than we could afford if we were insisting on FTTH for everyone," explains Johnson

Point Topic's view is that the FTTH Council should start recognising that there are multiple technologies in the business of delivering superfast broadband and the whole market will be better off if they all play their full part.

*Broadband Coverage in Europe 2011

About Point Topic

Point Topic is the primary websource for DSL, FTTx, cable and other broadband supplier and user statistics, databases, information and reports. Its data is in use worldwide amongst governments, commercial organisations and as general reference. A range of online services provides the most up-to-date, accurate and cost effective worldwide and UK specific broadband data sets available. See www.point-topic.com for more details.

For media information please contact Oliver Johnson at oliver.johnson@point-topic.com on: +44 (0)20 3301 3303.
This press release was distributed by ResponseSource Press Release Wire on behalf of Point Topic in the following categories: Consumer Technology, Business & Finance, Computing & Telecoms, for more information visit https://pressreleasewire.responsesource.com/about.