Crown Paints Lifts The Lid On Major Recycling Scheme To Mark Climate Week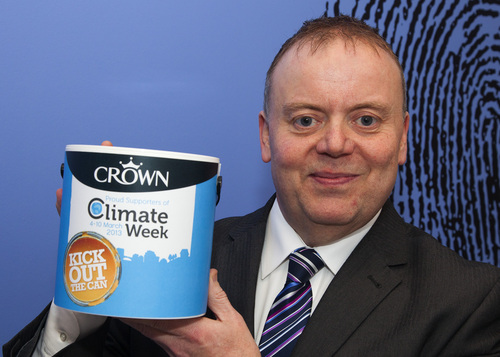 Householders are being given the chance to free up the sheds, garages and cupboards of the nation to mark Crown Paints' partnership with Climate Week.

As a supporting partner of Climate Week, Crown is opening the doors of its network of 119 Crown Decorating Centres across England, Wales and Scotland to enable people to return their surplus paint for recycling, as part of its 'Kick Out The Can' scheme.

The two week recycling programme – which starts at the beginning of Climate Week on 4 March – will give people the opportunity to clear out their unwanted paint by just taking the containers and tins back to their local Crown Decorating Centre.

The paint will be processed and then donated for community projects - and the leftover plastic and metal paint containers will also be reprocessed and recycled.

Crown Paints' partner, the regeneration charity Groundwork, will be distributing the recycled paint to worthy causes nationwide. The donations are being managed by Groundwork Pennine Lancashire, who Crown Paints have worked closely with on a wide-range of sustainability projects.

Mark Lloyd, Crown Paints' Sustainability Manager, said: "We are delighted to be launching our recycling campaign as part of our partnership with Climate Week. It is a major initiative for us and something that will make a real positive difference to the environment, and many people across the country this year.

"Most households have old paint containers and tins dotted around the home and people are not always sure what to do with them. In fact, statistics show that there are approximately 54 million litres of paint unused in homes across the UK, enough to fill approximately 30 Olympic-sized swimming pools – so there is plenty to go at.

"Our scheme gives householders a useful opportunity to give their spring clean a boost, and to ensure their old paint, as well as the containers and tins are transformed - ultimately helping communities through the donation of recycled paint products."

Amanda Atherton, spokesperson for regeneration charity Groundwork, said: "One of our biggest roles at Groundwork is to help people and businesses to reduce their environmental impact and to make a difference in their local communities. The 'Kick out the Can' campaign does both these things and it's nice to see such an innovative and truly sustainable approach to doing business.

"The paint that's brought back to Crown Decorating Centres will be donated to community projects. It can be used to transform community halls, youth centres and green spaces, or be used in the delivery of a project – creating art, for example, or training young people that aren't in employment or education.

"Ultimately, this campaign will transform the work of a community groups and projects that are struggling for funding. We are really hoping that people will be inspired to go into their cupboards and garages and clear out that unwanted paint -so we can use it to make a big difference in their local community."

Climate Week is Britain's biggest climate change campaign, inspiring a new wave of action to create a sustainable future.

Culminating in a week of activities, it showcases practical solutions from every sector of society.

Each year, half a million people attend 3,000 events, run by schools, businesses, charities, councils and many other organisations.

'Kick Out The Can' is the latest activity from the UK paint manufacturer to support the environment. In 2008, Crown launched 'Earthbalance' a dedicated sustainability programme, featuring an ambitious, long-term target to drive down its own greenhouse gas emissions, with the target of a 10 per cent reduction in 2015 – and 25 per cent in 2020. These two targets are in addition to a sustainability target of zero waste to landfill, originally targeted for December 2012 – which was achieved more than 12 months ahead of schedule.

Crown's investment in carbon footprinting technology is helping the company achieve these targets. Carbon footprinting enables the company to measure the footprint of all products across its range, including Crown Paints, Sadolin and Sandtex, as well as Crown Trade and Sandtex Trade, and then make the necessary changes to reduce the carbon output, without affecting the quality of the paint.

Vernon Kinrade, Crown Paints' Sector Support Manager, said: "We are well on track with our green commitment; and results such as the achievement of our zero waste to landfill target more than 12 months ahead of schedule reflect the success of the programme to date.

"However, there's still plenty to do and we see sustainability as a mission for the entire organisation. It's not just about filling a market niche; it's about changing the way we do business.

"Our focus is to minimise energy, reduce, re-use or recycle waste wherever feasible and develop continuous improvement programmes and innovation initiatives to inspire products and processes with the lowest possible ecological impact. All this is undertaken with an absolute commitment not to affect our products' performance adversely.

"We also apply responsible raw material sourcing, considering the environmental and ethical effects of raw materials used within our business.

"We are not just focused on providing a few niche 'green' products. By measuring and evaluating the carbon footprint of everything we do, we can make improvements, without impacting on the quality of the paint we produce.

"This means trade and DIY customers can be assured that they benefit from high performing quality paints, which maintain their protective and aesthetic qualities for the longer term – in itself a sustainable outcome."

A video giving further details of the 'Kick Out The Can' campaign for Climate Week can be viewed at www.youtube.com/crownpaint

ENDS

Notes To Editors

Terms And Conditions Of Kick Out The Can

Householders can bring back up to ten containers (of any decorative paint) to their Crown Decorating Centre per visit during the two weeks of the scheme.

The initiative applies to mainland UK branches only.

Paint must be in original containers with lids securely attached and no foreign
objects or substances in cans.
Aerosols and rusty cans cannot be accepted.

About Crown Paints:

• Crown Paints is owned by Danish decorative and protective coatings company Hempel, who employ over 5,000 people and operate in more than 80 countries.

• Crown Paints is the Holder of the Royal Warrant by Appointment to Her Majesty the Queen, as Manufacturers of Paints.

• Over 1,250 employees work for Crown Paints, which is based in Darwen in Lancashire, with manufacturing sites in Darwen and Hull, which operate to ISO 9001 accredited quality management system and ISO 14001 environmental management system.

• The company also has a network of 133 Crown Decorating Centres spread throughout the UK and Ireland.

• Crown Paints serves every sector of the decorative coatings market, promoting its market-leading paint and woodcare brands – Crown, Sandtex, Permoglaze, Macpherson, Sadolin and Berger – to consumer and professional audiences alike, as well as key export markets.

• Crown Paints has been making paint for over 200 years.

• Crown Paints is committed to delivering its sustainability targets and its work in this field has been recognised at several regional and national awards. The company is also able to measure the carbon footprint of all of its products and has met its targets of achieving zero waste to landfill.
This press release was distributed by ResponseSource Press Release Wire on behalf of Shepherd PR Limited in the following categories: Home & Garden, Manufacturing, Engineering & Energy, Construction & Property, for more information visit https://pressreleasewire.responsesource.com/about.