12 hour Live Twitter Debate in Celebration of International Women's Day #WomensSuccessIWD13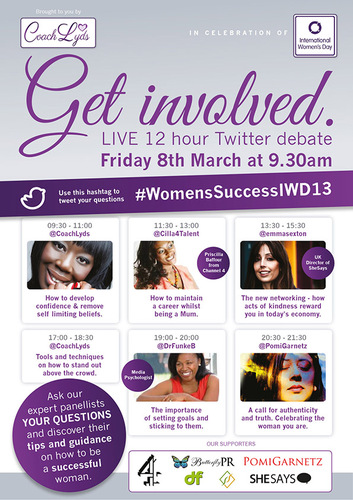 I chose these specific women because of their interest in personal development and desire to empower
On Friday 8 March 2013, in celebration of International Women's Day 2013, media life coach, Coach Lyds, will host a 12 hour live Twitter Marathon taking questions to empower women in all walks of life to further success in their work and lives.

The panellists, from a variety of sectors and backgrounds, include Lydia Frempong at Coach Lyds, Priscilla Baffour at Channel 4 , Emma Sexton at SheSays, Ushma Patel at PomiGarnetz and Dr Funke B a Media Psychologist.

The panelists will offer inspiration, tips, advice and perspectives to empower and lift women to the next levels of success. Themes include:

• Developing confidence and removing self limiting beliefs
• How to maintain a career whilst being a mum
• The new networking: how acts of kindness reward you in today's economy
• Tools and techniques on how to stand out from the crowd
• The importance of setting goals and sticking to them
• A call for authenticity and truth: success through celebrating the woman you are


The debate invites women to share knowledge, ask questions, and come together to tackle professional and personal blocks. Anybody can track and get involved in the debate by using the WomensSuccessIWD13 tag.

Coach Lyds is confident that this dynamic and relevant event will present women's issues to a diverse online audience, and allow everyone to get involved regardless of their location, employment or commitments.

Speaking about the debate, Coach Lyds commented I chose these specific women because of their interest in personal development and desire to empower. They each bring a unique perspective through different life experiences spanning across Creative, Media, Technology and Broadcasting Industries, which I know will appeal to many.

END

For more information, contact:
Lydia Frempong
Tel: (+44) 0 7429 273 158, Email: lydia@butterfly-pr.co.uk

Web: http://www.butterfly-pr.co.uk

Twitter: @CoachLyds WomensSuccessIWD13

Notes to Editors

Debate Schedule:
09:30 – 11:00
Lydia Frempong @CoachLyds
How to develop confidence and remove self-limiting beliefs

11:30 – 13:00
Priscilla Baffour @Cilla4Talent
How to maintain a career whilst being a mum

13:30 – 15:30
Emma Sexton @EmmaSexton
The new networking: how acts of kindness reward you in today's economy

17:00 – 18:30
Lydia Frempong @CoachLyds
Tools and techniques on how to stand out from the crowd

19:00 – 20:00
Dr Funke Baffour @DrFunkeB
The importance of setting goals and sticking to them

20:30 – 21:30
Ushma Patel @PomiGarnetz
A call for authenticity and truth: success through celebrating the woman you are

About the Panellists

Coach Lyds Lydia Frempong
Lydia Frempong is life coach who teaches others how to make the most of themselves in whatever circumstance.

Lydia, an accomplished media professional Lydia Frempong is a sought after Life Coach in the media industry because of her ability to apply her dynamism, character and intelligence to the lives of others. In 2011 she was rewarded with the Business in the Community "Leadership in the Workplace Award" having been described as "Britain's most enterprising charity professional" in the press.

Lydia has respect and recognition within the media and broader industry for her ability to transform the way in which leaders and individuals promote themselves and run their businesses. Lydia coaches businesses at the highest level, recently becoming a Patron of Show Racism the Red Card which boasts Doreen Lawrence, Rio Ferdinand and Patrick Monahan and more as their supporters.

Lydia is also the lead trainer for Channel 4's scheme, 4Talent roadshow, a series of open days in cities across the UK which includes a mix of creative workshops, careers advice and industry. Lydia delivers brand workshops on how to 'How to Stand Out Above the Crowd' aimed at young people 16-24 who want to embark upon a career in media.


Priscilla Baffour Channel 4
A hard working career mum with a wealth of experience within the creative industry. Currently working for Channel 4, she looks after 4Talent which is the part of Channel 4 which works across the country with new talent and young people. Priscilla manages a work experience scheme and the 4Talent Day road shows around the UK.

Priscilla is passionate about using the power of media to engage young people and make a difference. Over the past 5 years she has worked on a number Youth Media projects with a variety of media companies including BBC, Sky, ITV, MTV, News International and many more. In her spare time she is a mentor and career development trainer.

Emma Sexton Director of SheSays
The leading network for creative women worldwide. They run events, conferences and meet ups with leading women as they seek to find, and create, more female role models for the industry - after all, you 'can't be what you can't see'.

Emma is also the founder and Creative Director of Make Your Words Work
Emma Sexton a design company challenging the traditional agency approach by empowering their clients to use design in ways that will transform their business from the inside out.

Emma Sexton has over 16 years graphic design experience working with brands such as Barclays, Boots, Coke, Disney, L'Oréal and Unilever. She has a proven track record of leading, building and transforming creative teams into profitable and highly respected design practices. She holds an MA in Design Management from the London College of Communication and is a trained business coach. Emma has been a winner of the Kantar Inspiration Award, WPP WPPed Cream Award and the Future 100 Award. You will also find her as a regular speaker at industry events and conferences.

Ushma Patel PomiGarnetz
An artist in the biggest sense of the word: Expressing through words, visual arts, idea generation and life. Inspired by and inspiring a new world of innovation and the realisation of the creative potential on this planet now.

In the past: 8 years public relations at leading international pr consultancies working through all divisions (and a wide range of industry sectors).

8 years coaching & travelling the world working with energetics and consciousness / teaching leadership and advanced coach training.

Dr Funke, Media Psychologist Dr Funke
A Chartered Clinical Psychologist and Founder of DFTC (Dr Funke-Take Control) consultancy, where her services are offered for individuals or groups to take control of various aspects of their lives. She is the pioneer of a new wellbeing programme aimed at helping people take control of the lifestyle through the use of psychological and nutritional strategies.

Dr Funke's has written a number of books such as 'Take control of your Tomorrow; Good Monday Morning and High Risk Body Size: Take Control of Your Weight. She is also in the editing stages of a number of books from her Take control series; Take control of your week, Take control of your thinking and Take control of your Emotional weight loss.

Dr Funke has been a regular contributor to ITV's Day Break, ITV This Morning and BBC The One show. Dr Funke is also a regular contributor to CNN International, giving expert advice on political and current affairs.

About International Women's Day
International Women's Day has been observed since in the early 1900's, a time of great expansion and turbulence in the industrialized world that saw booming population growth and the rise of radical ideologies.

Much has changed since then, and IWD is now an official holiday in many countries. The new millennium has witnessed a significant change and attitudinal shift in both women's and society's thoughts about women's equality and emancipation.

Many from a younger generation feel that 'all the battles have been won for women' while many feminists from the 1970's know only too well the longevity and ingrained complexity of patriarchy. The unfortunate fact is that women are still not paid equally to that of their male counterparts, women still are not present in equal numbers in business or politics, and globally women's education, health and the violence against them is worse than that of men.

However, great improvements have been made. And so the tone and nature of IWD has, for the past few years, moved from being a reminder about the negatives to a celebration of the positives.

Annually on 8 March, thousands of events are held throughout the world to inspire women and celebrate achievements. A global web of rich and diverse local activity connects women from all around the world ranging from political rallies, business conferences, government activities and networking events through to local women's craft markets, theatric performances, fashion parades and more.

Many global corporations have also started to more actively support IWD by running their own internal events and through supporting external ones.
This press release was distributed by ResponseSource Press Release Wire on behalf of Coach Lyds in the following categories: Women's Interest & Beauty, Business & Finance, Media & Marketing, for more information visit https://pressreleasewire.responsesource.com/about.