Knutsford Heritage Centre - New Guided Walking Tours for 2013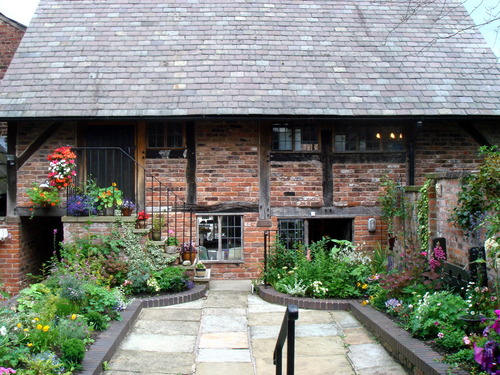 Knutsford is a delightful market town and through the tours you get to experience the varied and abundant history
The best way to discover Knutsford is through one of our new guided walking tours which run throughout the year with one of our friendly and knowledge guides. You will be guided around the town's streets to discover its rich past and diverse heritage. All tours last approximately one hour and depart from the Centre.

Cranford & Mrs Gaskell

Travel back in time with your guide to discover Knutsford as the real Cranford, a town 'in possession of the Amazons'. View Heathwaite House, the childhood home of Mrs Gaskell, see the church where she was married and see, also, the shops and residences that would have been frequented by the ladies of Cranford. Mrs Gaskell was one of the great 19th century authors and a natural story teller, who counted amongst her friends many of the most eminent Victorians.

People and Places

This tour takes you on a journey around Knutsford discovering some of its great historical characters, among them the admired 19th century author, Elizabeth Gaskell and the amateur architect, Richard Harding Watt, with his love of all things Italianate. More surprisingly, there is Edward Royce, of Rolls Royce fame, and General 'Blood and Guts' Patton and the American Third Army. You will learn about kings and highwaymen, architects and authors, gentry and generals.

Knutsford Buildings Knutsford Buildings North and Knutsford Buildings South and Their Stories. There are well over 100 listed buildings in Knutsford ranging from 17th century cottages and a Grade 1 listed chapel to fine Georgian houses, an impressive neoclassical court house and a Victorian Gothic town hall, not forgetting of course, the Italianate architecture of Richard Harding Watt. On either of these hour-long walks, you will see the good, the bad and the mad; enjoy their stories and hear about some of their unexpected and famous associations..

Turn Up and Go

Every Friday at 11.00, from the beginning of May until the end of October, just turn up at the Heritage Centre shop, pay £5 and go on a 'People and Places' tour. No booking needed.

Head of Volunteers, Val Bryant, explained: Knutsford is a delightful market town and through the tours you get to experience the varied and abundant history of the whole town, people and buildings."

Each tour takes around an hour and starts from Knutsford Heritage Centre. Bookings essential and group bookings are welcome. £5 per person.

About Knutsford Heritage Centre:

Knutsford Heritage Centre is housed in a reconstructed 17th century timber framed building previously known as Musgrave's Yard. Evidence of its previous existence as a tinsmith, ironmonger and brazier is clear, with a forge, anvil and an original set of bellows now preserved all on display. Working as an independent charity, The Heritage Centre continues to grow and develop, always aiming to 'protect, present and promote Knutsford's rich and diverse heritage for the benefit of its residents and visitors.'
Admission to the Centre is FREE and it is open all year round. Events and exhibitions take place throughout the year. Eventsandexhibitions

Opening Times:

Summer, 1st April – October 30th - Tuesday – Saturday 11am – 4pm. Sunday 2pm – 4pm.
Winter, 1st November – March 31st - Tuesday – Saturday 11am – 4pm.
90A King Street, Knutsford, Cheshire, WA16 6ED. 01565 650506
Twitter/knutsheritcent Facebook/Knutsford Heritage Centre
www.knutsfordheritage.co.uk
info@knutsfordheritage.co.uk

Public Relations Contact: Caroline Howarth, howarthcaro@gmail.com 01565 652854, 07791 156256.
This press release was distributed by ResponseSource Press Release Wire on behalf of Knutsford Heritage Centre in the following categories: Entertainment & Arts, Leisure & Hobbies, Environment & Nature, Travel, for more information visit https://pressreleasewire.responsesource.com/about.