HPI Survey Reveals Used Car Buying is a Woman's World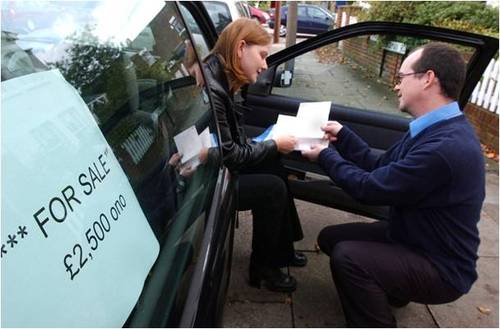 HPI survey reveals that it's a woman's world when it comes to buying a used vehicle
www.hpicheck.com

The latest survey from HPI, the vehicle history check experts, reveals that more men than women feel they didn't get a good deal when they last bought a used car. 43% of men said that they felt this way, compared to just 35% of women, suggesting that female motorists make better buying decisions.

According to the HPI survey, 51% of women consult a family member or friend who knows something about cars. Unsurprisingly, men are reluctant to ask for advice with just 27% taking along a more knowledgeable companion to protect themselves from making a bad used car purchase. In addition, confirming the motto 'with age comes wisdom', older used car buyers appear to be making sensible purchase decisions, with 83% of third-agers not experiencing any hidden problems after they've parted with their money.

"The survey suggests that men are more difficult to please, when it comes to used car buying and that they won't take advice. This could be why men are more likely to think they've been had, but it also leaves them vulnerable to fraudsters," says Nicola Johnson, Consumer Services Manager for HPI. "In contrast, women are eager to take advice and prepare before checking out their options. This clearly helps them make measured decisions and as a result, they are happy with their purchase."

Geographically, people in Northern Ireland are the most satisfied with their last used car purchase, with a whopping 83% believing they got a good deal, compared to just 49% of buyers in the East Midlands. 50% of those in the North East took a family or friend with them, whilst people in Northern Ireland and Scotland are the least likely to discover a problem after purchase. In contrast, nearly 40% of buyers in the West Midlands discovered problems after a purchase. They also have the highest number of provenance issues with outstanding finance, mileage and paperwork discrepancies.

No matter what gender you are or where you live – used car buying should not be a gamble. The dangers of buying a used car are a worry for any motorist, with many thousands of vehicles on Britain's roads today that have been stolen, written-off or have finance outstanding on them. An HPI Check offers innocent buyers a vital level of protection, reducing the dangers by providing the key information about a vehicle's history. The HPI Check also includes a mileage check as standard, using its National Mileage Register database, which holds more than 150 million mileage records, protecting buyers from the risk of buying a clocked vehicle worth a lot less than it appears.

Penny Mallory, National Ladies Rally Champion and TV Presenter who knows a thing or two about car buying, is working with HPI to throw the spotlight on the very real dangers of used car buying, "In a very risky marketplace, protecting the used car buyer is absolutely crucial. I had first-hand experience of the potential problems when filming for Used Car Roadshow. I often attend auctions for the programme, and at one particular sale came across a vehicle that caught my eye. However I wanted to know more about its past before I went ahead.

"Being at an auction I needed to move quickly, so called HPI to perform a check over the phone, which uncovered outstanding finance on the vehicle. Although this didn't necessarily suggest fraud, I needed to go with my gut instinct, and based on the information from HPI I decided it just wasn't worth the risk. I urge anyone buying a used car to play it safe and conduct an HPI Check before purchase. For less than the price of car mats, you can buy peace of mind and save yourself thousands of pounds."

In addition, the HPI Check confirms the vehicle's identity and registered keepers. And for added peace of mind, the HPI Check also protects buyers with the HPI Guarantee, which provides up to £40,000* financial reimbursement in the event of the car not being everything it seems – including a clone.

"Shockingly, 30% of the used car buyers we surveyed did no checks whatsoever when buying a used car. Basic checks, including cross referencing paperwork, such as the MOT and the V5 to ensure vehicle and owner details tally, can be enough to cause alarm bells to ring," concludes Nicola Johnson. "And only 21% of the people we surveyed said they specifically pay by cheque or bank transfer to protect themselves. Never pay in cash alone as you will have no proof of purchase should you be caught out by a fraudster."

For further information visit www.hpicheck.com or call 0845 300 8905
Follow us on Twitter @ www.twitter.com/hpicheck

Notes to Editors
Dominic Dennis, Madeleine Roles or Justine Hoadley
HSL
Email: hpiteam@harrisonsadler.com
Tel: 0208 977 9132

About HPI:

Originally established in 1938, HPI Limited is a primary source of vehicle information for the UK motor industry and motoring consumer which, since December 2008, has been owned by Solera Holdings, Inc. Solera Holdings, Inc. is an integrated group of leading automotive claims solutions companies. Founded in January 2005 by Chairman and Chief Executive Officer Tony Aquila, Solera has expanded its geographic reach and now serves more than 55,000 business customers in over 50 countries across six continents.

HPI encompasses both the HPI database of all UK road registered vehicle descriptions and histories, and the National Mileage Register (NMR) which holds in excess of 150 million mileage readings.

Together, HPI and NMR represent the UK's largest vehicle information source, combining and interpreting data from government agencies, industry bodies, private organisations, the police and the general public. Registering with HPI helps companies to protect their financial interests in motor vehicles and a wide range of other mobile assets. HPI Checks give purchasers instant confirmation of whether vehicles are correctly described, known to be subject to outstanding finance or serious accident damage, or recorded as stolen or "clocked".

'HPI' and the HPI logo are registered trademarks of HPI Limited.
(1) All prices include VAT and are correct as of 4th January 2013
(2) Mileage Data is not covered by The HPI Guarantee
*(3) The HPI Guarantee is subject to terms and conditions and the level of cover varies depending on the HPI Check conducted. The £40,000 cover is available with the HPI Premium Check.
This press release was distributed by ResponseSource Press Release Wire on behalf of Harrison Sadler in the following categories: Motoring, for more information visit https://pressreleasewire.responsesource.com/about.