Corporate Health Screening from Bluecrest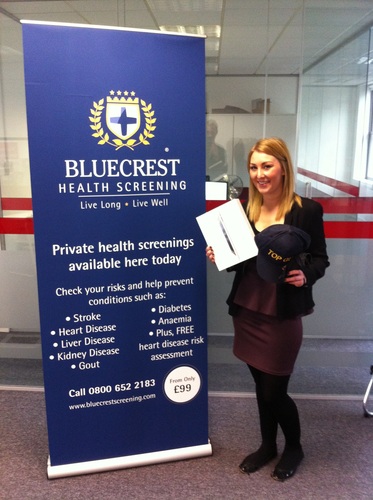 corporate screening packages start from as little as £29 per person and can be used as a company perk and to create a healthier and engaged workforce.
Southend, UK, 24th April 2013 - Outsourced contact centre Ventrica which provides niche, high quality customer contact services, has been treated to free health screening for its advisors that take care of customer enquiries on behalf of client, Bluecrest Health Screening.

Head of Marketing at Bluecrest Health Screening, Craig Wilmott explains, "In addition to offering customers screenings in local clinics, companies are now asking us to provide screenings in their premises. This is more convenient for their staff who don't have to take time off to travel or leave the company building. Therefore we wanted to give Ventrica first-hand experience of this new way of delivering screenings which also helps staff when speaking to customers."

On site at Ventrica's contact centre in Southend, each of the team were offered their own screening, covering a comprehensive range of health testing from anaemia to heart disease.

Ventrica Customer Advisor, Natalie Archer, who works on the Bluecrest account said, "The whole experience was really pleasant, quick and easy. Some people are quite apprehensive about anything medical, but the team from Bluecrest were really reassuring, and the tests are simple to do."

"The report you receive afterwards is really straight-forward to understand and in plain English, without any medical jargon. It gives you a valuable snapshot on all areas of your health and by using colour coding such as Green, Amber and Red; you can quickly pinpoint any areas that may need further attention. It is now even easier to give great customer service to Bluecrest callers."

Bluecrest is one of the few mobile screening providers that visit companies at their premises as well as giving them access to 1,532 local convenient clinics.

Craig adds, "Not only is our service really convenient for companies, it is also very cost-effective. Our corporate screening packages start from as little as £29 per person and can be used as a company perk and to create a healthier and engaged workforce."

Bluecrest also runs a number of on-going incentives to reward Ventrica staff. Pictured is Genna MacFarlane who won an iPad for her excellent customer service during February and March.

For more information visit - www.ventrica.co.uk
www.bluecrestscreening.com

-ends-

Editor's notes:

About Ventrica:

Ventrica is an outsourced contact centre and BPO (business processing outsourcing) business that offers a full range of high quality, professional outsourced services at sensible costs. Ventrica has the capabilities and flexibility to scale up and down as a business requires, drawing on a pool of highly experienced staff and the latest multimedia technology.
Ventrica can support all types of campaigns from handling the response to a one-off advertising campaign, through to providing a professional and experienced telemarketing team to boost sales or a fully managed customer service centre.
The company is headquartered in Southend where it operates from spacious, hi-tech and modern offices, placing significant emphasis on the comfort and well-being of its staff. Ventrica shares the same passion about its customers' business as it does for its own and continually strives for quality and consistency of service delivery.

Ventrica's objectives are simple;

• To create a greater level of client satisfaction
• To provide clients with a measurable reduction in costs
• To add value to a client's organisation

Press contact : Jane Moores/Sally Minchin, TTA Communications Ltd,
Tel : 01225 580214 email: jmoores@ttauk.com / sally.minchin@ttauk.com

###
This press release was distributed by ResponseSource Press Release Wire on behalf of TTA Communications (Bath) in the following categories: Health, Business & Finance, Media & Marketing, for more information visit https://pressreleasewire.responsesource.com/about.