REVOLUTIONISE YOUR SLEEP THIS SUMMER WITH A SILK DUVET FROM SILKSLEEP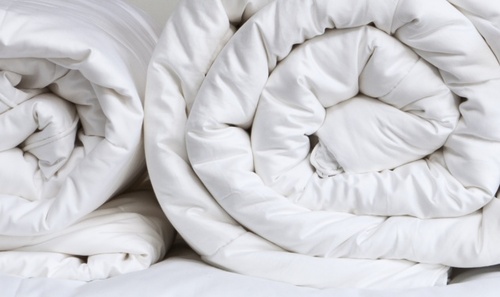 By switching to a silk duvet from Silksleep, restless nights could be a thing of the past.
For those of us who have trouble sleeping, Summer can prove to be an even trickier time to get a good night's sleep. By switching to a silk duvet from Silksleep, restless nights could be a thing of the past.

When wrestling with the covers as you fluctuate from being too hot and feeling a chill, the time available for a deep, peaceful rest is dramatically reduced during the hot summer months. Here are three ways a silk duvet could revolutionise your sleep:

Even Coverage

To accommodate the feathers within and to ensure they do not fall to the bottom, down duvets are stitched into pockets. Although this may be a successful way of spreading around the stuffing, the top sections of each of the pockets are left bare, resulting in an uneven coverage. Our silk duvets are stitched in such a way that the coverage given is equal all over, eliminating cold spots.

Reduced Perspiration

Even if you are not prone to excessive perspiration, sleeping under a bulky, feather-filled duvet can lead you to sweat during the night. Down duvets work by trapping heat underneath them, which can cause you to overheat. As a natural product, silk allows for air to escape and your body to breathe throughout the night. Also, as 100% Mulberry silk duvets reduce overnight perspiration, there is less need to wash your duvet as regularly as a conventional duvet.

Close Comfort

A silk duvet from Silksleep is thinner than regular polyester or down based alternatives, while still providing an increased level of comfort. As the duvet is thinner and lighter, it sits closer to your body and reduces the amount of air pockets.

Silk duvets from Silksleep start at just £105 and £65 for a silk pillow. Our lavish silk duvets are generously filled with the finest long-strand silk. Throughout the seasons, a hypo-allergenic Silksleep duvet is an investment in a peaceful, heat-regulated rest, lightly draping over your body for a comfortably close slumber. Matched with a naturally cushioning silk mattress topper and soft yet supportive silk pillows for the perfect nights sleep.

For more information on Silksleep and their range of products, please visit: www.silksleep.com. For a press-pack, high-res product imagery or any further enquiries, please email info@silksleep.com or speak to Roberto on 01243 633 350.

-END-

About Silksleep (www.silksleep.com):

From stylish bed linen to luxurious silk bedding, Silksleep offer a range of products that compliment your body for a blissful night's sleep. Silksleep's elegant range of silk products are for those who value beauty and relaxation.

Based in Chichester, West Sussex, Silksleep have taken the time to ethically source the finest quality suppliers to ensure that each of their products will last for many years to come, whilst containing no offcuts, factory seconds or silk from mixed sources. All Silksleep bed linen is made with 100% naturally hypoallergenic mulberry silk, free of harmful chemicals and artificial colourants, and boasting a thread count of 400.

Naturally soft and aiding in nighttime reabsorption of moisture, silk leaves your skin looking fresh and rejuvenated. Silk has none of the wicking effects of cotton, boosting your moisturising regime and caring for your hair. In addition to their silk duvets, Silksleep also sell a range of silk bed linens, eye masks, robes and pillows. Each of their products encapsulate the luxurious nature of silk while offering beauty benefits to your skin and hair.
This press release was distributed by ResponseSource Press Release Wire on behalf of The Bakery PR in the following categories: Home & Garden, Women's Interest & Beauty, Retail & Fashion, for more information visit https://pressreleasewire.responsesource.com/about.