Oil Tank Supplies raises the bar for post delivery fuel quality conditioning.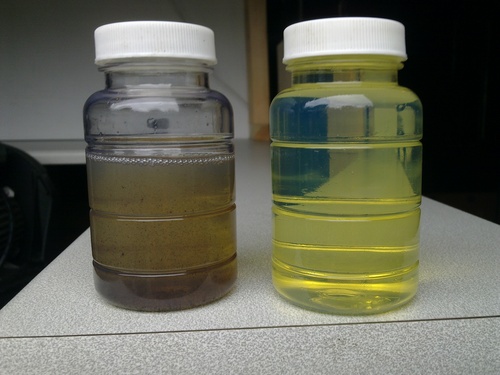 Oil Tank Supplies (OTS) of Moreton in Marsh, Gloucestershire has secured a distribution agreement, enabling the company to equip bulk storage tanks with an innovative fuel quality treatment process. Based on E3 PLUS nanotechnology, the process is used to re-energise stored fuel by passing it through a recirculation system attached to the storage tank.

Traditional fuel treatment packs supplied by OTS are designed to maintain fuel quality, post-delivery. This is achieved by recirculating the fuel through two stages of filtration to remove particulates and water held in suspension.

"The significance of this new technology is that we can provide a process which not only inhibits any degradation in quality, it actually reverses degradation, bringing the fuel passed through the system back to freshly refined spec, and restoring its calorific value," explains Sales Director Steve Gain.

He continues, "The key benefit of incorporating the E3 PLUS Fuel Performance Unit is it will eliminate the build-up of sludge deposits. By removing sludge from our tanks we negate the customers need for expensive 'manned entry' tank cleaning and the associated Health and Safety and other downtime issues".

"We are delighted to have this distribution agreement in place to offer this cost effective innovative technology to our customers".

The E3 PLUS Fuel Performance Unit (FPU).
E3 PLUS is a patented and proven nanotechnology that de-clusters and stabilizes hydrocarbon chains, reversing unstable bonds that have formed through natural degradation.

The E3 PLUS FPU is an in-line device that houses an insulated chamber specifically designed to reflect and intensify E3 PLUS emissions, altering and stabilizing the fuel instantaneously as it passes through.

This solution not only helps to prevents post-delivery contamination it also refreshes the product during storage.
Initial production includes a 2 inch bore model for 350 litres/min fuel flow and a 1 inch bore model for the retro fit fuel conditioning pack.

ENDS
Photographs are available on request.
Issued by Mike Ottewell

MJO Associates for Oil Tank Supplies Limited.
Tel: 01538 361217
E mail: mike@mjopr.com

For more information.
Fuelquality

www.oiltanksupplies.co.uk

Total Fuels Solution

OTS offers TOTAL FUEL SOLUTIONS – manufacturer of storage tanks, electronic remote real-time monitoring of stocks, alarms, fuel cleanliness levels, BMS connectivity, fully automated fuel purification systems (inline and in tank), advanced bio-fuels proven to improve engine efficiency and reduce serviceability, in the field fuel sampling, testing and reporting.
This press release was distributed by ResponseSource Press Release Wire on behalf of MJO Associates in the following categories: Manufacturing, Engineering & Energy, Transport & Logistics, Construction & Property, for more information visit https://pressreleasewire.responsesource.com/about.