Its fresher's week but how fresh is the air they breathe?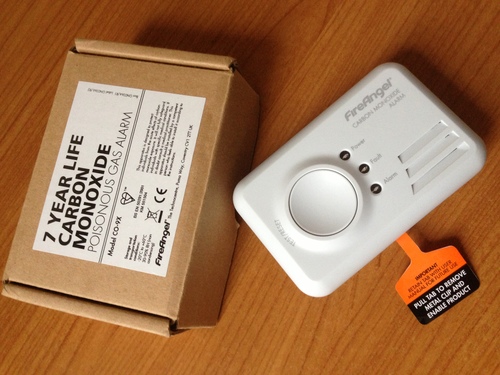 A Carbon Monoxide alarm could save your child's life.

Is one of your children off to university and moving into rented accommodation for the first time? If so make sure their new digs are fitted with a Carbon Monoxide alarm says company boss Martin Clayton.

This simple electronic device costing only a few pounds should be fitted to all rented properties to drastically reduce the risk of long term health problems or even death from Carbon Monoxide poisoning.

Martin, business development and strategy director at GTi, insulation and draught proofing specialists, warns that every fuel burning appliance in the home or workplace can give off Carbon Monoxide (CO).

He said: "CO is colourless, odourless and tasteless and is absolutely deadly, killing around 50 people every year in the UK, leaving about 200 seriously ill and many thousands suffering adverse effects.

"Having a detector fitted is the only way of checking the air is clear."

Martin's call has been echoed by Blue Watch, the fire and home safety scheme delivered by the UK's Chief Fire Officers Association Services (CSL).

Del Bowes, customer services director at Blue Watch, said: "As well as helping homeowners and landlords to fit Blue Watch approved safety products correctly in their homes, we will work closely with Chief Fire Officers Association and the UK's fire and rescue services to raise awareness of the dangers and risks of fire and CO poisoning."

Paul Fuller, CSL chair, said: "As a serving fire chief, I am proud of the work fire and rescue services across the UK have done to drive down death and injury, but more can always be done. Too many lives are still lost and injuries caused, which is why we have set up Blue Watch.

"Using our experience, knowledge and professionalism we will help landlords make their properties safer from the risks of fire and carbon monoxide.
"It's all about providing the best possible advice and support, as well as top quality safety products."

Martin Clayton said that even a blocked chimney flue or failed boiler seal can cause a build-up of deadly CO with tragic results.

"Even if the build-up of CO is not enough to kill you, it can cause flu like symptoms and cause long term health problems," he said.

"Having your own fuel burning appliances checked over is still no guarantee that you are safe as CO can leak through from neighbouring properties.

"A CO alarm costs under £20, with a battery that will last seven years and can save your child's life.
"Most students struggle to make ends meet and often live in properties at the lower end of the rental market, which makes it even more important.

"Most rented properties will have a smoke alarm but not all have CO alarms as they are not yet legally necessary.
"A recent survey of 2,000 homes in Liverpool revealed that 92 per cent did not have a CO alarm."

For an interview, phone Martin Clayton on 01369 702070 or 07932 112020.

For further information on CO detectors, visit www.SafeEco.co.uk

For further information telephone 01369 702070, email info@gti-limited.com or visit www.gti-limited.com

Release date: Immediate
For more information call: Moose 01452 308 781
Email: mark@moosepartnership.co.uk
Mobile: 07814 923 424
This press release was distributed by ResponseSource Press Release Wire on behalf of Moose Partnership in the following categories: Children & Teenagers, Health, Women's Interest & Beauty, Consumer Technology, Education & Human Resources, for more information visit https://pressreleasewire.responsesource.com/about.