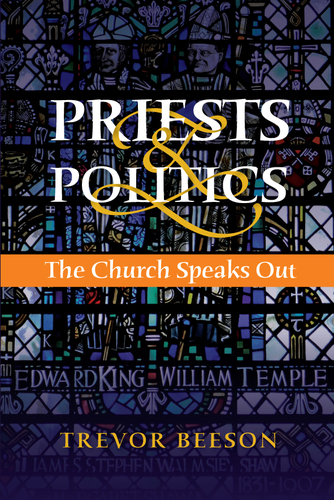 "Bishops and other church leaders should be careful when making pronouncements on complex political and social issues." The wording comes from Very Reverend Trevor Beeson, a former Dean of Winchester, and Chaplain to the Speaker of the House of Commons during the premiership of Margaret Thatcher.

In his latest book Priests and Politics, Beeson asserts that it is the task of the Church to "point society in certain directions rather than to issue directives about the means of travel". At the same time, "If particular government policies appear to be moving away from, rather than towards, a Good Society, the church has a duty to point this out and, constructively, ask for reconsideration. The welfare of the poor must always be a primary Christian concern."

Before making pronouncements, he says, "Some bishops, and most especially the Archbishop of Canterbury, need advisory groups of professionals with whom they can meet to discuss political, economic and social issues."

Discussing the work of the former Archbishop of Canterbury, Dr. Rowan Williams, Beeson considers that, while his statements, sermon and lectures on a wide variety of contemporary issues were often awesome in the brilliance of their analysis, he was much less secure in his attempts to handle specific political and social issues ¬– "Many of his interventions on contemporary events seemed out of touch with reality."

Beeson also points out that, while the Church of England now has more than 2500 self-supporting clergy who have remained in their secular employment after ordination, "few, if any, have been trained to handle the hard ethical decisions frequently demanded of those who hold senior executive posts, and the wrong kind of training may be a hindrance to it." This, he argues in the book, needs to be remedied. It is key, because those actually involved in secular affairs must be the primary agents of Christian political and social concern.

See "Whither Prophecy ? - the final chapter of Priests and Politics by Trevor Beeson, SCM Press

For more information please contact Nicola Prince: 020 7776 1072 nicola@hymnsam.co.uk
www.scmpress.co.uk
This press release was distributed by ResponseSource Press Release Wire on behalf of SCM Press in the following categories: Media & Marketing, for more information visit https://pressreleasewire.responsesource.com/about.