Crabbing – A Natural Way To Treat Seasonal Affective Disorder?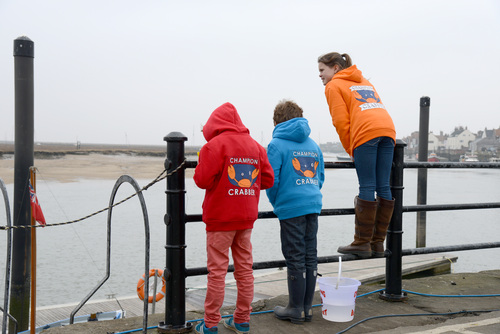 95% of people* who spend a winter weekend or two at the British seaside find it alleviates SAD symptoms
November 2013

Crabbing – A Natural Way To Treat Seasonal Affective Disorder?

Norfolk Company Finds Winter Seaside Breaks Alleviate SAD

Now the clocks have gone back, more people will experience symptoms of SAD, which include low self-esteem, lethargy and an increased appetite.

Research by Norfolk-based Gone Crabbing www.gonecrabbing.co.uk which specialises in seaside clothing, gifts and crabbing gear, has found that 95% of people* who spend a winter weekend or two at the British seaside find it alleviates SAD symptoms.

There are a host of reasons why packing your bucket and heading for the coast to go crabbing this November might be better than reaching for a bottle of pills:

LIGHT – SAD is caused by reduced exposure to natural light. People hide indoors when the weather turns cold. However, even in the worst of weather, people spend more time outdoors and exposed to the lovely big skies when they visit the seaside. The simple act of looking up at the sky, even if overcast, has also been proven to fill you with awe and make you feel better.

NEGATIVE IONS – research has found that negative ions – found in abundance at the seaside – helps over come SAD, boosts your mood, improves your breathing and are great stress busters.

TRYPTOPHAN – no trip to the seaside is complete without a helping of shellfish or a portion of fish and chips. Did you know that tuna, salmon, shrimps, sardines and cod have nearly as much tryptophan, ounce for ounce, as turkey. Tryptophan helps to raise your serotonin levels which is guaranteed to make you feel better.

GETTING MOBILE – simply being more active improves your mood and Gone Crabbing's research found that people spend more time walking when visiting the seaside then they would at home.

NATURE – getting back to nature is a great way to de-stress and switch off from technology. There's nothing more therapeutic than watching the sea and finding your inner child by having fun crabbing, whether you're 4 or 94.

A BREAK – taking a break from your routine helps lift the spirits so a trip to the seaside is bound to make you feel better coupled with all the other added benefits.

HAPPY MEMORIES – looking at photos or reminders of your seaside visit will give you an instant boost once you're back at home. Why not invest in a Colin The Crab oven glove or a Steve The Seagull hoody from Gone Crabbing to give you an instant high?

Commenting on SAD, Dr Sarah Jarvis speaking on behalf of patient.co.uk said:

"About one in 50 people in the UK suffers from SAD, with four times more women than men being affected. It often runs in families. People living in hotter countries suffer less often, and it seems to be more common in the north of the UK, particularly in parts of Scotland."

ENDS

For further information, images and samples please contact Sara Stewart at Mad As A March Hare on 01684 577168 or email sara@madasamarchhare.com or tweet me on @twowitwowoo

EDITOR'S NOTES

*Gone Crabbing sent their SAD survey to 1000 customers who buy from them during winter directly from their shops.

Family business Gone Crabbing was launched in 2008 by Susie Mason. Inspired by both her home county of Norfolk and all our beautiful British coastal resorts, she has created a humorous and imaginative range of gifts and clothing which embraces all things "beachy".

Crabbing is synonymous with Norfolk. A simple pleasure involving the catching of crabs with the aid of a net stuffed with bacon. This is suspended on a line over a quayside or pier at high tide and proves irresistible to crabs who attach themselves to said net in droves. The crabs are then gently transferred into a bucket of water before being returned to the sea when the day's crabbing is done.

Susie chose the famous Cromer crab for her logo and Gone Crabbing's cheeky little crustacean Colin is now featured across Susie's distinctive product range alongside his motley collection of friends that include Steve the Seagull and Shawn the Prawn.
This press release was distributed by ResponseSource Press Release Wire on behalf of Gone Crabbing in the following categories: Health, Women's Interest & Beauty, Travel, for more information visit https://pressreleasewire.responsesource.com/about.