BBC Dragons miss out on Christmas 2013 top seller: Linkee to sell-out completely within days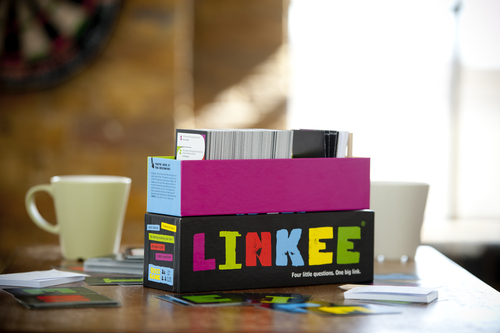 Some of our major retailers are already sold out, thanks to fans of the game who've insisted on buying two or three at a time as gifts for friends
- Major retailers and official Linkee website already sold-out
- Sales of Linkee trivia game up from 2,000 to 43,000 in a year
- Stockists grew from 3 stores in 2012, to 1000 stores in 2013
- Linkee predicted to be in almost 45,000 homes by the end of this year

After famously turning down a £50,000 investment offer from Duncan Bannatyne in the BBC2 Dragon's Den earlier this year, shouty-outy quiz game Linkee is set for a sold-out Christmas. Major retailers are already sold-out completely, as is the official Linkee website which can no longer meet consumer demand for the game.

In the week that saw the launch of the official Linkee mobile and tablet app, the team behind Linkee confirmed that sales of the physical game have exceeded their forecasts by more than 50% and that they are unable to fulfil retailer orders this side of Christmas. "It's been an amazing year for Linkee, far exceeding our expectations and even those of retailers," commented Founder, Dean Tempest. "Some of our major retailers are already sold out, thanks to fans of the game who've insisted on buying two or three at a time as gifts for friends and family. We expected sales to be good, especially after selling out at every Christmas gift show last month, but this has really blown us away – Linkee is set to be in almost 45,000 homes by the end of this year. More stock is on its way but we've had to stop taking orders from some of the major retailers as we can't meet the demand this side of Christmas."

Linkee fan, Suzanne Dibble, a small business lawyer from Surrey says, "I saw Linkee on Dragons' Den and thought it was a really fun idea. I bought a game for myself and decided it would also be perfect for friends, so I ended up buying three to give this Christmas. I'm not surprised it's been such a hit, though I'm tempted to put my three on eBay if people are going to start panic-buying!"

Just a year ago, Linkee was merely a prototype in an office drawer, dreaming of fame and superstardom. Brought to life by Dean (26), Tris (42) and Ben (40), who met at work, Linkee is a super-simple, shouty-outy quiz game with a twist. The twist being you don't win by answering the questions but by working out what the answers have in common. For example, if the answers were Dasher, Blitzen, Comet and Rudolph, the Linkee would be, Santa's Reindeer. The team have now all quit their full time jobs to concentrate on growing Linkee even further, with new editions and international versions planned for release in 2014.

Over a third of the questions are written by people who have actually played the game, so they're topical, relevant and fun. Linkee creators are rewarded with 'fame from their name in the game' with their name and where they are from printed on their question card. So players can also put their heads together to create their own questions and visit www.playlinkee.com to submit them for the next edition, potentially winning themselves a free game in the process.

The free Linkee app for iOS and Android launched this week and is already storming up the app charts. Featuring 240 levels, the addictive app remains true to the original game and includes the option for people to submit their own questions, which will be added to the app in the next update.

Linkee, RRP £19.99 and suitable for ages 12+, is available to buy from John Lewis, Hamleys, WHSmith, Lakeland, Beales, Amazon, Firebox.com and a number of independent High Street retailers across the UK. For further information visit http://www.playlinkee.com.

- ends –

For Further Information:
For further information, product details, interview requests, high resolution images and review samples, please contact: Lesley Singleton, LS Media Ltd, Lesley@LSMedia.co.uk, 01234 752 663, 07852 451 093.

About Linkee:
Linkee (12+) spans generations and gets people of all ages and abilities playing together. It's speedy, super simple to learn and board/bored-free – like nothing you've ever played before. Just open the box and Linkee is ready to play, with no complicated set-up or instructions. What's more, it's an ideal purchase for those with a sharp eye for slick design. The true genius about Linkee is that it's anti-genius: this isn't about who's the cleverest, it's about making connections and thinking fast.

About Linkee Ltd:
Linkee Ltd is a small independent game publisher based in London. It's doing things differently and shaking up the games market with a unique, evolving attitude to play. Launched in September 2012 by a team of three friends who met at work (Dean Tempest 26, Tristan Hyatt-Williams 42, Ben Drummond 40), Linkee is their first publication. They are currently working on Dinkee Linkee (kids' version) and a travel edition for 2014 release.
This press release was distributed by ResponseSource Press Release Wire on behalf of Playtime PR in the following categories: Children & Teenagers, Men's Interest, Entertainment & Arts, Leisure & Hobbies, Women's Interest & Beauty, for more information visit https://pressreleasewire.responsesource.com/about.