International safety and drug misuse organisations IOSH and IFDAT book ScreenSafe's expertise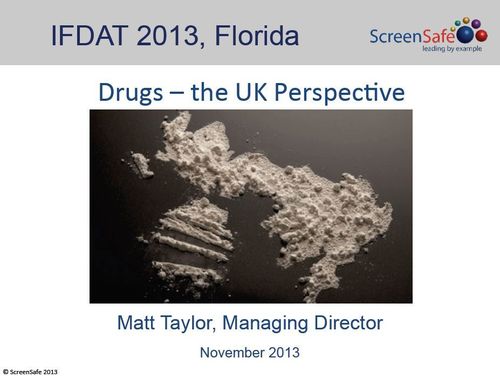 We are approaching a decade of providing drug and alcohol testing services, and I am proud to see ScreenSafe receiving international recognition.
ScreenSafe's expertise in workplace drug and alcohol misuse is in demand from international safety and drug testing organisations

Last month Matt Taylor, the Managing Director of ScreenSafe, was invited to speak to international audiences, first in Glasgow and then four days later in Miami.

The first seminar "Drug and Alcohol policies at Work" was for the Institution of Occupational Safety and Health (IOSH) and took place in the landmark Hampden Park Stadium. Then Matt traveled to the States to speak at the opening session of the fifth conference held by IFDAT, The International Forum for Drug and Alcohol Testing.

IOSH is the biggest professional health and safety membership organisation in the world, with more than 42,000 members in 100 countries. They are the first European safety body to be awarded NGO status by the International Labour Organisation (ILO).

IFDAT is a non-profit organization that seeks to advance global employee screening systems and processes, providing a platform for experts from the drug and alcohol testing industry to meet and discuss various topics relating to the current and future developments of employee screening.

In Miami, Mr Taylor focused on drug misuse in the UK, highlighting the increase in new psychoactive substances, or 'legal highs', including the now classified mephedrone, which has seen a significant increase in use. In the current year, 57% of UK drug treatment centres have requested mephedrone tests, and 86% of those have been positive for the drug.

"It was a privilege to be invited to speak at both these forums. IOSH is an internationally recognised benchmark for occupational safety and health standards, and the IFDAT event comprised colleagues working in similar fields from around the world including the US, Brazil, Canada, Australia, New Zealand, Sweden and Mexico. There were companies too who use drug screening programmes such as Honeywell and the oil giants Conoco Phillips and BP." said Mr Taylor.

"We are approaching a decade of providing drug and alcohol testing services, and I am proud to see ScreenSafe receiving international recognition."

Last week, ScreenSafe successfully issued a white paper entitled "PREPARE" aimed at fleet operators to help them get their drivers ready for the new law. This predominantly outlined the changes and recommended straightforward tips and advice on ensuring they have the right policy in place.

END

For media enquiries contact:
Tel: +44 (0) 1491 636262
Email: tellmemore@perfectlypicked.com
This press release was distributed by ResponseSource Press Release Wire on behalf of Perfectly Picked in the following categories: Health, Manufacturing, Engineering & Energy, Transport & Logistics, for more information visit https://pressreleasewire.responsesource.com/about.