Home and Garden Plus Launches in UK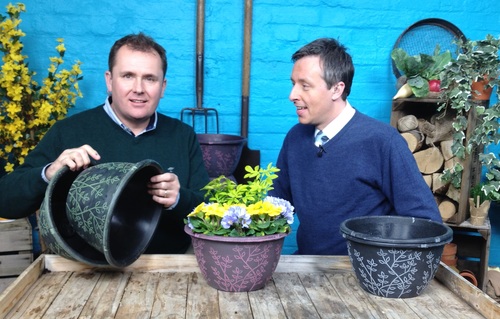 Home & Garden Plus has launched in the UK and immediately announced a partnership with the UK's number one as seen on TV company JML on Sky Channel 642. The new partnership will begin airing this Sunday (March 9th) on JML Sky Channel 642 from midday.

The dedicated gardening lifestyle business will be the only destination for gardeners'. The new venture incorporates a media production and retail arm under one umbrella to services all the needs of the gardener.

The launch of the new venture was the brainchild of former Bid TV Controller of Channels and TV presenter, Andy Hodgson and horticultural veteran Peter McDermott. Both will appear as presenters on JML and Home Garden Plus.

Andy said, "Having spent years presenting various TV shows, I realised that there was very little gardening content on TV. In fact, the offering was incredibly poor!"

"Gardeners will love our one-stop shop for all gardening needs, including a mixture of informative shows and brand new offers", explains Andy. "We'll also produce programmes for broadcast on TV and online. We've already secured several famous faces to front the new shows."

"This is just the start. We have extensive plans for the brand and plan to be the portal for lifestyle gardeners in Europe."

The Home & Garden Plus website, www.HomeGardenPlus.com, will begin by offering a range of garden essentials, grow your own and garden hardware.

"It's a hugely exciting time for television gardening", says Peter McDermott, who is one of the business co-founders.

"There are so many outstanding programmes on terrestrial channels that are creating a new interest in gardening to all age groups – but we're hoping to bring a complete gardening solution by combining top-quality programming and information with everything a gardener needs in one place."

Rob Falconer, Sales Director at JML said, "It's the perfect time to launch a new gardening offering for our viewers. We're delighted to be partnering with 2 veterans in the field of horticulture and TV shopping."

Notes to Editors:

For more information or images please contact Jonathan O'Connor at press@jmlgroup.co.uk or 020 7691 3876 or Andy Hodgson at andy.hodgson@homegardenplus.com or 07803 282833.

About Home & Garden Plus:
Home & Garden Plus will broadcast on JML Sky Channel 642 from 9th March 2014. It will offer a range of gardening offers including, bedding plants, bulbs, hardy perennials, trees and shrubs, fruit, herbs, vegetables, baskets, pots and gardening equipment.

Sundays: 12pm, 4pm
Wednesday: 4pm
Saturday: 10am, 4pm

Details of offers and great video content can be found online at www.HomeGardenPlus.com


About JML:
Founded in 1986 by John Mills, JML was once a small family company that developed through live demonstrations of innovative products at consumer exhibitions. Over the last two decades JML has grown into a household name and is one of the nation's favourite brands. It is widely recognised as the number one as seen on TV company in the UK. Their products range from the UK's best-selling Belvia Bra to the Fast Fit Ironing Board Cover and Ceracraft Pans. You can find JML's diverse range of products on virtually every high street and in most of the UK and Ireland's biggest retailers. JML also has two TV shopping channels, The Store and JML Direct TV and operates a website at www.JMLdirect.com.


About Andy Hodgson:

Andy has appeared on TV and Radio for over 20 years. His list of credits include regular slots on ITV1's This Morning, BBC2 comedy sketch show 'Time Trumpet' and Armando Lannucci's comedy 'The Stupid Version'. He has appeared as a guest on Channel 4's 'The Big Breakfast', 'The Salon', 'Born Sloppy' and 'Rise'.

For nearly 10 years Andy was the face of Bid TV and featured in their ad campaigns with David Dickinson on both TV and Radio. As Controller of Channels for the group, he played a key role in the launch, formats and development of the national digital retail television pioneer. The business generated sales in excess of £2 billion, was watched by millions and generated numerous global copycat channels.

He can be seen in Chris Morris show 'The Day Today' DVD and has been heard on BBC Five Live, Radio 4 & Talksport. He has also been auctioneer for the Prime Minister!


About Peter McDermott:

Peter has vast experience in horticulture after studying at Bicton Horticultural College and spending his life working in the industry. Having grown up on his family nursery in South Devon, where he grew over 300 varieties of fuchsia and geranium as well as cut-flowers commercially, Peter has a real understanding of plants and how to grow them.

Peter has since worked for and run several large mail order gardening companies, where he has gained unrivalled expertise in the UK gardening sector.

He has also been the face of numerous hours of live gardening TV on Ideal World, Bid TV,and Price Drop TV since 2000.
This press release was distributed by ResponseSource Press Release Wire on behalf of John Mills (JML) in the following categories: Leisure & Hobbies, Home & Garden, Women's Interest & Beauty, for more information visit https://pressreleasewire.responsesource.com/about.