Stay safe from the 'silent killer' this holiday season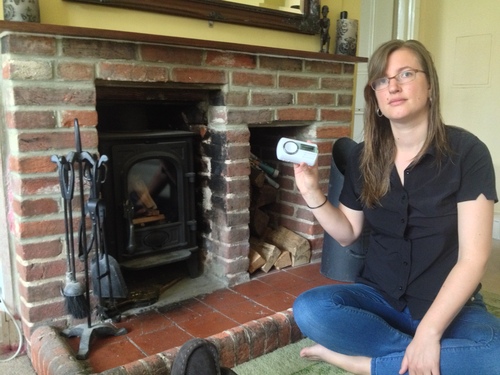 Stay safe from the 'silent killer' this holiday season

Gemma French pictured at home with her FireAngel carbon monoxide alarm

As summer approaches, thoughts will turn to holidays for many. However, at a time when we look forward to enjoying a relaxing break away from the daily routine, guards can sometimes drop when it comes to safety. Whether camping or caravanning, staying in an idyllic holiday cottage or hotel, safety should still be your priority as it is at home. Gemma French's experience serves as a wake-up call to what can happen when appliances have not been properly serviced and the accommodation is not fitted with correctly located, working carbon monoxide (CO) alarms…

For Gemma and her partner Darren Blanche, a last minute break to unwind and soak up some winter sun in Lanzarote was just what they were looking forward to before they started new jobs and moved into a new home in Henley-on-Thames. However, they could not have anticipated the nightmare ahead.

Staying in eco-friendly accommodation was a priority for ecology consultant Gemma, so the small, solar-powered villa tucked away in the island's quiet, rural countryside seemed perfect.

Gemma explains:
"The villa was in the middle of nowhere, which was just what we wanted. When we arrived in the evening, it was quite cold, so we used the small calor gas heater to warm up the room. The next morning Darren woke up with a really bad headache, so he took some painkillers. At that point, I realised I had a headache too, so, thinking the source may be the heater, we took it out of the bedroom. Darren quickly got worse; he physically couldn't get out of bed. His breathing was abnormal and he'd become dizzy and nauseous.

"The whole situation soon became quite frightening. I remembered seeing a programme about carbon monoxide, which reminded me of the symptoms. I lay Darren on a sunlounger outside and kept checking him, but at this stage I started to feel unwell myself.

"Although I know you can't smell carbon monoxide, when I went back inside the villa I could smell gas, particularly around the fridge. I hadn't realised it was a gas fridge and called the owners immediately to explain it wasn't working properly. They sent a maintenance man who cleared out the chimney attached to it (it had become blocked with soot) and fixed the pilot light. Having checked all the gas appliances, bottles and pipes, he told us everything was working properly, so we assumed everything was safe.

"The next morning, I still had a slight headache, but when we went out I felt better. We weren't using the heater then, so presumed that was why.

"But the following morning, Darren felt much worse and we could smell gas again. He looked awful. I managed to lay him down outside, but then had the sensation of blood pumping loudly in my ears. I suddenly felt dreadful; dizzy, nauseous and couldn't move, at which point I started to panic, stumbling and shouting.

"I managed to get to the front door, but was confused and couldn't walk. I then started to vomit, then collapsed and lost consciousness.

"Darren called the owners, but they denied there was anything wrong in the property. When we got to the doctors we explained we may have carbon monoxide poisoning, to which they reacted quickly and gave us oxygen straight away. They clearly recognised the seriousness of the situation and called an ambulance to transfer us to hospital immediately, where we stayed for five hours having tests and treatment.
"This was an extremely frightening experience for both of us. We are aware of carbon monoxide and have alarms in our home, but couldn't find any in the villa. There needs to be tougher legislation to protect the public, both at home and when they stay in holiday accommodation. The situation could have been far more serious if we hadn't taken the action we did, or if we'd had children staying with us in this property."

The danger is - with no taste or smell - CO is undetectable to the human senses and because symptoms are often mistaken for other ailments such as flu, food poisoning or hangovers, its presence can go unnoticed until it's too late. Even low levels over a few hours can be as lethal as high levels over a short amount of time, causing lasting damage to your health.

The only way to detect it is with an audible carbon monoxide alarm which warns you before the gas becomes life threatening so action can be taken to stay safe.

"With the holiday season just around the corner, I would urge everyone to make sure they take a carbon monoxide alarm with them," advised Gemma.

When you go away you might be more vulnerable than in your own home. If you are staying in rented accommodation, whether it's a B&B, villa, chalet, hotel, caravan or boat, you don't always know how often the gas appliances have been safety checked or serviced or if it's been done by a qualified engineer. In the UK, by law, landlords must have gas appliances safety checked every year, so ask them for an up-to-date gas safety record1.

Fire and gas safety is often the last thing on our minds when going on holiday, but being aware of the risks and symptoms and how to stay safe is all that it takes to make sure you and your family have a fantastic, fun break.

Know the signs of CO:

Although you can't see, smell or taste carbon monoxide, there are signs that indicate there may be a strong risk of CO being produced:
• Black soot marks or staining on or around gas fire burners or on walls near cookers, boilers or gas fires
• Excessive condensation in the room where the appliance is installed
• If you are using a gas appliance, it should have a crisp blue flame, such as a pilot light. If it turns to a lazy orange flame, the appliance may not be working correctly

Recognise the symptoms:

Early symptoms of carbon monoxide poisoning include:

• Nausea
• Dizziness
• Breathlessness
• Headaches
• Loss of consciousness
• Collapse

One useful indicator that carbon monoxide may be the cause is if symptoms disappear when you leave your home and reappear when you're at home.

This press release was distributed by ResponseSource Press Release Wire on behalf of Sprue Safety Products Ltd in the following categories: Leisure & Hobbies, Home & Garden, Travel, Construction & Property, for more information visit https://pressreleasewire.responsesource.com/about.