Health experts' report 'a major step forward for e-cigs'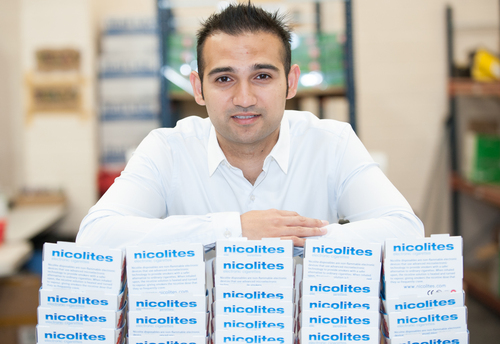 The UK's leading brand of electronic cigarettes says a letter signed by more than 50 public health specialists urging the World Health Organization (WHO) to "resist the urge to control and suppress e-cigarettes" is a major step forward for the sector.

The letter, which says the devices - which deliver nicotine in a vapour - could save hundreds of millions of lives, is an enormously important vote of confidence in e-cigarettes, according to Nicolites.

The open letter has been organised as international negotiations on tobacco policy approach later this year.

E-cigarette companies and users, who argue the products are a low-risk substitute for smoking, fear they may become subject to reduction targets and advertising bans. The WHO is still deciding what recommendations to make to governments.

The letter has been signed by 53 researchers - including specialists in public health policy and experts such as Professor Robert West, who published research last week suggesting that e-cigarettes are more likely to help people give up smoking than some conventional methods.

It says: "These products could be among the most significant health innovations of the 21st Century - perhaps saving hundreds of millions of lives. If regulators treat low-risk nicotine products as traditional tobacco products they are improperly defining them as part of the problem.

"Regulators should avoid support for measures that could have the perverse effect of prolonging cigarette consumption. We are deeply concerned that the classification of these products as tobacco will do more harm than good.

"The potential for tobacco harm reduction products to reduce the burden of smoking-related disease is very large."

Nikhil Nathwani, managing director of Nicolites, said: "This letter from 53 leading public health specialists is a hugely important moment in the development of the e-cigarette industry. They have studied the products and their effects and concluded that they have the potential to save hundreds of millions of lives.

"It is not Nicolites, or any other e-cigarette company, making these claims. These are health experts who sincerely believe that e-cigarettes can bring an end to the misery caused to millions of people and their families by the smoking-related diseases that kill so many people every day.

"We welcome their findings and would encourage the World Health Organisation and governments who may be considering banning or imposing strict sanctions to think again."

Nicolites are stocked at all the UK's major supermarket chains including Tesco, Sainsbury's, Asda and Morrison's. Superdrug, Co-op, WH Smith, Martin McColl and over 10,000 independent pharmacies and convenience stores also stock a combination of Nicolites and Vivid Vapour products. As well as the Today's Group, Nicolites are stocked at most major Cash and Carry operators including Booker Group, Batley's, Bestway, United Wholesale and Parfett's.

E-cigarettes are designed to look and feel like real cigarettes, but are battery-powered products containing a nicotine solution which is inhaled as a vapour. They contain no tobacco, no tar, and do not burn like traditional cigarettes. For more information please visit www.nicolites.co.uk or http://www.vividvapours.co.uk.
This press release was distributed by ResponseSource Press Release Wire on behalf of Nicolites in the following categories: Health, Consumer Technology, Medical & Pharmaceutical, for more information visit https://pressreleasewire.responsesource.com/about.