Record-Breaking Motorcyclists Supporting Alder Hey Charity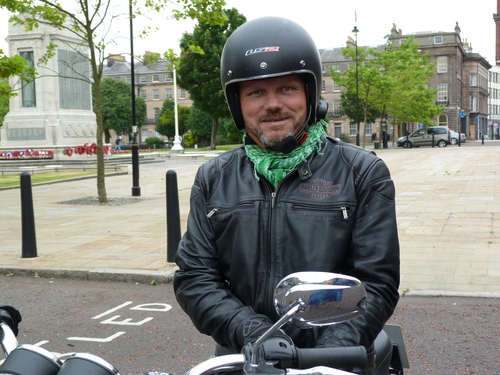 The charity is very close to our hearts and having personal experience of the work they do, I have nothing but admiration for the medical team
Two intrepid motorcyclists will set off on Friday 1 August 2014 on a 15,000-mile (24,140km) motorcycle trek across Europe to raise awareness and funds for the Alder Hey Children's Charity.

Code-named 'Triumph over Tragedy', Harry Glover and Pete Bray will be setting off on a 28-day adventure that will see them pass through all 26 European Union capital cities.

Starting from outside Buckingham Palace, they will travel as far North as Helsinki, as far East as Bucharest and as far South as Athens and Madrid.

Speaking ahead of the event, Harry Glover said, "The work done by Alder Hey has truly been an inspiration, and that is why we are doing this trip.

"The charity is very close to our hearts and having personal experience of the work they do, I have nothing but admiration for the medical team."

The Alder Hey Children's Charity offers life-saving medical procedures and care to children suffering from chronic illnesses.

They are currently trying to raise £30 million for new equipment for the 270,000 patients they treat every year.

The charity is particularly close to Harry's heart, as his young daughter Elizabeth is preparing to have cranial surgery starting in September under the expert guidance of Alder Hey.

The two riders will be covering an average of 600 miles (965km) a day, and are currently looking for sponsorship to cover the running costs of the expedition.

Events planned upon their arrival in each city will ensure that the Alder Hey name is seen throughout Europe, and that thousands of people will be made aware of the life-saving work that they carry out on a daily basis.

Pete Bray is no stranger to adventure, having completed a 2,980-mile (4,800km) kayaking trek across the Atlantic from Newfoundland to Ireland in 2001, and the fastest circumnavigation of South Georgia in 2006. Add that to Harry Glover's 30 years of motorcycling experience and the two are prepared for anything.

The two motorcyclists are looking for all the support they can get for the cause. For more information on the trek visit the Triumph over Tragedy website, and for more information on sponsoring Harry and Pete visit http://triumphovertragedy.co.uk/sponsors.

Harry and Pete are directors of Birkenhead-based firm Primarius Ltd, which provides security services and training to businesses and personnel around the world.

For updates on the work done by Alder Hey, you can follow them on Twitter at https://twitter.com/AlderHeyCharity.

Links for Reference

Triumph over Tragedy Official Website – http://www.triumphovertragedy.co.uk
Triumph over Tragedy on Facebook – www.facebook.com/triumphovertragedy
Triumph over Tragedy on Twitter – https://twitter.com/TriumphTragedy
Alder Hey Children's Charity – http://www.alderheycharity.com/

ENDS

Anyone interested in sponsoring Harry and Pete should contact Chris Barnes on 07834 643977 and email chris@famouspublicity.com.

About Harry Glover

Former 4/73 Special OP Battery soldier Harry Glover has been a keen motorcyclist for 30 years. He is a highly qualified professional trainer who has studied Strategic Management and Leadership at Masters Level. He was prompted to set up the Triumph over Tragedy challenge following the news that his young daughter will be having life-changing cranial surgery at the Alder Hey Children's Hospital in the Autumn.

About Pete Bray

Former 22 SAS soldier Pete Bray is best known for his epic world record breaking kayak expeditions. In 2001 he kayaked 4,800km (2,980 miles) across the Atlantic from Newfoundland to Ireland and in 2006 he took part in the fastest circumnavigation of South Georgia. He recently took part in the Coast2Coast cycle run. More information about his work can be found at http://www.peterbrayadventurer.com/.

Media information provided by Famous Publicity. For more information contact Chris Barnes on 07834 643977 and email chris@famouspublicity.com, or Tina Fotherby on 07703 409622 and email tina@famouspublicity.com.
This press release was distributed by ResponseSource Press Release Wire on behalf of Triumph Over Tragedy in the following categories: Children & Teenagers, Men's Interest, Leisure & Hobbies, Women's Interest & Beauty, Sport, Motoring, Travel, Public Sector, Third Sector & Legal, Transport & Logistics, for more information visit https://pressreleasewire.responsesource.com/about.