DON'T GET CAUGHT OUT BY THE NEW TAX DISC LAW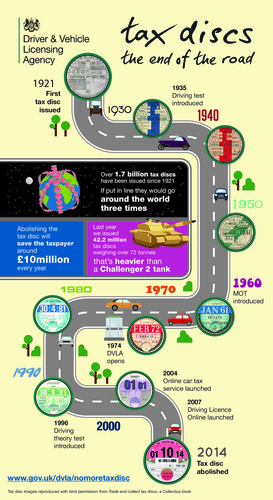 HPI warns car sellers to be aware of DVLA changes or risk a fine
www.hpicheck.com

As of 1 October 2014, the Driving Vehicle and Licensing Agency (DVLA) will stop issuing paper tax discs. HPI, provider of www.hpicheck.com, warns motorists to be aware of the changes and highlights the risk of a fine, as well as facing penalty charges against a vehicle they no longer own.

Car owners still need to have vehicle tax to drive or keep a vehicle on the road, but now the DVLA is taking payments online, including Direct Debit payment options or motorists can visit their local Post Office branch. Instead of using paper tax discs to spot tax evaders, police cameras automatically check a car's number plate. The new rules also put the onus on used car sellers to inform the DVLA, when they sell their vehicle, advises HPI.

"The move away from paper tax discs will save motorists money on postage and offers more flexible payment options, not to mention making it harder for tax dodgers to drive untaxed," explains www.hpicheck.com Senior Consumer Services Manager, Shane Teskey. "For used car buyers, from 1 October, the vehicle tax will no longer be transferred with the vehicle, so it's important to ensure they get tax as soon as possible.

"Importantly, under the new rules, used car sellers are responsible for notifying the DVLA and then they will receive a refund for any months left on the vehicle tax. Sellers who fail to inform the DVLA, could be fined and they will still be liable for any speeding or parking fines and vehicle tax for a car they don't even own any more. We remind sellers to always send the V5C to the DVLA, rather than relying on the buyer to do it. And if they scrap a vehicle, they should get a Certificate of Destruction (CoD) from an authorised treatment facility (ATF).

"We're hoping that the new DVLA initiatives will make it harder for dodgy drivers to head out on the road untaxed. It's easy to check if your vehicle is taxed by heading online at the Vehicle Enquiry Service, making this the first step for anyone planning to sell their vehicle and avoid the risk of fines."

Please click on the link below to view accompanying photography
Infographic

END
August 2014

For further information visit www.hpicheck.com or call 0845 300 8905
Follow us on Twitter @ www.twitter.com/hpicheck

Notes to Editors:

Ioiana Luncheon, Dominic Dennis, Madeleine Roles or Justine Hoadley
HSL
Email: hpiteam@harrisonsadler.com
Tel: 0208 977 9132

About HPI:
Originally established in 1938, HPI Limited is a primary source of vehicle information for the UK motor industry and motoring consumer which, since December 2008, has been owned by Solera Holdings, Inc. Solera Holdings, Inc. is an integrated group of leading automotive claims solutions companies. Founded in January 2005 by Chairman and Chief Executive Officer Tony Aquila, Solera has expanded its geographic reach and now serves more than 55,000 business customers in over 50 countries across six continents.

HPI encompasses both the HPI database of all UK road registered vehicle descriptions and histories, and the National Mileage Register (NMR) which holds in excess of 160 million mileage readings.

Together, HPI and NMR represent one of the UK's largest vehicle information sources, combining and interpreting data from government agencies, industry bodies, private organisations, the police and the general public. Registering with HPI helps companies to protect their financial interests in motor vehicles and a wide range of other mobile assets. HPI Checks give purchasers instant confirmation of whether vehicles are correctly described, known to be subject to outstanding finance or serious accident damage, or recorded as stolen or "clocked".
This press release was distributed by ResponseSource Press Release Wire on behalf of Harrison Sadler in the following categories: Motoring, Transport & Logistics, for more information visit https://pressreleasewire.responsesource.com/about.