MORGAN MCKINLEY LONDON EMPLOYMENT MONITOR: Job availability in the City up 10%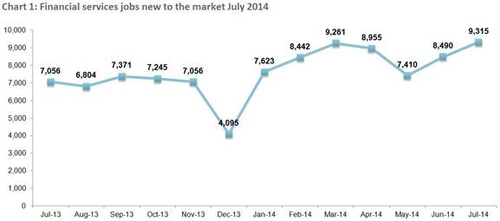 MORGAN MCKINLEY LONDON EMPLOYMENT MONITOR
August 2014

"Monitoring the pulse of the City Jobs Market"

Job availability in the City up 10%

Active jobseekers in the City up 40%

London Employment Monitor July 2014 highlights:
• Job vacancies jumped 10% between June 2014 and July 2014
• Year-on-year figures show a 32% uplift in available roles
• Candidate numbers increased 40% month-on-month
• Salaries were on average 20% higher for those securing new positions in June 2014

City recruitment continues to intensify
The July 2014 London Employment Monitor shows that, contrary to
reports suggesting that hiring is falling, City recruitment levels continue to rise.
The number of available roles was up 10% in July to 9,315, from 8,490 recorded the previous month.
Yearly figures also indicate impressive growth, with job opportunities up 32% compared to the same month in 2013, when there were 7,056 roles registered.

On the candidate side, the market has rallied for the third consecutive month, from 5,662 job seekers in June to 7,953 in July – a huge rise of 40%. Yearly data also shows growth - albeit at a slower rate - of 3% in the number of jobseekers actively seeking employment in July compared to the same month last year.

Hakan Enver, Operations Director, Morgan McKinley Financial Services, commented:

"Our latest data indicates that City hiring remains exceptionally buoyant, and where we would expect it to be following the seasonal dips we reported earlier in the year. The monthly rise of 10%, coupled with the 32% yearly increase, is in keeping with widespread reports that Britain's recovery has pushed the economy past its pre-crisis
peak and record employment
growth will help drive down Britain's jobless rate to pre-crash levels this year.

"In terms of the functions driving jobs growth, in July we saw a huge amount of demand within the HR, IT and Accounting and Finance arenas. For HR in particular, both contract and permanent roles continued to be in demand during July, particularly in the Reward and In-House Recruitment specialisms. Whilst Reward professionals are sought after at all levels in the lead up to annual salary review period, contract recruiters with a combination of direct and vendor recruitment are also being required.

"From a Finance perspective, there has been a considerable uplift in Product Control and Regulatory Reporting roles at AVP and VP levels across the permanent and contract space. Regulation continues to drive this type of skill set in this area. IT, on the contract side especially, is still buoyant. Organisational change and the need to address compliance and regulatory issues drove further demand, with a focus on mobile and digital technologies, user experience, data management, analytics and IT security.

"On the candidate side, job seeker numbers greatly increased in July, with a 40% month-on-month uplift. This can be attributed largely to three core themes. Firstly, with such healthy – and widely reported - increases in the flow of jobs coming into the market, candidates are more inclined to seek out new positions than they have been in past times. Secondly, whilst the holiday season sometimes prompts a slowdown in candidate numbers, this year has bucked the trend so far. This could be because individuals have more time to explore what jobs are available in this traditionally quiet period or, as is certainly the case this year, a lot of people are enjoying 'staycations' which offers ample opportunity to assess career options. Lastly, with widespread reports of
salaries increasing and our own Working Hours Surveyrevealing that 74% of respondents believe working excessive hours has a major negative impact on their work-life balance, jobseekers are on the lookout for opportunities that will not only offer a healthy balance between their personal and professional lives, but also attractive remuneration packages.

"Perhaps the only real dark cloud on the horizon is the extent to which political unrest, such as the Ukraine/Russia conflict, will impact hiring. Whilst conflicts inevitably affect market confidence, the number of sanctions being imposed on Russia could ultimately hinder the growth within London's financial markets. However, it remains to be seen how quickly this becomes apparent and to what extent this impacts the ability of firms to bring talent on board. Despite this, however, this month's data clearly illustrates that recruitment within the City is exceptionally positive."
Salaries up by 20% with internal auditors gaining due to skills shortage

The average salary increase for those securing new jobs in July 2014 was 20%, compared to 14% in June 2014.

Enver continued:

"Recent data from
APSCo indicating that salaries are increasing echoes our own findings which reveal that pay has increased by 20% in July. As we have reported in previous months this trend is borne out of the competition among employers to attract candidates with niche skill sets, while businesses are doing their utmost to ensure employees stay put by increasing their base pay.
This press release was distributed by ResponseSource Press Release Wire on behalf of BlueSky Public Relations Ltd in the following categories: Business & Finance, for more information visit https://pressreleasewire.responsesource.com/about.