Bikers set to make world record for motorcycle trek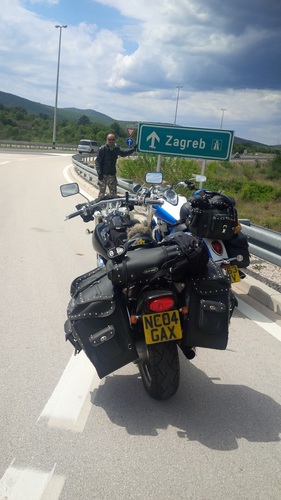 We've almost finished this amazing trek, that's taken us to all of the best-known cities and the most remote regions of mainland Europe
Two British former soldiers from Birkenhead are entering the final stages of their record-breaking motorcycle trek to 26 European Union capital cities to raise awareness and funds for three charities close to their hearts under the name 'Triumph over Tragedy'.

Harry Glover, 49, of 7/43 Special OP Battery and Pete Bray, 58, of 22 SAS, took on the gruelling 15,000-mile (24,140km) trek to promote the Armed Forces charities BLESMA and Soldiers off the Street, along with the Alder Hey Children's Charity.

The daring duo have battled all kinds of terrain, a wide range of weather conditions, and even potentially life-threatening mechanical failures, but have battled through to make it back to the United Kingdom. Today they sail from Bilbao, Spain, to Portsmouth, then on to Rosslare, Ireland, then Dublin and Birkenhead. They will ride back into London on Sunday. The 29 day trek took them into Helsinki in the north, Athens in the south, Bucharest to the east and Lisbon in the west.

Harry Glover said, "We've almost finished this amazing trek, that's taken us to all of the best-known cities and the most remote regions of mainland Europe. A lot of people told us that it couldn't be done, but we've proved them wrong and we're set to return to the UK in record time.

"I want to thank everybody who helped us along the way and hope that we've made a difference to those charities that change lives on a daily basis."

BLESMA provides ex-soldiers with valuable help and support, giving them the tools needed to regain their independence following the loss of limbs.

Soldiers off the Street provides food, shelter and other support for vulnerable soldiers of all ages who have returned from active duty and are in need of assistance in getting back on their feet.

The initiative also takes on a more personal note for Harry Glover, whose young daughter Elizabeth will undergo life-changing surgery in the autumn with the support of Alder Hey.

Harry Glover and Pete Bray's expedition has been entirely self-funded, with the support of their families and friends. As such, they have spent all but one night of their expedition sleeping out on the streets or in small tents when luxury allowed.

As former servicemen, Harry and Pete know all too well the dangers that soldiers face both on the battlefield and when they return home.

However, Pete Bray – who is already a world record holder being the only person to Kayak the Atlantic unsupported - has taken on a whole new set of dangers, having only passed his motorcycle test in late 2013.

Pete, a proud Cornishman, said, "Considering this is my first proper motorcycle trek I'm pleased that we've managed to come as far as we have done.

"Things got interesting in Greece when my tyre blew out, and one set of paniers acted as a cushion. As we were in a remote location, it was touch and go as to whether it could be fixed in time, but luckily a Harley-Davidson dealer came to the rescue."

"I'm definitely looking forward to getting back to England and having a good night's sleep."

When not taking on challenges, Harry Glover and Pete Bray are directors of their own security and training firm, Primarius Ltd., which is based in Birkenhead, The Wirral, UK. They look forward to sharing the details of the expedition in talks that they will give over the next few months.

You can follow the route taken by the brave riders live on the Triumph over Tragedy website at http://triumphovertragedy.co.uk/route/.

Since setting off on Friday 1 August 2014 from Buckingham Palace, London, Harry Glover and Pete Bray have reached Paris, Brussels, Amsterdam, Berlin, Copenhagen, Stockholm, Helsinki, Tallinn, Riga, Vilnius, Warsaw, Prague, Vienna, Bratislava, Budapest, Bucharest, Athens, Madrid and Lisbon.

Links for Reference

Triumph over Tragedy Official Website – http://www.triumphovertragedy.co.uk/
Triumph over Tragedy Route Page - http://triumphovertragedy.co.uk/route/
Triumph over Tragedy on Facebook – www.facebook.com/triumphovertragedyuk/
Triumph over Tragedy on Twitter – https://twitter.com/TriumphTragedy/
BLESMA – http://www.blesma.org/
Soldiers off the Street – http://www.soldiersoffthestreet.org/
Alder Hey Children's Charity – http://www.alderheycharity.com/

Anyone interested in sponsoring Harry and Pete on future expeditions should visit the Triumph over Tragedy website at http://www.triumphovertragedy.co.uk/sponsors.
For more information about the Triumph over Tragedy initiative please see the following videos:

Interview with Harry Glover - https://www.youtube.com/watch?v=c9WPfLgKLvY
Triumph over Tragedy launch - https://www.youtube.com/watch?v=IZ6gTinPMcU
Interview with Harry and Pete - https://www.youtube.com/watch?v=kXdvbwpdNjU

ENDS

IF ANYONE WISHES TO INTERVIEW HARRY OR PETE ABOUT THEIR TREK PLEASE CONTACT CHRIS BARNES ON 07834 643977 AND EMAIL chris@famouspublicity.com OR, OUT OF HOURS, TINA FOTHERBY ON 07703 409622 AND EMAIL tina@famouspublicity.com,

About Harry Glover

Former 4/73 Special OP Battery soldier Harry Glover has been a keen motorcyclist for 30 years. He is a highly qualified professional trainer who has studied Strategic Management and Leadership at Masters Level. He was prompted to set up the Triumph over Tragedy challenge in order to help combat the challenges faced by ex-servicemen and women who return from active service.

About Pete Bray

Former 22 SAS soldier Pete Bray is best known for his epic world record breaking kayak expeditions. In 2001 he kayaked 4,800km (2,980 miles) across the Atlantic from Newfoundland to Ireland and in 2006 he took part in the fastest circumnavigation of South Georgia. He recently took part in the Coast2Coast cycle. This is his first major motorcycle ride, having only passed his test last winter. More information about his work can be found at http://www.peterbrayadventurer.com/.

Media information provided by Famous Publicity. For more information contact Chris Barnes on 07834 643977 and email chris@famouspublicity.com, or Tina Fotherby on 07703 409622 and email tina@famouspublicity.com.
This press release was distributed by ResponseSource Press Release Wire on behalf of Triumph Over Tragedy in the following categories: Children & Teenagers, Men's Interest, Entertainment & Arts, Leisure & Hobbies, Women's Interest & Beauty, Travel, Public Sector, Third Sector & Legal, Transport & Logistics, for more information visit https://pressreleasewire.responsesource.com/about.