Easigrass TX's first pilot ad campaign via a national broadcaster and debuts as the UK's first artificial grass company to advertise on British television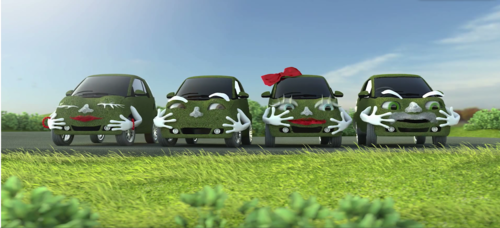 Easigrass is the only artificial grass company to have won one of the highest accolades within the horticulture industry – namely a Gold medal for a judged Show Garden at RHS Chelsea Flower Show
-Introducing the Easibug family…-

The No1 home-grown artificial grass company, Easigrass, TX's its first advertising campaign on a leading terrestrial television channel this week. This is the first time that any artificial grass company has advertised on television within the UK.

Focusing on the quintessential brand motif, the Easibug, a grass-covered Smart car, this 00:30 second high-impact ad tells the story of four animated bug cars who are laughing on the top of a hill while a poor old human huffs and puffs mowing the lawn.

According to Managing Director of the Easigrass Group worldwide, Anthony J. Gallagher:-
"I am extremely proud that Easigrass is in a position to be airing our first pilot advertising campaign via a UK terrestrial broadcaster. As the forerunner in this ever-growing sector, it is right and proper that Easigrass is paving the way by being the first company to advertise to a UK television-viewing audience.

"The Easigrass brand has become synonymous with our in-house vehicles called Easibugs, depicted in the advert as each having distinctive male and female characteristics. Easibugs make people smile when they see them in the street, which helps us with both top-of-mind awareness and brand recognition. We are confident enough as a business to enjoy our brand without forgetting that the Easigrass brand name exudes a commitment to excellence at all levels. I look forward to seeing and hearing feedback from customers new and old, as well as via social media channels," added Gallagher.

Easigrass is the only artificial grass company to have won one of the highest accolades within the horticulture industry – namely a Gold medal for a judged Show Garden at RHS Chelsea Flower Show. Some of the world's finest artificial lawns, sports pitches and corporate or retail displays, both inside and out, have been laid courtesy of Easigrass. Whether you 'hung up your Hunters' last Summer at QEOP's Live Nation musical events or supped a glass of bubbly on John Lewis's 150th Anniversary roof terrace along Oxford Street, you are always safe (and mud-free) in the knowledge that the grass under your feet will be Easigrass, laid to measure.

The British artificial lawn industry is a multi-million pound business. Easigrass is leading the way within this ever-expanding niche sector, with an unrivalled international network of 30 plus partners and an annual turnover of £5 million+. According to research, there are over 15 million lawns in the UK, many of which are costing Brits a hefty whack, both in terms of money and health. In 2012 alone £54 million was spent on lawn fertilizers in the UK and £127 million was spent on lawn mowers*.

https://www.youtube.com/watch?v=3L3ieyA5GlE – Here is the ad!!

www.easigrass.com

Please like, share and comment on the ad via Twitter or Facebook…

@Easigrass https://www.facebook.com/EasigrassArtificialGrass

-ends-

For media information, photography and interviews, please contact:-
Miranda Leslau miranda leslau pr
07912 644993 miranda@mirandaleslau.com
*http://www.dailymail.co.uk/news/article-2383912/My-love-affa...
This press release was distributed by ResponseSource Press Release Wire on behalf of Miranda Leslau in the following categories: Home & Garden, Business & Finance, Media & Marketing, for more information visit https://pressreleasewire.responsesource.com/about.