Blackbay Puts Consumers in Control of Home Deliveries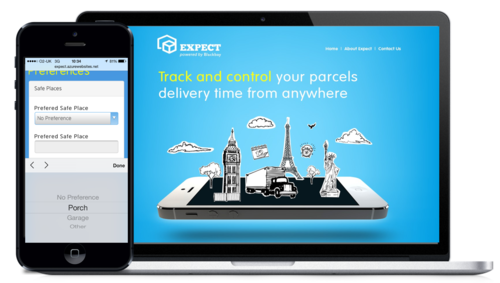 London, UK: 10 September 2014 – As more and more of consumers continue to purchase goods online, successful first-time delivery is of paramount importance. To help e-retailers and their delivery companies improve successful delivery rates, Blackbay today announced its consumer preferences portal as part of its Expect capability, which puts consumers firmly in control of when and how their home deliveries are executed.

"With the Interactive Media and Retail Group (IMRG) predicting online retail spend of a staggering £107 billion in 2014 alone, e-retailers risk losing market share if they are not deploying technology, which delivers critical information to improve the delivery experience for their customers," said Nigel Doust, Blackbay's CEO.

Blackbay's Expect is a multi-faceted product that includes not only the driver and operational tools to optimise routes, but it also provides consumers with an interface to control, track and interact with their deliveries and collections.

"Expect improves the overall relationship between the delivery company, the e-retailer and the consumer by enabling multi-way communication, consumer preference management and specific time delivery windows for delivery. The driver receives real-time information on the consumers' availability, allowing the consumer to limit the amount of time they need to wait for a delivery supported by regular text and email communication of progress and unexpected delays. In addition the consumer can interact directly with the delivery driver, via the portal, to divert or reschedule deliveries, in turn, giving the consumer greater control and helping the delivery company become more efficient" explained Doust.

In addition to seeing the very latest status of expected deliveries and providing specific delivery windows, consumers who have registered a consumer preferences profile are able to manage preferences for delivery, including preferred neighbour, preferred safe place and personalisation of delivery names. These preferences can then be reused on future deliveries to provide a personalised and consistent experience for the consumer, regardless of the delivery company or e-retailer used.

"Improved communication between all stakeholders during the delivery process to ensure first time, on time delivery is crucial. It is easy to see the huge value that Expect delivers by enabling e-retailers and their delivery companies to communicate with consumers throughout the entire delivery process with consistent and accurate information. The retailer gains more repeat business through happy consumers who get their goods when and where they want – whilst the carriers increase their first time delivery, reducing the cost of failed delivery," stated Doust.

"First time, on time delivery is the key to consumer satisfaction," said Andrew Starkey, Head of Logistics at IMRG. "Giving customers the ability to accurately anticipate delivery and engage in the process 'real time' will help e-retailers (and their delivery companies) win and keep customers. Blackbay's Expect appears designed to do just that and increase the rate of successful deliveries".

"We know that consumers return to those individual e-retailers that provide a good delivery experience, and delivery companies able to support this not only save costs but have a value-add offering to help e-retailers".

"Blackbay's clear understanding of the delivery companies' business and how e-retailers and consumers need to interact, has resulted in a delivery solution that moves the market forward and allows companies to use 'delivery' to differentiate themselves from their competitors" concluded Starkey.

Visit www.blackbay.com for more information.

About Blackbay

Blackbay is the leading provider of mobility enabled solutions for the transport and logistics industry. The company's configurable end-to-end products ensure first time, on time, every time delivery by connecting the shipper, operations, management, drivers and crucially the customer with real-time information and flexible workflows to create smarter delivery companies. Blackbay, headquartered in London, operates across APAC, EMEA and the USA, supporting over 145,000 drivers delivering in excess of 6 million deliveries per day.

For more information visit: http://www.blackbay.com/
Or follow Blackbay on Twitter: http://twitter.com/#!/BlackbayLtd

Contact for Blackbay
Katie Kinraid, Head of Marketing, Blackbay
Email: katie.kinraid@blackbay.com

Helping Delivery Companies Work Smarter.
This press release was distributed by ResponseSource Press Release Wire on behalf of Blackbay in the following categories: Transport & Logistics, for more information visit https://pressreleasewire.responsesource.com/about.