Breezie helps elderly Isle of Wight Residents get online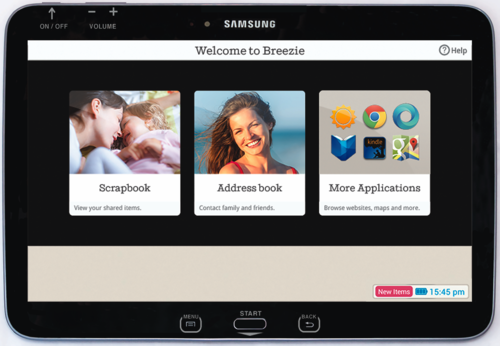 1st October: UN Older Persons Day

WightFibre and Breezie Helps Older People Get Connected to the Internet

Tablet-based service, Breezie, makes going online far easier for older people who are less familiar with the internet

Cowes, Isle of Wight. 1st October 2014: Over 11,000 households on the Isle of Wight are occupied by a person over the age of 65 living alone. Government figures shows that many of these households have never been online. With more and more services moving online and the growing popularity of social media, WightFibre has teamed up with Breezie, a tech company, to offer a solution that helps make the most of the internet for people who are less familiar with digital technology.

Breezie is supplied with a Samsung tablet and a broadband connection from WightFibre. It works by simplifying every day apps such as Facebook, Skype and email to make it easy for customers to get online and stay connected with friends, family and keep up to date with interests and hobbies.

The system is customised by WightFibre at purchase with settings based on the individual's interests. WightFibre then provides an ongoing concierge service to help the customer to set up accounts, add contacts and add new Apps to the Breezie.

Optionally, a nominated trusted relative or friend can be given the ability to sign-in remotely to also help the customer.

It makes the internet easy — to call someone for free on Skype, all the customer needs to do is simply tap a friend's picture in the address book and they'll soon be talking face-to-face.

Many of these 11,000 households on the island are isolated from the digital world and, as a result, from their friends and relatives. Activities taken for granted by most people – such as catch-up TV on BBC iPlayer or ordering a book online - are unavailable to them.

Having worked with technology giant, Samsung, to develop its functionality, Breezie is built on the Android platform, which means people have access to a huge range of apps which can be used for social media, shopping and online utility bills and much, much more.

Breezie also suggests which Apps the customer might like then adds more features as they become more familiar with the system.

Jeh Kazimi, founder and CEO at Breezie said:

'Breezie differs from most other desktop computers and tablets in that it tackles the two main barriers to internet adoption: over-complication and lack of relevance.

'It is set up to meet the individual needs of the customer and evolves with them as the customer grows more confident and becomes more comfortable with the device.

'Breezie can help makes the Internet easier. We hope this will make a real difference to people in later life, helping to stay in touch with family and friends and access the Internet easily and quickly.'

John Irvine, CEO at WightFibre, said,

'I recognised the benefit of Breezie straight away from my experience of trying to get my own mother-in-law online. In her 60s a laptop was overkill for what she needed. It provided too many different options and was very complex to set up and, critically, it went wrong for her too easily.

'The Breezie tablet combined with a broadband connection from WightFibre simplifies the whole process handing a Samsung tablet to the customer in their own home – already connected, configured and working'.

Pricing for the service is very simple. £12.50 per month for broadband (plus £15.30 line rental) then £10 per month for the Breezie tablet. Optionally, the tablet can be purchased outright for £299 with no monthly subscription. The £12.50 broadband charge includes ongoing 'concierge' support for the duration of the customer's broadband contract with WightFibre.

- Ends –

Contacts:
WightFibre: John Irvine, CEO. 01983 240104 / 07734 496248.
Email: John.Irvine@WightFibre.com.
Breezie: Douglas Whigham, PR Consultant, Rhizome PR, 020 7297 3166, Email: douglas@rhizomepr.com

Video:
https://vimeo.com/105350823.

Pictures:
https://www.dropbox.com/sh/qgajc4nx0s7cnts/AADl9OZtq7kc8au_V...


About WightFibre
WightFibre service the Isle of Wight with a superfast cable network and is the only independent cable network in the UK. WightFibre recently increased its' top to speed to 152Mbs, twice the fastest speed offered by BT, Talk Talk and Sky. WightFibre continues to lead the way in the roll out of faster and faster broadband for the island as it has done since its launch in 2001. www.wightfibre.com

About Breezie
Breezie is a service created by That Device Company, a London-based start up focused on using the latest developments in multi-sensing hardware (e.g. touch, face recognition, proximity sensing), cloud computing and open/API based services (e.g. Gmail, Skype, Amazon and Facebook) combined with powerful analytics and accessibility tools.
Founded in 2011, the company is privately funded by experienced angel investors and supported by a strong board comprising pioneers from the world of digital inclusion, business, telecoms, advertising and healthcare.

www.breezie.com

Notes To Editor:
Island residents already making use of a Breezie tablet from WightFibre are available for interview.
This press release was distributed by ResponseSource Press Release Wire on behalf of WightFibre in the following categories: Leisure & Hobbies, Consumer Technology, Computing & Telecoms, for more information visit https://pressreleasewire.responsesource.com/about.