Contemporary Art in the Countryside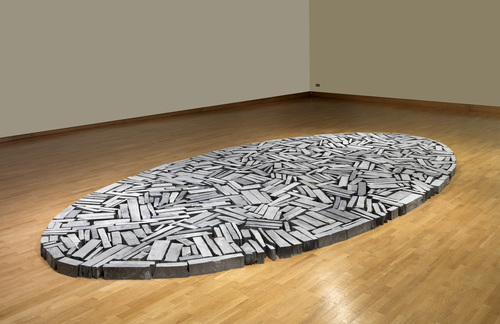 Richard Long's work is a celebration of wild places that often lie hidden, just off the beaten track
ARTIST ROOMS On Tour
Richard Long 4th October 2014 – 10th January 2015 Burton Art Gallery and Museum

The Burton Art Gallery and Museum is proud to present a public exhibition of works by the celebrated land artist Richard Long, as part of ARTIST ROOMS On Tour.

In a career that now spans nearly 50 years, Richard Long, has tested the boundaries of art by creating a substantial and varied collection of work in which he has taken nature as his subject but also as the source of his materials. Credited with being closely associated with the emergence of a new art form, Land Art, Long won the Turner Prize in 1989 and is one of Britain's most significant artists, living and working in his beloved West Country.

Richard Long's work is deep rooted in his affinity with nature, developed often during walks around the British countryside. Walking repetitively in a line, making a circle of pebbles, arranging sticks in their hundreds, using mud as paint and piling up stones are just some of the many ways in which Richard Long has interacted with the landscape. He was amongst a new generation of British artists who wanted to extend the possibilities of sculpture beyond the confines of traditional artists materials and he began to use natural materials such as clay, pine needles, driftwood, slate, mud and stones in his work. Long is renowned for documenting the experience of his walks with photographs, maps, wall drawings and printed statements, revealing patterns and observations with beauty, creativity and inspiration.

As a student in 1967, Long completed 'A Line Made By Walking' – a photograph of a field edged by a wood showing a narrow strip of grass, flattened by the action of him repeatedly walking it. Richard Long has stated "I have the most profound feelings when I am walking, or touching natural materials in natural places." Paradoxically he states that his work is a portrait of himself in the world, his personal journey through it and the materials he finds along the way. 'A Line Made by Walking' is alongside other pieces in the exhibition which have a relationship to the South West; 'Cornish Slate Ellipse', 2009, and 'Three Moors' are included within this exhibition.

The works on display at the Burton Art Gallery and Museum are taken from ARTIST ROOMS, an inspirational collection of modern and contemporary art acquired for the nation by Tate and the National Galleries of Scotland through the generosity of Anthony d'Offay with additional support from funders, including the Art Fund. The ARTIST ROOMS tour programme, now in its sixth year, is showing at 18 museums and galleries across the UK in 2014. The tour is made possible thanks to the support of Arts Council England and the Art Fund.

Warren Collum, Exhibitions and Collections Officer at the Burton Art Gallery and Museum said, "Right from the beginning of being involved with the ARTIST ROOMS programme, one of the artists I had in mind for The Burton was Richard Long. Many of the works in this exhibition have a direct connection to the South West environment. In particular, the works 'Cut Slate Ellipse' and 'Three Moors' will resonate strongly with our audiences encouraging them to connect with the materials that make up our environment, but in a totally different context – the gallery space."

Miranda Clarke, Visual Arts Manager at The Burton said, "We are delighted to be an associate partner as part of ARTIST ROOMS. This is a significant moment in the Burton's 60+ year history, bringing the Richard Long exhibition to The Burton supports the original remit as set out by Hubert Coop and Thomas Burton, the founders of The Burton, in 1951. Recently on a visit to Tate Modern, travelling up the main escalators I glimpsed the 12foot high map of the UK, which shows where all the ARTIST ROOMS venues are this year. It was incredible to see 'The Burton Art Gallery and Museum, Bideford' pinpointed. It made me proud of Bideford and of The Burton."

Richard Long's work is a celebration of wild places that often lie hidden, just off the beaten track. He is an artist who has had a lifetime of joyful exploration and simple pleasures, exploring the relation of man and nature, expressing, in new ways, the beauty and fragility of this relationship.

The Burton Art Gallery also hosts regular art activities for children and teenagers, allowing them the opportunity to discover their creative side and get artistically active themselves. Visit www.burtonartgallery.co.uk for further details.

To find out more information about ARTIST ROOMS On Tour please visit www.artfund.org/artistrooms. To see the full ARTIST ROOMS collection please visit www.tate.org.uk/artistrooms and www.nationalgalleries.org/artistrooms

Venue Contact Details:
THE BURTON ART GALLERY & MUSEUM, Kingsley Road, Bideford EX39 2QQ
(e) burtonartgallery@torridge.gov.uk (t) 01237 471455 (w) www.burtonartgallery.co.uk

Opening Hours:
Monday - Saturday, 10am - 4pm.
Sunday 11am - 4pm.

For further information, images and interviews, please contact Miranda Clarke, Visual Arts Manager at The Burton on 01237 471455
email Miranda.clarke@torridge.gov.uk

ENDS

Notes to editors

About the artist

Richard Long has been in the vanguard of conceptual art in Britain since he created 'A Line Made by Walking' in 1967, while still a student. This photograph of the path left by his feet in the grass, a fixed line of movement, established a precedent that art could be a journey. Through this medium of walking, time, space and distance became new subjects for his art. From that time he expanded his walks to wilderness regions all over the world. He mediates his experience of these places, from mountains through to deserts, shorelines, grasslands, rivers and snowscapes, according to archetypal geometric marks and shapes, made by his footsteps alone or gathered from the materials of the place. These walks and temporary works of passage are recorded with photographs, maps and text works, where measurements of time and distance, place names and phenomena are vocabulary for both original ideas and powerful, condensed narratives. Richard Long was born in Bristol, UK, in 1945, where he continues to live and work.

He studied at West of England College of Art, Bristol (1962–65), then St Martin's School of Art, London (1966–68). In 1969, Long was included in a seminal exhibition of Minimalist and Conceptual works entitled When Attitude Becomes Form at the Kunsthalle Bern for which he made a walk in the Alps that was documented by his first text work. After 1969, Long began making journeys and sculptures in wilderness places all around the world, documenting his walks with photographs, maps, and text works. In the 1980s, Long began making new types of mud works using handprints applied directly to the wall. He also continued to make large sculptures of lines and circles from slate, driftwood, footprints or stone, often sourced from quarries near the exhibition sites.

Major solo exhibitions include Hamburger Bahnhof, Berlin (2010), Tate Britain, London (2009), Scottish National Gallery of Modern Art, Edinburgh (2007), San Francisco Museum of Modern Art (2006), National Museum of Modern Art, Kyoto (1996), Philadelphia Museum of Art (1994) and Solomon R. Guggenheim Museum, New York (1986). He represented Britain at the 37th Venice Biennale (1976) and won the Turner Prize in 1989 after being shortlisted four times. He received the Chevalier de l'Ordre des Arts et des Lettres from the French Ministry of Culture (1990), has been elected to the Royal Academy of Arts, London (2001), was awarded Japan's Praemium Imperiale in the field of sculpture (2009) and was made a CBE in 2013.

ARTIST ROOMS
ARTIST ROOMS exhibitions and displays are from the collection assembled by Anthony d'Offay. ARTIST ROOMS is owned jointly by Tate and National Galleries of Scotland and was established through The d'Offay Donation in 2008, with the assistance of the National Heritage Memorial Fund, the Art Fund and the Scottish and British Governments. ARTIST ROOMS On Tour has been devised to enable this collection to reach and inspire new audiences across the country, particularly young people.

Arts Council England
The Arts Council champions, develops and invests in artistic and cultural experiences that enrich people's lives. We support a range of activities across the arts, museums and libraries – from theatre to digital art, reading to dance, music to literature, and crafts to collections. Great art and culture inspires us, brings us together and teaches us about ourselves and the world around us. In short, it makes life better. Between 2011 and 2015, we will invest £1.4 billion of public money from government and an estimated £1 billion from the National Lottery to help create these experiences for as many people as possible across the country. http://www.artscouncil.org.ukw

The Art Fund
The Art Fund is the national fundraising charity for art, helping museums to buy and show great art for everyone. Over the past 5 years we've given over £26m to help museums and galleries acquire works of art for their collections and placed hundreds of gifts and bequests, from ancient sculpture and treasure hoards to Old Master paintings and contemporary commissions. We awarded £1 million towards the original acquisition of the ARTIST ROOMS collection and have been instrumental in ARTIST ROOMS on Tour since its inception in 2009. We are independently funded, the majority of our income coming from over 100,000 members who, through the National Art Pass, enjoy free entry to over 220 museums, galleries and historic houses across the UK, as well as 50% off entry to major exhibitions.

Find out more about the Art Fund and the National Art Pass at www.artfund.org.
Please contact Madeline Adeane, the Press Relations Manager, on 020 7225 4804 or madeane@artfund.org


The Burton Art Gallery and Museum
The Burton Art Gallery and Museum is owned and managed by Torridge District Council and is one of the leading cultural venues within the South West. It is a dynamic and vibrant space, showing local, national and international artists. With 2 exhibition spaces, a retail area, an education space and a café in addition to the heritage displays and craft gallery, the Burton attracts a wide range of audiences of all ages from the local and international communities and provides the opportunity to access and engage with artists, collections and exhibitions on all levels. It also houses a permanent collection of works including Hubert Coop RBA, Sir John Lavery, E. Aubrey Hunt and Sir George Clausen RA, as well as information and artefacts illustrating Bideford's famous personalities and past industries including a Slipware Collection and The Ackland and Edwards Collection.


Copyright

Image Credits:
Image 1
Richard Long, A Line Made by Walking 1967
ARTIST ROOMS Tate and National Galleries of Scotland. Acquired jointly through The d'Offay Donation with assistance from the National Heritage Memorial Fund and the Art Fund 2008. © Richard Long. 

Image 2
Richard Long, Cornish Slate Ellipse 2009
ARTIST ROOMS Tate and National Galleries of Scotland. Acquired jointly through The d'Offay Donation with assistance from the National Heritage Memorial Fund and the Art Fund 2008.
© Richard Long. All Rights Reserved, DACS 2014.

Press use is considered to be moderate use of images to report a current event or to illustrate a review or criticism of the work, as defined by the Copyright, Designs and Patents Act 1988 Chapter 48 Section 30 Subsections (1) - (3). Reproductions which comply with the above do not need to be licensed.

Reproductions for all non-press uses or for press uses where the above criteria do not apply (e.g. covers and feature articles) must be licensed before publication. Further information can be obtained at www.dacs.org.uk or by contacting DACS licensing on +44 (0) 207 336 8811.

Due to UK copyright law only applying to UK publications, any articles or press uses which are published outside of the UK and include reproductions of these images will need to have sought authorisation with the relevant copyright society of that country.

Please also ensure that all works that are provided are shown in full, with no overprinting or manipulation.
This press release was distributed by ResponseSource Press Release Wire on behalf of Marketing and PR Clinic in the following categories: Entertainment & Arts, Environment & Nature, Travel, for more information visit https://pressreleasewire.responsesource.com/about.