PARENTS SUPPORT TEEN AMBITIONS TO BE TOMORROW'S ENGINEERING TALENT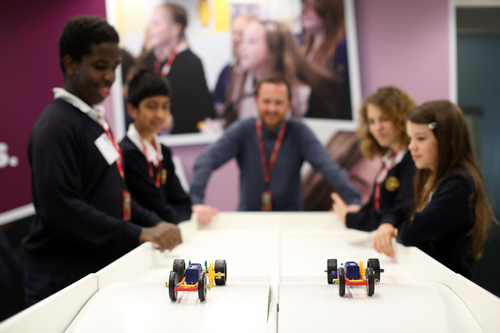 Parents support the ambitions of thousands of talented teens to become the UK's future engineering talent, yet young people lack the support in schools needed to fulfil their career ambitions.

According to new research to mark the start of Tomorrow's Engineers Week (#TEWeek14), three quarters of parents would recommend a career in engineering to their children.

Nearly half (47 per cent) of secondary school children would consider a career in engineering, the research shows, with 29 per cent of them girls. However, only a third (34 per cent) says they know what to do next in order to become an engineer.

And schools may not have the information needed to support the engineering ambitions of their students.

More than half (56 per cent) of GCSE science, technology, engineering and maths (STEM) teachers surveyed have been asked for advice about engineering careers by their pupils in the last year, yet only a third (36 per cent) felt confident giving such advice.

The findings reveal further disparities between teacher attitudes and pupil ambitions. 42 per cent of teachers believe pay is the most important factor to pupils when making career choices, when in fact only 15 per cent of pupils cite pay as most important. Choosing a career in something that they are interested in is the biggest influence for teens' career choices (42 per cent), and parents agree (24 per cent).

In a separate study of young engineers under 30 by EngineeringUK, a quarter (23 per cent) of those surveyed said they didn't consider engineering as a possible career choice when they were at school or college and 15 per cent were discouraged by a teacher. 42 per cent of those that didn't consider an engineering career would have changed their mind if they had received better careers advice, information or inspiration and 21 per cent if they had known what engineering careers involve.

Paul Jackson, Chief Executive of EngineeringUK, said:
"Engineering makes a significant contribution to UK GDP growth and engineering companies will have over 2.5 million job openings between 2012 and 2022 across a diverse range of disciplines. We're delighted to see that parents are so supportive of their children's engineering ambitions at a time when their talents are much-needed. However, the findings reveal a worrying lack of school support for young people. We urge schools to use the excellent Tomorrow's Engineers careers resources and website to inspire their students.

"At the same time, we call on engineering employers of every size and sector across the UK not only to give schools access to high-quality careers information and resources but to open their doors to show young people just how exciting a career as a 21st Century engineer can be.

"Our overarching aim is to ensure that every 11-14 year old has at least one employer-linked engineering experience to help them make the connection between classroom learning and career opportunities."

The Tomorrow's Engineers Week research showed that team work, working in a creative or inventive environment, and bringing new ideas to life are what young engineers enjoy most about their job. Three quarters (76 per cent) of then felt positive about how quickly and how far they will progress in their careers. Two-fifths (41 per cent) enjoyed a pay rise within the first year of employment and 19 per cent got a promotion or increased responsibilities within six to twelve months of starting.

Paul Jackson, Chief Executive of EngineeringUK, said:
"Engineers make a world of difference to every aspect of our lives and we need more of them. They work across a vast array of exciting industries from music, fashion, sport and film to aerospace, green energy, construction and computing. Tomorrow's Engineers Week plays a vital role in showing teenagers, their parents and teachers the great opportunities a career as a 21st Century engineer offers."

Business Secretary, Vince Cable, said:
"Whether it's the cars we drive, the houses we live in or the clothes we wear, engineering is everywhere. Our engineers solve the problems of the world we live in and are powering the country's economic growth. We must do all we can to maintain the pipeline of talent to this important profession and that's why we're supporting Tomorrow's Engineers Week. By joining forces with industry, we can make every school child aware of the exciting opportunities in engineering and help every parent understand that engineering offers their child a great and fulfilling career."

Leading the industry charge in addressing this challenge is global energy company, Shell, who today announced a three-year investment in the Tomorrow's Engineers schools outreach programme of over £1million.

Chairman of Shell UK, Erik Bonino, said: "We want to support and inspire a new generation of world-leading engineers and scientists who will fly the flag for British innovation. The school children of today can create the technical solutions of the future, but only if we show them the vast range of opportunities that STEM subjects and careers can offer. That's why we have pledged over £1m to help grow the Tomorrow's Engineers initiative and I urge the wider engineering community to lend their support too."

Tomorrow's Engineers Week (#TEWeek14) is a week of exciting national and regional activities by employers, government and education providers around the country to inspire young people, their parents and teachers to learn more about wide-ranging career opportunities in engineering. The Week celebrates the everyday engineering heroes that design, create and innovate to improve our lives.

For more information about Tomorrow's Engineers Week, visit www.tomorrowsengineers.org.uk.
This press release was distributed by ResponseSource Press Release Wire on behalf of Claremont Marketing Communications in the following categories: Children & Teenagers, Education & Human Resources, Manufacturing, Engineering & Energy, for more information visit https://pressreleasewire.responsesource.com/about.