CHARLIE WHINNEY STUDIO CREATES 'THE SOLUTIONISER' ONLINE DESIGN SERVICE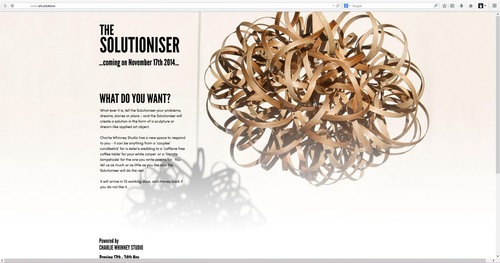 Tell the Solutioniser your ideas, dreams, problems or plans – it will create a solution in the form of a sculpture or dream-like applied art object.
For one week, Charlie Whinney Studio will be at Craft Central's Corner Shop exhibition space in Clerkenwell to showcase some of the types of objects his new project, THE SOLUTIONISER can create, and other recent sculptures that push the boundaries of what can be achieved with wood, steam and ideas.


'Tell the Solutioniser your ideas, dreams, problems or plans – it will create a solution in the form of a sculpture or dream-like applied art object.' Whinney claims. Answer questions on the website, giving the Solutioniser as much or as little information as you like. You say how much you want to spend, starting from £50, and you receive the item in ten working days, free postage. If you do not like what you have received you get your money back.

The Solutioniser will make beautiful, personal sculptures, wedding presents, birthday presents, and the perfect lampshade which could be anything from a 'couples candlestick' for a sister's wedding to a 'caffeine-free coffee table' for your white carpet or a 'literate lampshade' for the one you write poems for. Every item made will be photographed and shared by social media.

Charlie Whinney Studio's usual work is creating huge architectural art installations all over the world (UK, Japan, Singapore, China, France and the USA to date). Whinney explains: 'The Solutioniser is a way for me get back to my roots as a furniture and product-designer, and to make smaller brilliant, creative and beautiful things for non-corporate people, alongside the larger work.'

The holding page can be found at www.art.solutions, to be launched on 17th November.

Whinney described how the idea came about: 'It all started when I was approached by Bestival in 2012 to do some sort of art event and installation. So I thought of the 'Steam-Powered Solutioniser' which was a mini show/workshop where members of the public could tell me their problems and I would steam-bend wood in front of them to create sculptures or functional objects that responded to what they said and tried to help. I was blown away by how much people opened up to me, out of context at a festival and I found it quite easy to make bespoke creations that really delighted people. It took me back to my days designing products at my previous company Sixixis.' [Note for editors: Sixixis won the first ever Laurent Perrier award for Design]


The Solutioniser will happen in a new purpose-designed space in Whinney's ancient stone workshop in the Lake District. The website – www.art.solutions - is being put together by Cactus Creative and will be launched on 17th November. It takes the commissioning process to the bare essentials and draws heavily on Whinney's design methodology, as well as the tools and top-secret processes used for the larger works.


Private View: Craft Central's Corner Shop exhibition space in Clerkenwell

Opening Hours: Monday 17th November to Saturday 22nd November
12 noon – 8pm: drinks served from 6pm-8pm every evening.

Address: Craft Central, The Corner Shop, 21 Clerkenwell Green, London, EC1R ODP. See map


Who should attend?
People who want to buy a brilliant Christmas present [http://www.art.solutions]; people who have not yet found that perfect lampshade/doorstop/coffee table etc; people who would like a solution to their problems manifested as a sculpture.
Interior designers
Architects
Journalists
Art and design enthusiasts
*** ENDS

For further information, interviews and images please contact: info@charliewhinney.com, or call Alison on 07573 404560 during preview week.


About Charlie Whinney Studio
Charlie Whinney Studio is based in the Lake District, and uses eco-friendly materials and processes. Commissions include 'Together' Gold-medal winning Chelsea Garden, 'DNA' for Cambridge University and several window displays for Harvey Nichols, as well as large-scale works for prestigious hotels around the world.

Charlie Whinney studied Architecture at Kingston University, Furniture Design at Rycotewood, and 3D Design for Sustainability at Falmouth College of Arts. He was the co-founder of Sixixis Design in 2006, designing the award-winning CurlyShade, GallopyGallopy Bed and Rolling Summer House. Charlie Whinney Studio started in 2008 - current commissions in the workshop include the January 2015 windows for Harvey Nichols and a new sculpture for a hotel in South Japan.

www.facebook.com/charliewhinneystudio
https://twitter.com/charliewhinney
www.charliewhinney.com
www.art.solutions


About Craft Central
Craft Central, the new name for Clerkenwell Green Association, is a pioneering not-for-profit organisation established over 25 years that is dedicated to building a strong future for craft and design.
craftcentral.org.uk


About Cactus Creative
Cactus Creative is a web and branding consult and design company, and the new creative powerhouse behind The Factory in Kendal.
www.cactuscreative.com
www.facebook.com/factorykendal
This press release was distributed by ResponseSource Press Release Wire on behalf of Charlie Whinney Studio in the following categories: Entertainment & Arts, Home & Garden, Retail & Fashion, for more information visit https://pressreleasewire.responsesource.com/about.