Claimants demand a second opinion from RethinkMyClaim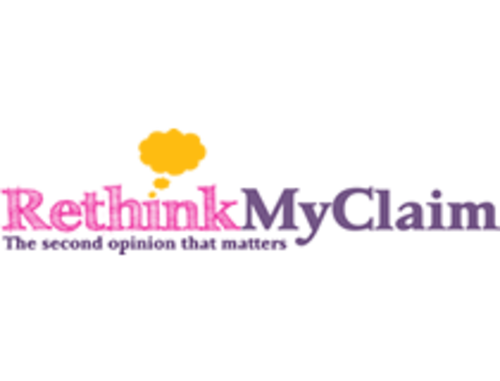 "We already have a number of ongoing claims where people, often with serious injuries have not received anywhere near the support that they deserve.
Injured people whose' claims have gone sour could receive a lifeline with a second opinion from experts skilled at rescuing cases.

RethinkMyClaim has launched to help an estimated 7000+ people* who have been poorly treated or even had their cases dropped by solicitors, with many finding their advisors have been unwilling or simply unable to dedicate the resources necessary to secure the true value of their claim.

"We're offering a second opinion for the thousands of people who deserve to have their cases dealt with properly," says Lisa Sheldon of RethinkMyClaim. "We already have a number of ongoing claims where people, often with serious injuries have not received anywhere near the support that they deserve. This new offering is designed to address that imbalance."

RethinkMyClaim helps resurrect cases by pursuing solicitors for professional negligence. Unfortunately it is all too often the case that mistakes can be made in the pursuit of a claim, particularly in a field where only the very best advice can ensure that complex rules are followed to ensure injured parties get every penny they deserve.
Lisa says, "Cases fall down for a number of reasons. When we review a file, we'll assess whether a solicitor did everything they could to generate the right outcome. If they didn't, perhaps the rules were not followed correctly, then RethinkMyClaim will be able to pursue that solicitor for professional negligence."

RethinkMyClaim has received a number of enquiries already including from people who have been exposed to hazardous materials such as chemicals or asbestos, developing serious conditions such as mesothelioma or lung cancer. It is also handling road traffic accidents and other injuries many of which involve problems such as the claimant going on to develop further long term problems after their original claim was settled. Below are three case studies which show how RethinkMyClaim has stepped in to help.

PROFESSIONAL NEGLIGENCE ASSISTANCE/CASE REPORTS

Case Summary One

We were instructed by the Claimant Mr B who was concerned that his previous Solicitors had not properly dealt with his case and had felt to comply with the Directions made by the Court. He was exposed to loud and excessive noise during the course of his employment and his Solicitor had made a claim against his employers who had admitted negligence and breach of duty. There was a dispute as to the extent of his injuries and his ongoing problems arising from his exposure to noise. The Court gave Case Management Directions throughout the conduct of the claim requiring all parties to serve relevant witness statements dealing with the issue of injuries and losses. His Solicitors failed to comply with those Directions and to serve his witness statement. The matter proceeded to trial and his Solicitors made a last minute Application for permission to rely upon witness evidence at trial which was refused by the Judge and in accordance with the advice from his Barrister the case was then discontinued.

His Solicitors had failed to comply with the Court rules and to serve witness statements and for this reason his case failed. He instructed us to pursue a claim against his former Solicitors and following a letter of claim liability was admitted and the case was settled swiftly for a full payment of damages and legal costs. His Solicitors accepted that they had made a mistake in relation to the conduct of his case.

Case Summary Two

We receive a large number of enquiries in relation to Industrial Disease claims professional negligence and the following is a typical example of cases we are asked to investigate.

The Claimant an elderly Claimant was exposed to chemicals throughout his employment at a factory that dealt with the manufacturer and processing of precious metals. He developed a lung condition and unfortunately died as a result of a complication of that condition. His family were unhappy about the way the case had been dealt with by his Solicitors who were pursuing a claim on his behalf against his employers.

A review of the file of papers following instructions from his family revealed that his Solicitors had failed to obtain from him a signed statement of evidence dealing with his employment in full and his exposure and further they had failed to ensure that an Inquest was carried out following his death and had failed to instruct a consulting chemist or expert engineer to assist in relation to the preparation of evidence dealing with exposure during his lifetime. The deceased had lost a valuable chance to pursue his claim and his Solicitors had not taken proper steps to secure the best evidence available to support his claim for damages.

We are continuing to investigate a claim for damages in relation to this for the family against the deceased's former Solicitors.
Case Summary Three

The Claimant who was below aged 18 was involved in a road traffic accident and he was not able to continue with his studies at school in full. He had an initial period of time off school and medical evidence obtained by his Solicitors indicated that the injuries had, had a substantial impact on his school education and his future prospects of obtaining employment. Proceedings were issued against the car driver responsible for the accident who admitted liability but no admission was made in relation to the extent of any injuries or losses arising from the accident.

He was represented by his mother who instructed Solicitors to deal with the claim and they failed to serve a fully particularised and up-to-date Schedule of Loss resulting in his claim being significantly undervalued. We are instructed to investigate a potential claim against his Solicitors in respect of this and other similar claims arising from Solicitors failures to deal with the investigation of injuries and losses fully and their failure to comply with relevant Court rules dealing with the service and preparation of evidence.
Editors' notes

RethinkMyClaim is a trading style of national law firm Simpson Millar, which successfully represents the rights of individuals and their families via a network of 13 regional UK offices and through their long-standing association with membership organisations such as trade unions. Simpson Millar was the first ever UK law firm to obtain Lexcel Accreditation from the Law Society and, more recently, the first to obtain the Diversity in Business Accreditation.

For more information visit www.rethinkmyclaim.co.uk.

*2013 Legal Ombudsman report details how 9% of 71,000 complaints related to personal injury matters

Media contact:

Ralph Savage
RTS Media
Email ralph@rtsmedia.co.uk
07771 650022
This press release was distributed by ResponseSource Press Release Wire on behalf of Simpson Millar LLP Solicitors in the following categories: Health, Manufacturing, Engineering & Energy, Construction & Property, for more information visit https://pressreleasewire.responsesource.com/about.