Does Santa Need Delivery Drones This Christmas?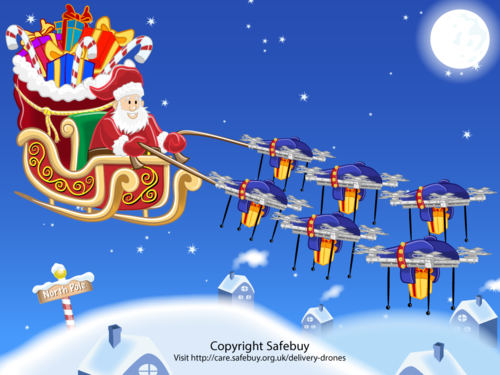 UK public mostly confident that 2014 Christmas deliveries will arrive on time but concerned about delivery 'drones'!
UK public mostly confident that 2014 Christmas deliveries will arrive on time but concerned about delivery 'drones'!

In a recent survey by SafeBuy 2,000 UK online retail consumers were asked whether they believed deliveries would arrive in time this year for Christmas.

The majority of people surveyed stated they were either 'very confident' (34.9 percent) or 'confident' (27.9 percent) that goods purchased online in the run up to Christmas would arrive on time this year.

"With only 16 percent of UK consumers surveyed lacking confidence that deliveries will turn up on time, it appears UK retailers have largely won over the public's confidence" stated Richard Jones, founder of SafeBuy.
But in Scotland, perhaps taking regard of the highlands and islands, that lack of confidence escalated to 32 percent.

Does Santa Need Delivery Drones?

Following Amazon and Google testing delivery drones, 51.6 percent of UK consumers questioned said they didn't expect to see them in action any time soon but 28.2 percent said that they really do think it likely in due course.

Scots were the most cynical of the UK public surveyed, with 63 percent pouring cold water on the drone delivery idea.

Drone Concerns

Asked to select one word to describe delivery drones, respondents were torn between 'excitement' with 22.3 percent and 'convenience' with 19.3 percent. 12.6 percent suggested the word 'fun'.

But on the negative side 16.2 percent of the UK public think them 'dangerous', 13.7 percent are 'worried' and 11.2 percent see them as 'scary'.

The public's biggest concerns tend to revolve around issues of safety with danger the biggest issue at 28.7 percent and 26.7 percent worry that automated drones could drop or lose items.

Historically, a separate SafeBuy study of 2,500 mediations between customers and SafeBuy-accredited retailers showed that more than half of the problems that resulted in a dispute were actually related to deliveries.

Richard Jones added:

"Our research shows that back in 2006 the major issues for consumers were if a retailer was honest and reliable and whether their credit card details were safe. However in 2014 confidence in retailers and security has grown. Today's consumers are concerned about deliveries, from the time taken to the costs involved.

Whilst a future of delivery drones sounds exciting, the UK public do seem to have a number of doubts and concerns, so Santa's reindeer's jobs are probably safe for the near future!"

For more information visit SafeBuy
END

Contact information:
Name: Richard Jones, CEO
Website: http://www.safebuy.org.uk
Company: SafeBuy
Tel: 01491 411 111
Email: richard@safebuy.org.uk
This press release was distributed by ResponseSource Press Release Wire on behalf of SafeBuy in the following categories: Consumer Technology, Business & Finance, Computing & Telecoms, for more information visit https://pressreleasewire.responsesource.com/about.