NICOLITES SECURES MAJOR MITCHELLS AND BUTLERS DEAL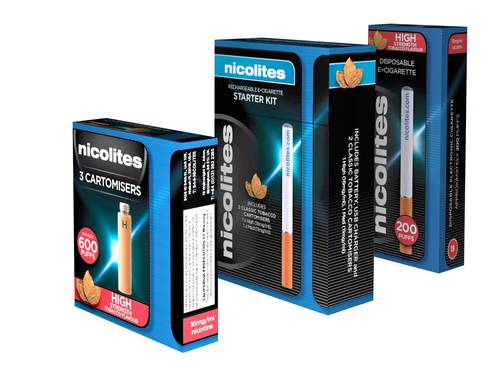 Nicolites, suppliers of high quality e-cigarettes, is proud to announce that they have secured an exclusive deal in a number of Mitchells & Butlers pubs and restaurants. Over the last two weeks Nicolites and MAB have been working together to roll out a range of Nicolites products in MAB pubs across the country.

"The agreement will see the company's products available to guests at selected Mitchells & Butlers businesses throughout the UK", said Nicolites managing director Nikhil Nathwani, "this is in high footfall pubs and restaurants, Sizzling Pubs, Ember Inns and some Vintage Inns and other MAB pubs."

M&B has agreed to stock Nicolites e-cigarettes to offer guests an alternative to traditional tobacco products. Nicolites will be available in approximately 514 Mitchells & Butlers sites from November 14.

Nikhil added: "This is a fantastic opportunity for Nicolites and clearly demonstrates that we are leading the way as sentiment towards e-cigarettes in the hospitality sector begins to change.

"We are delighted to announce this exclusive deal in the selected businesses with MAB. Mitchells & Butlers will only be allowing over 18s to buy e-cigarettes for consumption outside their businesses. Nicolites will be available to hundreds of thousands of drinkers, continuing the trend of e-cigarettes becoming more and more mainstream."

The e-cigarette market is evolving rapidly as more companies enter the category. Nicolites is well positioned to increase its sales with innovative new products supported by continuous investment. This partnership is the first of its kind and will pave the way for Nicolites to expand into the hospitality sector.

National Account Manager for Nicolites, Kelly O'Donnell said, "This is a high profile launch for both Nicolites and Mitchells & Butlers. The on-trade market is a huge opportunity as it is un-touched in terms of e-cigs, for Nicolites this means we are the first e-cig brand into MAB outlets, it also means we will capture new consumers. We are leading the way within the on-trade and this will open up other doors for us as a company into the sector. For Mitchells & Butlers it's giving their guests more choice."
As the most sold brand in the UK, Nicolites last year secured a huge share of the independent retailer and convenience store market, with the nearest competitor recording sales of around half that of Nicolites. In 2013, turnover leapt from £6 million to £23 million.

Nicolites is the UK's biggest brand of electronic cigarettes, stocked by a large number of national retailers including Tesco, Sainsbury's, ASDA, Superdrug, Co-op, WH Smith, Martin McColl and over 10,000 independent pharmacies and convenience stores.

ENDS

Note to editors:

Nicocigs Ltd was formed in 2008 and initially intended to supply an alternative smoking solution to pharmacies. Nicolites, the first offshoot of Nicocigs, was created to bring a more consumer focused brand to the market.

From 2011, Nicolites sales increased exponentially and the introduction of the Vivid Vapours and Craze E-shisha brands in 2014 saw a further increase in market share for Nicocigs and established them as the firm market leader in the UK independent sector.

For more information visit www.nicocig.co.uk, www.nicolites.co.uk, www.vividvapours.co.uk and www.crazeeshisha.com.

Please contact Gemma Greenman, Communications Co-ordinator at Nicocigs Ltd, at gemma@nicocig.co.uk for more information, images or interviews.
This press release was distributed by ResponseSource Press Release Wire on behalf of Nicolites in the following categories: Consumer Technology, for more information visit https://pressreleasewire.responsesource.com/about.