50 Euros to save a life: can British business Packexe® help prevent Ebola and infectious diseases?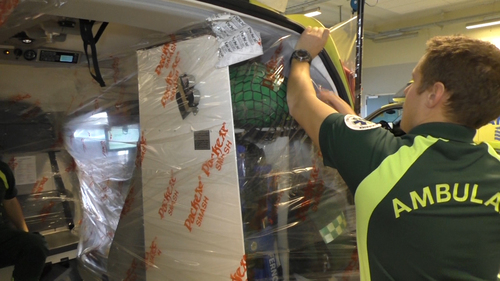 - A case study from the Sundsvall Ambulance Service in Northern Sweden shows us how -

If you are keen on TV DIY shows, have spent time in Hospital or work for The NHS or Emergency Services around the world, you may be familiar with the brand name Packexe® stamped on safety protection films and wraps. The Packexe® range of products is the brainchild of ebullient inventor and entrepreneur, Andrew Orchard, who created the first Packexe® film product back in 1989.

Today, Packexe®, based in Exeter, UK, exports to over 50 countries worldwide including Germany, Japan and Hong Kong, bearing a high calibre and extremely well respected CV and product range.

The Packexe® range of surface protection film is already in use in Nuclear Medicine Units as an efficient, safe and sanitary way to clean and protect patient rooms where radio-activity or contagion is present and deemed 'high risk'.

The idea to use the Packexe® rescue product, Packexe® SMASH, within Ambulances came from an ambulance crew in Sundsvall, Sweden. One of the crew is also a Fire and Rescue operative and had used the film during extrication situations. Due to the product's strength and adhesive qualities, the firefighter suggested replicating use inside the Ambulance. The SMASH film is unrolled and trimmed to cover the whole Ambulance interior, which takes approximately 12 minutes (for a large Ambulance), at a cost of less than £40 pounds sterling/50 euros.

Andrew Orchard recently visited The Sundsvall Ambulance Service in North Sweden, after he received an order to use Packexe® SMASH in their Ambulances - as both a preventative measure for Ebola cases and also for patients with suspected or diagnosed TB or other infectious diseases.

According to Andrew Orchard, CEO, Packexe®:-

"I interviewed Fredrik Granholm, EMS Doctor in Sundsvall, to try and find out from an industry professional how the SMASH product can really help Ambulance Services in the new global Ebola epidemic. Whilst no data is available, surely offering up Packexe SMASH to Ambulance and Health Service Providers the world over is a simple yet highly efficient way of minimising risk of exposure and contamination from Ebola and other infectious diseases?

"Packexe® SMASH is a simple and cost-effective system being used by Emergency Service crews who themselves are putting their own health on the line, 365 days a year. Everyone at Packexe® hopes the powers that be are listening and learning by example: here in the UK we now have a tried and tested potential solution to an epidemic that is set to rip apart our communities to the very core."

To view Andrew Orchard's interview with Fredrik Granholm at Sundsvall Ambulance Service, please visit http://youtu.be/fYuZwLePlkM

For more information about Packexe® SMASH please visit http://www.packexesmash.co.uk

https://www.facebook.com/packexe
https://twitter.com/packexe

Packexe® is the global leader in packaging protection films and wraps within the private and public sector. Exporting to over 50 countries worldwide including Hong Kong, Japan, USA, Australia and Germany, amongst others, the Packexe® brand is the most respected household name associated with safety and protection, whether you are at home, in hospital or in an emergency response situation. The full range of 12 Packexe® products are recognised and used by The UK Rescue Organisation (UKRO); The World Rescue Organisation (WRO) and The NHS, as well as regularly used on British terrestrial and satellite DIY shows.

-ends-

For media information, interviews and images please contact:
Miranda Leslau
miranda leslau pr
07912 644993
miranda@mirandaleslau.com
This press release was distributed by ResponseSource Press Release Wire on behalf of Miranda Leslau in the following categories: Health, Medical & Pharmaceutical, Public Sector, Third Sector & Legal, Manufacturing, Engineering & Energy, for more information visit https://pressreleasewire.responsesource.com/about.