Brits set to ditch the dish cloth on Christmas Day as bookings to dine out are up by 20%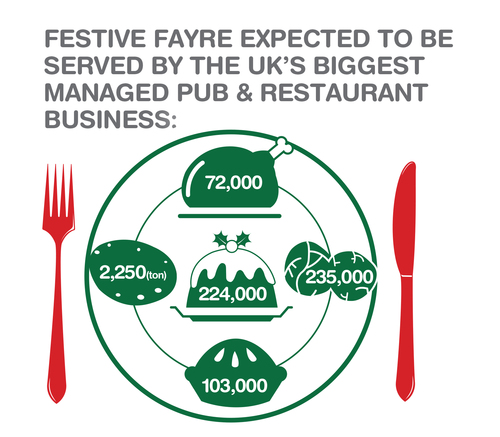 With less than two weeks to go until the big day, research from Mitchells & Butlers, the UK's biggest managed pub and restaurant operator reveals that over 1,000,000 guests are set to dine out on Christmas Day.

In pubs and restaurants across the UK, like Harvester, Toby Carvery,Miller & Carter, Browns, Sizzling Pubs, Ember Inns,All Bar One, O'Neill's and Vintage Inns Mitchells & Butlers has revealed that they have 72,000 turkeys, 2,500 tonnes of potatoes, 235 tonnes of Brussels sprouts and 103,000 mince pies on order, in response to seeing a 20% increase as UK consumers plan to Dine Out on Christmas Day.

Although Turkey remains a traditional favourite, according to the 250,000 meals already on order, sales of Chocolate Brownies are outselling the traditional Christmas Pudding, and in Harvester nearly 50% of the meals set to be served will not be turkey.

With a predicted nine hours spent preparing, cooking and clearing away a Christmas Day feast, it's no wonder that Brits across the country have made the decision to ditch the dish cloths this year!

Among the time spent making Christmas dinner, industry research indicates that it costs the average family £178 to cook at home, put together with the pressure of serving multiple courses to the extended family means chefs at home could be cooking up a lot of stress, when compared to the average cost of dining out on Christmas Day is £52.58.

This could be why Mitchells & Butlers has seen increased bookings for Christmas Day, with the top ten booking hotspots from guests in Birmingham, London, Leeds, Bristol, Liverpool, Sheffield, Sutton Coldfield, Glasgow, Nottingham and Coventry.

Those cooking at home are still turning to Toby Carvery for a helping hand at home, with over half a million consumers using the Toby Tips recipe pages for help to create the perfect roasties, gravy and Yorkshire Puddings.

Mitchells & Butlers research has also indicated the gift of Christmas dinner is set to be a seasonal sell out with sales of gift cards which can be used within our pubs and restaurants expected to attract £500,000 in sales, up 34% from last year.

Catriona Kempston, Marketing Director, at Mitchells & Butlers comments;

"We are a Nation of bakers, but now more than ever time spent with our loved ones is coming first and though the tradition of cooking at home is still prevalent, the hours that can be given back by dining out this Christmas is outweighing it. Our pubs and restaurants want to give families the gift of time to share Christmas Day with each other, not their kitchen sink."

"Christmas can be a stressful time, taking the drama out of 'doing the dinner' could be the best Christmas present you can give someone, and with sales of our gift cards up 34% this year already and £500,000 sales, it seems Seasons Eatings is this year's most popular present to give loved one this year."

ENDS

Contact Details:
Photography, infographic images or spokespersons quoted are available for interview. For further information please contact Katie Bregazzi / Sian Borrill or Emily Bell
(Katie@spottydogcommunications.com Sian@spottydogcommunications.com / Emily@spottydogcommunications.com) at spottydog communications on 01455 822712

The statistics released by Mitchells & Butlers have been gathered using data from its 1,200 pubs and restaurants open on Christmas Day across the UK during w/c 8 December 2014. The Mitchells & Butlers brands include; Sizzling Pubs, Vintage Inns, Harvester, Ember Inns, Toby Carvery, Crown Carveries, Castle, Nicholson's, O'Neill's, All Bar One, Miller & Carter, Browns, Innkeeper's Lodge.

Full facts:

Average cost per head to eat out on Christmas Day:
• London (£56.92)
• Midlands (£56.48)
• North East (£55.34)
• Yorkshire (£54.32)
• West Country (£54.12)
• East Anglia (£52.36)
• North West (£52.28)
• South England (£50.55)
• South West (£50.05)
• Wales (£48.36)
• Scotland (£47.41)

Top 10 turkey hotspots by bookings:

1. Birmingham (5, 451)
2. London (4,624)
3. Leeds (3,660)
4. Bristol (3,650)
5. Liverpool (3,575)
6. Sheffield (2,877)
7. Sutton Coldfield (2,827)
8. Glasgow (2,647)
9. Nottingham (2,529)
10. Coventry (2,215)

Food quantities expected to be served:
• 72,000 Turkeys
• 2,250 tonnes of potatoes
• 235 tonnes of sprouts
• 103,000 Mince Pies
• 224,000 Christmas Puddings

Other Christmas Crackers:

The gift of Christmas dinner a seasonal sell out with sales of gift cards expected to attract £500,000 in sales, up 34% from last year.

London and the North East set to pop the most corks on Christmas Day, with 20% of wine expected to be consumed being sparkling.
This press release was distributed by ResponseSource Press Release Wire on behalf of Spotty Dog Communications in the following categories: Men's Interest, Leisure & Hobbies, Home & Garden, Women's Interest & Beauty, Food & Drink, Personal Finance, Business & Finance, for more information visit https://pressreleasewire.responsesource.com/about.