Geoscience interns to learn from Fogo volcano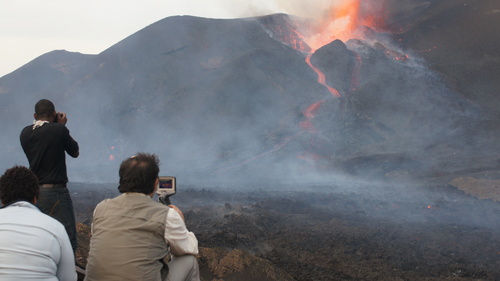 The chance to work on a volcano that has erupted so recently, and may still be on-going at the time of the internship, is extremely rare.
Postgraduate and undergraduate students can work and learn alongside leading volcanologists in Cape Verde, thanks to GeoTenerife, a UK-based company that coordinates scientific field trips and internship schemes.

Cape Verde, an archipelago of ten islands located 350km off the west coast of Africa, is of great geological interest because its islands are so young - between eight and 20 million years old. It is also the site of an on-going volcanic eruption at Fogo volcano.

The placement will run from March 31 to May 1 2015 and two students will learn from professional volcanologists from the Canarian Volcanological Institute (INVOLCAN).

INVOLCAN has been surveying Fogo volcano in Cape Verde for the last seven years, and has a team in place closely monitoring the current eruption.

Speaking about the initiative, Sharon Backhouse, Director of GeoTenerife, said, "The chance to work on a volcano that has erupted so recently, and may still be on-going at the time of the internship, is extremely rare. Not least because INVOLCAN has been following this event from way back, and students will have a chance to access their ground-breaking data outlining their novel calculations on early warning signals and on-going measurements."

But why do GeoTenerife charge for these internships? She says: "We want to be able to offer a programme with a high learning content, across a range of disciplines.

"On a GeoTenerife internship, our students are taught, challenged and supported on a daily basis. The scientists that interns work with, usually on a 1:1 or at most 1:2 basis, are from INVOLCAN, the well-respected Canarian Volcanology Institute. The head of the Institute, Dr Nemesio Pérez, is a geochemist and world-authority on geothermal potential and volcano degassing.

"The institute actively monitors volcanoes around the globe and publishes papers on their research, often leading the field in their theories. Interns may have the opportunity to contribute, and be named on one of their published papers.

"And for those interested in science communication, there is also the opportunity to work in TV or radio, on INVOLCAN's weekly shows presented by David Calvo."

She says that the internships are an opportunity for students to sample a range of disciplines, and often helps young scientists to clarify which area they wish to concentrate on in their future careers. It also teaches them real skills and techniques they can take into the workplace.

"And of course, the internship fee also covers accommodation and transfer costs (including to other islands for internships in La Palma or El Hierro)."

Fogo volcano had been dormant for 19 years - this recent eruption is the most significant Cape Verde has experienced in the last 60 years.

Dr Nemesio Pérez, Coordinator of INVOLCAN, said, "Working in Fogo since the eruption in November has been an incredible experience – it's an opportunity that every volcanologist dreams of. Although of course, it has also been harrowing - many of our friends and colleagues have lost their property and homes, but thankfully there has been no loss of life."

The deadline for applications for the Cape Verde internships is February 6 and the trip will cost £1,200 plus VAT (excluding flights).

More information and written and video testimonials from 2014 interns can be found on the GeoTenerife website.

ENDS

GeoTenerife is a British company that coordinates scientific bespoke trips to the island of Tenerife for UK Universities. It also organizes conferences and webinars on the island, bringing experts from Tenerife to the UK.

Its desire to promote the potential of the island is backed by over fifteen years of experience in the field of renewable energy innovation and sustainability. It works with investors interested in projects in Tenerife and schools of all levels in the UK.

GeoTenerife events are specifically coordinated to the requirements of each group, responding with activities tailored to their courses and levels of study.

Its goal is to redefine the island of Tenerife – it is not just a sun and beach destination. The island has the resources and the potential to be a key destination for scientific study of the highest level.

The internship scheme is an opportunity to work alongside leading geoscientists on a 1:1 or 1:2 basis, contributing to pioneering research. For programmes based in the Canaries, students are taught to use equipment that would normally be reserved for PhD students, and their work encompasses sampling in the field, lab work, data analysis and write-up.

Not all of GeoTenerife's activities are based in the Canary Islands – for example, it also coordinates internship schemes in Cape Verde and the Philippines.

Students are given lectures and individual teaching from experts, and receive constant feedback, support and guidance.

Testimonials from last year's attendees can be found here: http://geotenerife.com/index.php/english/capeverde2015

Media information provided by Famous Publicity. For more information please contact George Murdoch on 033 33 44 23 41 or 07834 643977 and email george@famouspublicity.com or Tina Fotherby on 07703 409622 and email tina@famouspublicity.com.
This press release was distributed by ResponseSource Press Release Wire on behalf of GeoTenerife in the following categories: Children & Teenagers, Men's Interest, Leisure & Hobbies, Women's Interest & Beauty, Travel, Education & Human Resources, for more information visit https://pressreleasewire.responsesource.com/about.