BBC Radio 2 DJ Sara Cox meets Teapot Trust Founder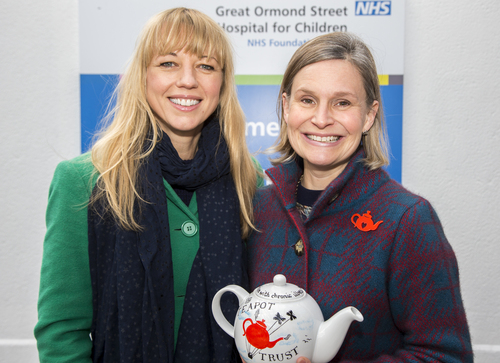 The art therapy has been a great support for the children and their families, giving an alternative focus to their visit to hospital
BBC Radio 2 DJ Sara Cox, a supporter of Scottish charity the Teapot Trust, visited Great Ormond Street Hospital on Thursday 29 January, to meet the charity's founder Laura Young.

You can watch a film of the meeting here.

The Teapot Trust was founded by Laura Young and her husband John in 2010, after seeing the gaps in the care of their daughter Verity, who suffered from Lupus (Systemic Lupus Erythematosus) and also cancer before her tragic death in 2009, aged just eight years old.

Since then, they have provided art therapy to hospitals throughout Scotland. In November 2014, the Teapot Trust was invited to start providing art therapy to children in the Rheumatology Ward at Great Ormond Street Hospital, London - the first time that the charity has worked outside of Scotland.

Since it began its work at Great Ormond Street Hospital, the Teapot Trust appears to have had a positive impact on the lives of many of the children on this ward who have taken part in the therapy.

Dr Clarissa Pilkington, Lead Rheumatology Consultant at GOSH and President of the British Society of Paediatric and Adolescent Rheumatology (BSPAR) said, "We have been delighted with the input of the Teapot Trust's art therapist in our clinics.

"Rheumatology is one of the least well-known of the hospital's specialisms, and is often side-lined in service provision by better-known diseases.

"Our patients are often on very strong drugs with lifelong and sometimes life-limiting conditions.

"The art therapy has been a great support for the children and their families, giving an alternative focus to their visit to hospital so it's not just about seeing me, having blood tests and their treatment regime."

Since its inception the Trust has grown rapidly, and now provides art therapy to children in five Scottish hospitals – Edinburgh, Glasgow, Inverness, Aberdeen, Dundee and one hospice at Kinross, as well as Great Ormond Street Hospital.

Sara Cox, speaking about her support of the Teapot Trust, said, "I first met Laura when I judged Tesco Mum of the Year, and was delighted that she won the Tesco Charitable Mum of the Year award.

"Laura really is an inspirational person – there's a huge amount of sadness in her story, but also a lot of optimism because she has turned her adversity into an advantage for others.

"Art therapy is so valuable because it proves a great distraction and something else to remember from hospital apart from their appointments, and pictures they can show off and talk about."

"I know that Laura and the team will continue to provide this vital service, and I'll continue to support them in their work."

Laura Young, who lives in East Lothian, Scotland with husband John and daughters Nina and Isla, said, "I have to thank Sara for her ongoing support of the Teapot Trust, as well as Dr Pilkington for her very kind words and collaboration with our art therapist.

"In 2015, we are reaching out to as many sick children as we can, so we're going to need all the help we can get."

The Teapot Trust needs £250,000 each year to run all of its services. It employs over a dozen sessional staff and has an administrator, all of whom Laura leads to fulfil the charity's objectives.

Key links:

The Teapot Trust: http://www.teapot-trust.org/

Great Ormond Street Hospital: http://www.gosh.nhs.uk/

British Society of Paediatric and Adolescent Rheumatology (BSPAR) http://www.bspar.org.uk/

Film of Sara Cox meeting Laura Young from the Teapot Trust: https://www.youtube.com/watch?v=QyBAGYY8D_A&list=PLn7eCirXoF...

ENDS

Laura Young: Biography

Five years ago, Laura's middle daughter, Verity, passed away from Lupus and cancer aged just eight years old, and Laura has been devoted to establishing and running the Teapot Trust ever since.

The charity is dedicated to providing art therapy to children with long term medical conditions.

The initiative was inspired by the Laura's first-hand experience of seeing what was missing from her daughter's experience and treatment plan while suffering from Lupus followed by cancer.

Laura was no stranger to the paediatric patient experience because her oldest daughter, Nina, was born very premature at just 30 weeks, weighing 2.5lbs. Nina is now a healthy teenager aged 14 and sister to young Isla aged seven.

Laura's skills are an unusual mixture of science, art and planning, so running the Teapot Trust has allowed her to put these attributes together with spectacular results.
The Teapot Trust now provides art therapy around Scotland in medical settings including clinics, hospital wards, and hospices.

After first being established in Edinburgh in September 2012, it has expanded to Aberdeen, Dundee, Glasgow, Inverness and Kinross to support children coping with the emotional and mental strain that so often accompanies their battle with illness.

With Laura working as the Founder, Chair of Trustees and Volunteer, she has led the Charity's fundraising to the tune of £485,000 since its formal establishment as a registered charity four years ago.

The Teapot Trust now needs £250,000 each year to run all of its services. It employs over a dozen sessional staff and has an administrator, all of whom Laura leads to fulfil the charity's objectives.

Laura is married to John and the family lives in Gullane, East Lothian.

Timeline

1990 Laura graduated University of Bristol in Chemistry, BSc Hons
Graduate Trainee, Science Museum, London

1992 Junior Curator, Medical Collections & Science Box exhibition team

1995 Visitor Services Manager at Exploris Aquarium, Portaferry Northern Ireland

1997 Project manager in Visitor Attractions industry in Northern Ireland

2000 Full-time mother and carer

2005 With husband wrote the children's book Sandy Starfish

2010 Registered charity set up: Founder and Chair of Trustees Teapot Trust

2011 Edinburgh RHSC Rheumatology Group

2012 Edinburgh RHSC Oncology Ward 2
One-to-one art therapy at RHSC Edinburgh
Glasgow RHSC Yorkhill Rheumatology Group
CHAS Rachel House Hospice
Glasgow 1-2-1 Art Therapy
Runner up in Clarins and YOU Magazine, Most Dynamisante Woman of the Year

2013 Dundee Paediatric Rheumatology Group at Tayside Children's Hospital
(Ninewells Hospital)
Part-time book Finance Manager Starts
Winner Inspiring Volunteer Achievement Award, City of Edinburgh Council
Family Hero for Scotland 2013
4Children and Take a Break Magazine Awards

2013
Part time Project Manager starts

2014 Royal Aberdeen Children's Hospital Rheumatology Group
Tayside Children's Hospital, Ninewells, Dundee 1-2-1 art therapy
Raigmore Hospital, Inverness, Paediatric Rheumatology Group
Administrator and Community Fund-raiser employed
Clinical Manager Employed
Laura named Tesco Charitable Mum of the Year
Teapot Trust celebrates its 4th Birthday party
Teapot Trust operating in 6 Scottish cities and expansion plans announced

Interests

Laura loves crochet, knitting and sewing.

She heads out with her dog most days to walk on the beach. Holidays are often spent hill walking, skiing and climbing.

Laura has sung in a choir and played the flute, and would love to take up these hobbies again should some spare time come available.

For further information please contact George Murdoch on 07834 643 977 or email george@famouspublicity.com or contact Tina Fotherby on 07703 409 622 or email tinafotherby@famouspublicity.com.
This press release was distributed by ResponseSource Press Release Wire on behalf of Teapot Trust in the following categories: Children & Teenagers, Men's Interest, Health, Women's Interest & Beauty, Public Sector, Third Sector & Legal, for more information visit https://pressreleasewire.responsesource.com/about.