Tom Evans' journey: TV Engineer to Author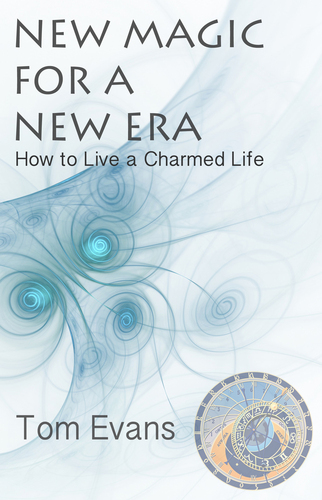 The book is called New Magic for a New Era and tells of this Manchester boy's journey and how it's not obligatory to struggle in life.
Here's how an ex-BBC Manchester television engineer ended up publishing 11 books, creating the world's first time management system based on mindfulness and hosting a successful podcast called The Zone Show.

Tom Evans was born and raised in Moss Side, Manchester, one of seven kids. He and his siblings were bright and all ended up at grammar schools in Manchester. Like his brothers, Tom did his O Levels at 15 and A Levels at 17. He went on to get a degree in Electronic Engineering at Birmingham University and ended up with a dream job at BBC Manchester, Oxford Road, as it was back in the 80s.

In 1982, Tom got lured to London and built up his own broadcasting service and equipment manufacturing company. He sold that in his mid-30s and then built a successful ecommerce business. In his mid-40s, he ended up being a bit stressed out with everything and someone suggested he started meditating. At first he thought it would be a waste of time but he persevered.

Already a creative and innovative person, having worked at the cutting edge of technology for 25 years, Tom found that after meditating daily for a few weeks his vitality, creativity and productivity had increased several-fold and at the same time his stress levels had decreased.

While on a much needed holiday, he wrote his first book that he didn't really plan to write. It ended up leading him into a new career that he also didn't plan. The book ended up in print, as an e-book and an iPhone app. Tom gave all the unexpected proceeds to a breast cancer charity and ended up walking 26 miles around London in a bra - definitely not part of his life plan.

People started approaching him to help them write and publish their books. Tom found that teaching them simple meditative techniques helped improve their creativity too and could eliminate writer's block at the same time. His next two books were on these topics — how to get over creative blocks and how to tap into light bulb moments on demand.

He also discovered when he wrote in a light meditative state, time seemed to take on a different quality and slow down. Getting into this special 'zone' became the subject of his next books and became the inspiration behind his Zone Show podcast. It also led to the development of his mindful time management programme called Living Timefully and several other creative self-study online courses.

In the space of 10 years, Tom has made the transition from hi-tech entrepreneur to full-time author, author's mentor and Internet broadcaster.

His latest book is a bit of a departure. It was suggested to Tom by his business mentor last year that he'd never told the story of this life transition. His initial reaction was that his story was boring as nothing particularly bad had happened and that he'd lived a pretty charmed life. His mentor suggested that this was exactly what people wanted to learn right now.

In typical Tom-fashion, less than three months from taking this suggestion on board, the new book was not only written but published. Tom knows the secret of bending and stretching time. The book is called New Magic for a New Era and tells of this Manchester boy's journey and how it's not obligatory to struggle in life.

Tom would be delighted to take part in interviews.

Links:

www.tomevans.co
http://www.tomevans.co/living-timefully/
http://www.tomevans.co/zone-show-podcast/

ENDS

Media information provided by Famous Publicity. For more information please contact George Murdoch at george@famouspublicity.com or 07834 643 977.

More details about Tom, his books, courses and podcast can be found online at www.tomevans.co

New Magic for a New Era can be bought here.

Tom Evans is an author specialising in making the esoteric (or unknown and hidden) into the exoteric (known and understood). He is also the creator of Living Timefully, a mindful approach to time management. Living Timefully is a self-study programme that will change your relationship with time at a fundamental level by changing the speed and nature of your thoughts.

'A modern day mystic, a healer, a 21st century philosopher, a temporal alchemist and the wizard of light bulb moments'. These are just some of the many ways in which author Tom Evans has been described throughout his eclectic career.

As well as being an author, Tom is an authors' mentor and writers' unblocker, specialising in motivation. He hosts the popular podcast The Zone Show, which explores the way in which we get into, and stay in, 'the zone', and has written a book on the subject: The Zone: How to Get in It and Stay in It.

He is available for interview and to deliver inspiring keynote talks and workshops. He is also interested in interviewing people with interesting tales to tell on his podcast.

Living Timefully is also one of Tom's many philanthropic initiatives. The self-study course is available free of charge to any one suffering from a terminal or life shortening condition so they can make the most of their time. It is also available for complementary preview for journalists and is especially useful for anyone working in an environment with deadlines.

Tom has launched several other philanthropic initiatives this year making relaxing meditations freely available to those with ADHD, OCD, PSTD, dementia and life-shortening illnesses.

Photographs, books for review or interviews are available on request.
This press release was distributed by ResponseSource Press Release Wire on behalf of Tom Evans in the following categories: Men's Interest, Health, Women's Interest & Beauty, Media & Marketing, for more information visit https://pressreleasewire.responsesource.com/about.