Voters Target Unpopular Politicians With New Pigeon Poop Opinion Poll App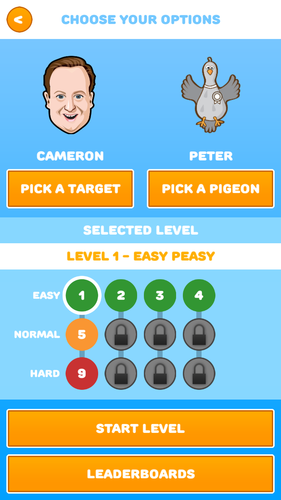 the public has a unique and incredibly satisfying way of expressing their opinion – by pooping on the politicians they most dislike!
Flying in the face of political exclusion, the Pigeon Poop® App is a fun opinion poll game that allows the public to vent their feelings about the politicians standing at the General Election. By measuring the quantities of poop aimed at politicians, the 'just for fun' app is the first 'psephological' tool to measure which politicians are most unpopular. P.O.O.P in this case, of course, refers to 'People's Opinion Of Politicians!

The satirical App, which is available now for Android and online users, with Apple following shortly, allows voters to 'let fly' at many of the UK's leading political figures, including the main party leaders. Players don't actually need to be a registered voter or even over 18 – the fun is open to all and completely free to use.

Voters can poop on the politicians, in fun, as many times as they like and with 12 playable levels, 4 game types and 3 levels of difficulty, there's plenty to keep voters pooping right the way through to the election date.

By visiting a related website http://www.thenationalopinionpoop.com/ voters can also see the latest 'National Opinion Poop®' stats with 'Britain's Unpopularity Poll' highlighting who are the most unpopular politicians in the eyes of an amused game-playing public. To keep up to date with the fun, regular bulletins of who is doing best, or rather worst, will be posted on the site right up until election night itself. Indeed Pigeon Poop Ltd. aims to publish their stats daily as the election day gets close.

Says Nigel Hall Founder & CEO of Pigeon Poop Ltd., "Many voters see politicians as birds of a feather in that they lack a connection with the public. Well here's a way that the public can make a real connection with them! In short, Pigeon Poop General Election 2015 is a great game that let's you turn politics into enormous, light-hearted fun. How better to woo the public back to politics? And, with the addition of the National Opinion Poop website we also have 'Britain's Unpopularity Poll', that uniquely records how unpopular the fun-loving public find someone.

"We have listened to the Great British voters and in keeping with the best traditions of British satire have created an amusing game to turn their frustrations into a light hearted and yet highly representative opinion poll. So now with our innovative App, the public has a unique and incredibly satisfying way of expressing their opinion – by pooping on the politicians they most dislike! After all, how many times have politician's pooped on us over the years? This is just a humorous way of letting the people get their own back. So my message to the voters is simple: get pooping and 'tell 'um what you really think!'"

The game is aimed at all ages and Hall hopes that he can get all those with grey hair, like himself, to embrace his computer game.

To play the game, App users start by choosing the politician they want to poop on, and then which Pigeon they want to be; there's Peter, Poppy, Penny and others. Then, if they want to, they can chose to associate themselves with a political party. Having then chosen what colour poop they want to mete out they select which game they want to play and off they fly – and poop!

The game is available to download at Google Play or at http://www.pigeonpoop.com/

Ends


About PigeonPoop Ltd.

http://www.pigeonpoop.com/)

Twitter: @pigeonpoops

New British games developer Pigeon Poop Ltd. is the brainchild of Nigel Hall. Far from bird-brained though, Hall has spent many years working in senior IT roles. However as a voter, the idea of Pigeon Poop Ltd. was no simple flight of scatological fancy. It was his own frustration and personal sense of political exclusion that led him to drive the development of the game and to launch it at the General Election. In his view the new game pays homage to the great British satirists of the past who held unpopular politicians to account. In this respect Hall hopes the 'just for fun' game will encourage other satirical ventures to take off and do the same.

The game will continue developing with Pigeon Poop Ltd. adding new politicians and new games/levels between now and the General Election. Following the election, PigeonPoop is looking for other amusing poll areas where the same concept might apply. So for example in sport POOP could stand for People's Opinions Of Players.


For further information please contact

Nigel Hall
T: 07514 961143
Email: nigel@pigeonpoop.com

Or

Sue PR
T: 07932872730
Email: suegismith@gmail.com
This press release was distributed by ResponseSource Press Release Wire on behalf of Sue G I Smith in the following categories: Entertainment & Arts, Consumer Technology, Computing & Telecoms, for more information visit https://pressreleasewire.responsesource.com/about.