Lindström Releases the Modern and Functional HighVisPro Collection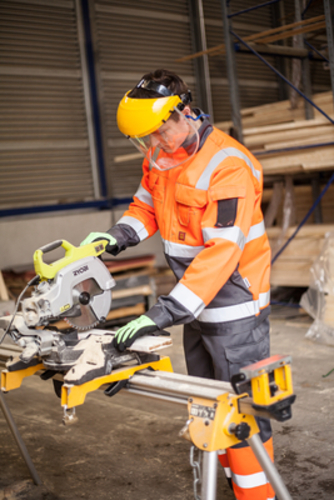 The new HighVisPro collection from Lindström is a range that has focused on functionality as well as visibility
Leading providers of comprehensive workwear solutions, Lindström, have recently released their HighVisPro collection. Lindstrom are proud to introduce workwear that has a number of functional and modern features, designed together with the wearers.

The new HighVisPro collection from Lindström is a range that has focused on functionality as well as visibility. The company have taken everything into consideration when creating the range, from working environments to working conditions while ensuring the workwear adheres to the High Visibility Standard EN ISO 20471 and standard EN 324 (protection against cold).

The range is designed to offer durable and effective protection to a wide variety of industries, especially those that need to meet high visibility and cold protection standards. Lindström are confident that work sites that require high visibility and face challenging cold surroundings such as railway yards, airports and harbours are sure to benefit from the HighVisPro products while fulfilling the Lindstrom are rolling out the new range to replace current garments in the summer of 2015. Lindström claim that the new HighVisPro range is "easy to combine with other standard products which strengthen the uniformity of the product solutions." This means that when the new range is released, companies will be able to benefit from the modern look and functionality of the HighVisPro products in order to create a consistent working uniform.

"As is usual in product development, we began by looking at the standard's requirements and customer expectations," says Anna-Kaisa Huttunen, who is in charge of the development of the collections. "When the reform of the standard for high visibility clothing was initiated, we established a pilot group of customers who wear these clothes and started to think about the
details together."

"The professional workwear service provided at Lindström means that employee's will always have uniforms that fulfil the required safety standards and is maintained to the highest standards. It is the employer's responsibility to guarantee employees' health and safety at work. This means that the workwear garments need to be able to protect employees' from occupational risks at all times.

"A recent study by ETSA (European Textile Service Association) shows that if workwear is washed at home, employers cannot be sure the workwear is fit for use. This is why Lindström provide a service that not only delivers high-quality workwear, such as the HighVisPro, but also provides maintenance, repairs and replacements for workwear garments. We look forward to releasing the HighVisPro collection to our customers in the summer of 2015 and we hope that employees will benefit from its wide range of useable features."

Lindström is a textile service company offering interior, workwear and personal protective equipment (PPE) solutions. Their professional services are aimed at improving occupational safety and the corporate image of their customers. From their headquarters in Finland, they now offer their service in 21 countries across Europe and Asia. With a turnover of €303 million in 2013 and an employee base of over 2,900 people in Europe and in Asia, Lindström takes pride in being a responsible corporate citizen and a respected employer.
This press release was distributed by ResponseSource Press Release Wire on behalf of Lindstrom LTD in the following categories: Retail & Fashion, Public Sector, Third Sector & Legal, Manufacturing, Engineering & Energy, for more information visit https://pressreleasewire.responsesource.com/about.