Fast Track Building Extension Adds Manufacturing Space for Healthcare Company to Continue 300 Year Growth Trajectory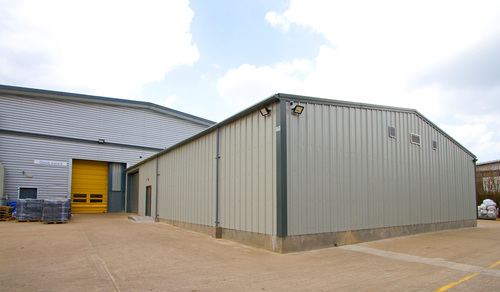 Faced with a rising order intake, Salts Healthcare, the specialist personal health care product provider that has been trading since 1701, feared that a conventional build would cause long term disruption to their business. Smart Space, a company specialising in fast-track and sustainable permanent buildings were able to answer their call for additional manufacturing space at a fraction of the cost and construction time required for a traditional build.

The new building adds a 3,500 square foot open plan manufacturing area in a single storey extension. At a cost, excluding foundations and fitting out, of £80,000 or £250 per square metre, the new building was very competitive compared to traditional methods. Total construction time on site after completion of the foundation slab was just one month, within this the Smart Space team took just two weeks to complete the building envelope, so disruption to the business was minimal.

Operations manager, Lee Tretheway observed, "The additional space in the new building has allowed me to streamline manufacturing, bringing in new equipment and improving the production layout in the main building to speed productivity. A bonus is that in addition to the new extension about 1,500 square feet of space in the main factory has been freed up to create even more scope for expansion."

Permanent buildings from Smart Space are environment friendly and optimise the use of materials to enclose space efficiently. A light-weight, high-strength structural frame using cold rolled steel, rather than conventional hot rolled and fabricated steel girders and joists, is a major contributor to weight, cost and carbon reduction.

As the Smart Space system uses less material and being lighter, means heavy, complex foundations can be eliminated in most cases. This contributes to the time saving and also reduces greatly the embedded energy and carbon footprint of the final construction, both above and below ground, to far less than that of a typical build. The frame is clad in insulated composite sheeting to give weather tightness, insulation and provide additional bracing to the structure.

Users can select cladding materials to suit their needs. For consistency, colours and profiles are usually chosen to match existing buildings. Similarly clients have wide discretion in the size and style of window and door openings and can specify mechanical and electrical services to suit the building use.

Smart Space, managing director Antony Hunt said, "Salts Healthcare was a pleasure to work with. For a business to last for 300 years it has to be open to new ideas and innovation and I think that they appreciated that our more radical approach to construction would solve several potential problems and help them continue to grow." Lee concluded, "Smart Space did what they said from the first call. Throughout the project they delivered each phase professionally and on time."

Smart Space provides a complete range of bespoke buildings suitable for temporary, interim or permanent accommodation for industrial, commercial, leisure, retail and educational uses.

More Information

Antony Hunt, Managing Director, Tel. +44 (0)1827 330000 Fax. +44 (0)1827 898600
E-mail: md@smart-space.co.uk Web: www.smart-space.co.uk
Smart Space, Manor House Farm Business Park, Dordon Hall La, Grendon, Warwickshire, CV9 2EX

High res images are on the web at www.ainsmag.co.uk/sm258/5390sm1a-salts-healthcare.htm

Additional note for editors:

Salts Healthcare can trace its history back to 1701. This makes it one of the oldest family controlled businesses in the country. The present board are the tenth generation of the family to run the company.
This press release was distributed by ResponseSource Press Release Wire on behalf of Ainsworth Maguire in the following categories: Health, Manufacturing, Engineering & Energy, Construction & Property, for more information visit https://pressreleasewire.responsesource.com/about.