Globe-Trotting Bath Author Sounds Wake Up Call for Christian Artists.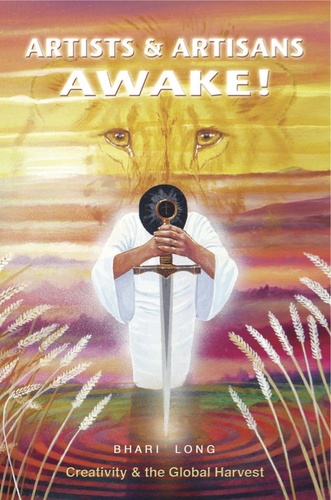 Bath, United Kingdom – Visual artist, mentor and first-time author Bhari Long, is launching her long-awaited book entitled "ARTISTS & ARTISANS AWAKE! Creativity & the Global Harvest," this Saturday 2nd May from 11 am until 4pm at The Forum, 1A St. James Parade, Bath BA1 1UG (home of Bath City Church. Bhari is passionate about helping people realise their full creative potential and the book is thought to be the very first of its kind on this subject in the UK. It is aimed at Christians who have creative gifts of all kinds ranging from painting to poetry, dance to drama, singing to sculpting, rapping to writing, and from leading worship to weaving. At the launch and book signing, Bhari will read passages and poems from it every hour. The book is also available from www.amazon.co.uk price £9.99 (Kindle version £4.79). See www.propheticartists.com

Since 2005, Bhari Long and her husband James have ministered at Christian conferences and events attended by thousands across the UK, US, Scandinavia and Europe. Painting is their act of worship and intercession. Bhari says "Prophetic art is all about expressing the heart of God and the revelation of the Holy Spirit." Often the visual themes they paint during a conference are identical to the word preached, or may illustrate a hymn or worship song that is sung. Sometimes their pictures confirm something very specific for one person there.

In fact, Heidi Baker of Iris Global discovered God had given Bhari the very same vision that had birthed her own ministry to orphans and street children in Mozambique. Heidi saw Bhari's painting in the window of a bookshop in Bath as she walked past – and she was astonished to see the exact same image God had given her several years before! It came at a crucial time for Heidi and was really encouraging.

In 2008, Bhari felt she was commissioned by God to write this book about prophetic art when three people on both sides of the Atlantic confirmed it whilst praying for her! She says "Writing this has been like sounding a 999 "wake-up" call for Christians to use their God-given creative gifts to glorify God for His plans and purposes. It feels as if God is calling artists and artisans worldwide to redeem the Arts, restore the Arts to the Church and get ready for the global harvest." She adds "I believe we're on the cusp of a Renaissance in the Body of Christ that will celebrate beauty, truth and excellence. It will reveal the truth of God to a searching generation and restore hope to the hopeless."

Theresa Dedmon is US Bethel Church Creative Arts Director and she comments "Bhari's book discusses a topic that is at the forefront of where we will see Christians begin to emerge: discovering the significance of how creativity relates to God and our culture."

The book is based on biblical teaching about prophetic gifts and explores the role of artisans in the Holy Bible, encouraging those with creative talents to use them purposefully today. It is aimed at every creative soul, including those who may have felt little understood, undervalued or perhaps even marginalised by the Church.

It also speaks to those who had their artistic gifts dismissed as a child. Bhari's goal is to inspire and encourage, and bring renewed hope to those who have almost given up on a lifelong dream or ambition to serve God wholeheartedly with every ounce of their being, using their God-given talents and abilities. She wants to help creative Christians come into alignment with their calling and destiny. In addition she feels called to pass the baton and train up prophetic artists, trainers and mentors.

Bhari and James Long met while serving on the community team at Lee Abbey, Devon. They hold prophetic art workshops across the UK and overseas, and provide one-to-one development workshops for clients. They founded "The Olive Grove" gathering for creative Christian. See www.propheticartists.com or call 01225 837228.

-The End-

Word Count: 644

Editor's notes:

As a professional artist, Bhari Long was commissioned to paint one of the 100 life-size public art sculptures for the 2010 Lions of Bath event and also one of the 60 swans in the 2012 Queen's Diamond Jubilee, Swans of Wells exhibition

Bhari Long's credentials include being on the prayer ministry team at Bath City Church, which is affiliated with Partners in Harvest. She also served on the prophetic core team and led the prophetic encouragement team at BCC. Bhari and James Long have painted during many of the Church's conferences, worship events and prayer meetings. They also host the creative arts sphere group "Artists Arise!" in Bath.

EVENT DATE: Saturday 2nd May 2015
VENUE: The Forum, 1A St. James Parade, Bath BA1 1UG
TIMES: 11am to 4pm

For photos and further details contact:
Bhari Long Tel: 01225 873228 or mobile 07769 788015 or email propheticartists@btinternet.com
This press release was distributed by ResponseSource Press Release Wire on behalf of The PR Catalyst in the following categories: Entertainment & Arts, Leisure & Hobbies, for more information visit https://pressreleasewire.responsesource.com/about.