Monitor your health and fitness goals with the new Beurer AS80 activity tracker and HealthManager app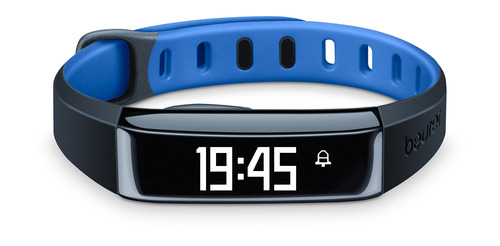 activity sensors designed to offer more informative, interactive and detailed data on physical activity and sleep than ever before.
Greater Manchester, England, 12th May 2015: Beurer, a global leader in health and wellbeing products, has announced the launch of the AS80 and AS80 C, advanced wrist-based activity sensors designed to offer more informative, interactive and detailed data on physical activity and sleep than ever before.

With a slimline, attractive build the AS80 has been specifically designed for premium comfort and all-day wear, with a splash proof enclosure and subtle OLED XL display that can be activated to show a wide range of data at the touch of a button. Driven by HealthManager, Beurer's powerful, free to download app, the AS80 offers a range of important information to help users set goals and hit targets.

Detailed activity tracking includes number of steps, distance, calorie consumption, activity duration and progress levels according to a customisable set of daily activity goals, with current data easily accessible at the touch of a button. At night a sleep tracker can be activated to monitor sleep movements and sleep duration to determine rest type and quality. A unique lifestyle feature is the handy vibration wake up alarm which can be set for those early morning starts to ensure that partners are not disturbed.

The AS80 also offers a handy time display and long battery life for added convenience and a 30 day and 7 night memory capacity allows for extended continuous use before uploading data.

"We had two clear goals in mind when designing and building the AS80" said Robert Slade, Sales & Marketing Director for Beurer UK. "The first is that we wanted to develop an activity tracker that's specifically designed to be worn for extended periods, so put a real focus on subtle styling and supreme comfort. Secondly any such device should also be able to capture a wide range of activity data that goes far beyond basic step counter.
Combining the two can help users stay motivated and retrieve genuinely useful information on progress in an informative and convenient fashion."

Accompanying the AS80 is Beurer's free to download app, HealthManager. With an intuitive interface, colour coded progress indicators and detailed tracking history it's easy to tell at a glance whether targets are being achieved and to realign goals based on current progress. The range of information available can be conveniently uploaded via Bluetooth Smart® for immediate storage and viewing on a handheld, where data provided by the World Health Organisation can help users interpret progress, set targets and view previous analysis over time.

Expanding the range with an emphasis on style, the AS80 C offers the same features and functionality as the AS80 and is available in a range of stylish colours, including orange, blue, green, turquoise and violet.

The Beurer AS80 is available from http://www.stressnomore.co.uk/beurer-as80-new-generation-act... RRP £99.99.

For more information visit http://www.beurer.com/web/uk/index.php?lang=true

ENDS

About Beurer

Beurer is the No. 1 health and wellbeing brand in Europe and has developed an excellent reputation for design, style and innovation.

Beurer was founded in 1919 in Ulm and is synonymous with health and wellbeing. The company started with the first heating pads in Germany, and has gone on to expand into a range including a wealth of products for the health and wellbeing, beauty, baby care, sports and medical diagnostic and prevention sectors. These include electric blankets, heating pads, blood pressure and blood glucose monitors, nebulizers, clinical thermometers, personal and kitchen scales, foot baths and air humidifiers, Shiatsu massagers, baby monitors, heart rate monitors and cosmetic mirrors. The family run company operates a global distribution network in more than 80 countries and currently has a workforce of 350. You can find more information at www.beurer.com

Press Contact

For further information and review samples please contact:

Michelle Cross
The PR Room Ltd
Tel: 0845 094 2902
michelle.cross@theprroom.co.uk
This press release was distributed by ResponseSource Press Release Wire on behalf of The PR Room in the following categories: Men's Interest, Health, Women's Interest & Beauty, Consumer Technology, Medical & Pharmaceutical, for more information visit https://pressreleasewire.responsesource.com/about.