Reporting and Visualisation Methods for Presenting Manufacturing Shop Floor Production Information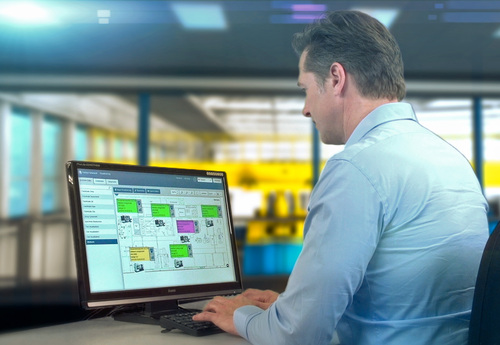 A frustration common among modern factory production managers arises in making sense of big data in order to improve performance. Forcam, who specialise in networking the machines on the factory shop floor, has an answer. The company has produced a new paper showing how reporting and visualisation, allied to cloud based big data analysis, can present the real time information graphically so items demanding immediate action are quickly and easily identified.

Andrew Steele, Forcam UK's managing director explained, "Big data is a powerful aid to modern management, but in-depth analysis in real-time is essential for meaningful close loop control. This cannot be achieved by managers wading through acres of computer print outs. Presentation must be in an actionable graphic format and customised so each team member sees what is relevant to them. This must incorporate KPI's, to highlight where action is required."

Forcam Force is a manufacturing execution system (MES) that brings close loop communication and networking to the shop floor. The system harvests performance data, from machine based intelligence and via the human machine interface (HMI). This feeds into secure cloud-based systems (in particular the private cloud as hosted on a server within the clients IT infrastructure) that deliver real-time analysis and re-presents results in a graphical transparent format that is immediately understandable.

Each team member's information needs differ, so the Forcam system uses a different dashboard for each team role. Senior managers have strategic goals and objectives such as improving ROCE by enhanced productivity and better overall equipment effectiveness (OEE). The plant manager, on the other hand, is interested in hour-by-hour performance and so the system delivers information on plant downtime, operations that are exceeding the target time, quality and other process issues. Importantly, the system will help identify capacity that may be available to re-direct work to keep production flowing. At the shop floor level some information on machine performance and diagnostics is gathered automatically and some via the HMI so that supervisors can intervene in good time overcome or minimise the impact of problems.

Data presentation is device independent. On the shop floor this will be via a rugged industrial computer, in the office this may be via a desktop PC or laptop, while mobile personnel may prefer to use tablets or smart phones. As the entire solution is web based it is accessible at any time of day or night, anywhere with an internet connection. The system can be programmed with individual access consents to reflect differing information security needs. A manager travelling to a supplier or sister plant, for example – even on another continent – can keep track of their own plant performance and liaise with colleagues on any developing issues.

The primary goals in installing Forcam Force are better OEE, improving productivity, eliminating waste, but this is just the start. Companies operating SAP or other ERP systems will benefit from real-time data flowing into these systems facilitating more effective strategic management of the business.

The visualisation and reporting paper can be downloaded from the Forcam web site by going to http://www.forcam.com/index.php?id=301. This is just one document on different aspects of shop floor networking and other current papers discuss the use of production folders to stream a relevant package of information to operators for each task and how Forcam overcome the many technical issues of machine interconnection in mixed workshops with machines of different types, ages and with different communication protocols.

More Information

United Kingdom
Andrew Steele, UK Managing Director, Tel. 01606 833 837
E-mail: Andrew.steele@forcam.co.uk Web: www.forcam.co.uk
FORCAM UK, 6.1 Verity Court, Pochin Way, Middlewich, Cheshire, CW12 0GW

Germany
Vincent Post, International Marketing / PR Manager, Tel. +49 (0)751 / 36669 – 826
E-mail: Vincent.post@forcam.com Web: www.forcam.com
FORCAM GmbH, An der Bleicherei 15, D-88214 Ravensburg, Germany

Images are on the web at www.ainsmag.co.uk/fo255/5392fo1a-reporting-and-visulisation....
This press release was distributed by ResponseSource Press Release Wire on behalf of Ainsworth Maguire in the following categories: Manufacturing, Engineering & Energy, Computing & Telecoms, Transport & Logistics, for more information visit https://pressreleasewire.responsesource.com/about.