PORTIONS OF PEDIGREE: THREE GENERATION FISH AND CHIP SHOP SCOOPS A FAMILY BUSINESS OF THE YEAR AWARD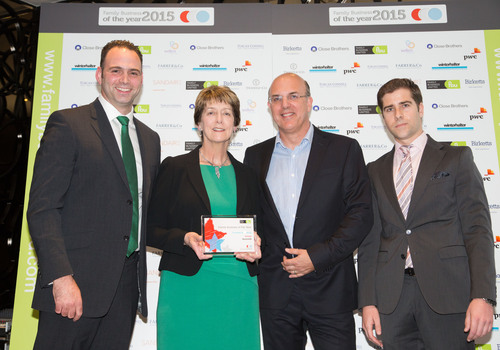 A well deserved triumph and we look forward to hearing more from Quayside and the Fusco family for generations to come.
The Fusco family behind the multi-award winning Quayside takeaway and restaurant in Whitby has been voted Commercial Catering Family Business of the Year for more than 60-years of dedication to fish and chips.

The family's fish and chip heritage, which began with grandmother Violet Fusco in 1955, has seen three generations of the family working in the trade with daughter-in-law Carol Fusco, her three sons – Stuart, Adrian and Raymond – and daughter Maria continuing to own and run Quayside, and two other fish and chip businesses in the town, along with the recently launched Whitby Fish & Chips Company catering trailer.

Presented with the coveted award by a judging panel of professional experts and family business owners at the 2015 Family Business of the Year Awards, at a glittering Champagne reception in Mayfair, Paul Andrews, founder and managing director of Family Business United – the organisers of the awards – said: "The Quayside submission stood out, not only for the family tradition, passion and attention to detail that shone through, but the desire to go 'back to the boats' with a sustainable fishing drive and the way it has transformed an iconic British dish like fish and chips into the main event."

He added: "These awards were created to champion the family business sector in the UK and to recognise their contribution to the UK economy and the communities in which they operate. Quayside are worthy winners and will undoubtedly be great ambassadors for the family business sector going forward.
Building on three generations of the Fusco family heritage, they continue to deliver proper British Fish and Chips, served with pride. A well deserved triumph and we look forward to hearing more from Quayside and the Fusco family for generations to come."

Commenting on the win, Carol Fusco said: "Our family has built the business from scratch, with every member (and now many 'in-laws') involved in the company – and while we have watched many fads and fashions come and go, as a family we've stayed true to our three-generation family ethos: proper British fish and chips, cooked the traditional way and served with pride to countless generations of other families.

"As a family business we care deeply about what we do and put in that extra effort to give other families what they expect from a day at the seaside – sea, sand and hot and tasty, good value fish and chips!"

whitbyfishandchips.com

-ENDS-

Editor's Notes

• The Fusco family has been in the fish and chip shop trade for 60 years, starting in 1955, when Violet Fusco worked for John Cross Fish and Chips in Pickering, eventually buying the shop with husband Dennis.

• Quayside owner and mum-of-four Carol Fusco started in the industry as a Saturday girl for the Fuscos in 1969 at just 14-years of age, marrying their son Peter, and buying the Royal Fisheries fish and chip shop from his parents in 1979.

• Building up the business together, Peter and Carol realised their dream of running their own chip shop on Whitby's Pier Road in 1999, with the opening of Quayside, and when Peter sadly passed away in 2006, Carol continued to offer first-class fish and chips at the helm of the Fusco business, with the help of her four children, Stuart, Adrian, Raymond and Maria.


• Over the last decade, Quayside has been awarded 'Independent Takeaway Fish & Chip Shop of the Year 2014' and 'Marketing Innovation Award 2014' in National Fish and Chip Awards (NFCA) 2014; 'Regional Champion North East – Independent Takeaway' in NFCA 2012; 'Top Fish & Chip Shop in Yorkshire' in NFCA 2008 and Les Routiers 'Café of the Year' 2005.

• National Fish & Chip Day has been set up by frymagazine.com, in association with National Edible Oils and Distributors Association (NEODA), with the backing of the Potato Council and the National Federation of Fish Friers.

For more information or images, please contact:

Annie Stirk
Absolutely Food PR & Marketing
T: 01347 810531 / 05603 457882
M: 07771 655756
annie@absolutelyfood.co.uk
This press release was distributed by ResponseSource Press Release Wire on behalf of Absolutely Food PR in the following categories: Food & Drink, Business & Finance, Travel, for more information visit https://pressreleasewire.responsesource.com/about.